1975 BIG JIM WOLF PACK COMIC-MATTEL-MARVEL
In 1976, Mattel toys decided to add a comic book with the BIG JIM Wolf Pack Commander figure to explain the mission of the PACK and promote upcoming toys. Most of the boxes had comics on the back that were functional but this comic is drawn by I believe John Buscema and it is the bomb!.
This comic originally came rolled up in Big Jim Gold Commander figures, I had this as a kid and I have to say it was one of my favourite memories as a kid. The pre-curser to stuff like Marvel's run on Shogun Warriors, Micronauts and GI Joe, which I devoured as a kid as well.
Get our new Toy Magazine here, supplies are limited.

"Hang on to your Wolf Tattoos" Does dialogue get any better? The story begins with the origin of the P.A.C.K, the comic glosses over Big Jim's origin, which is pretty wise. According to his earlier packaging, he was an Olympic skier (nice tie-in Mattel!) who saved a wolf cub while fighting an avalanche, when he came out of that mess he decided to fight crime. Not exactly Batman is it?

Dr Steel, Whip and Warpath have already established characters when this comic got made, so they're very on model in this piece. "Torpedo" was eventually called "Torpedo Fist" when he hit toy shelves and he looked a little different.

If I were in the P.A.C.K I don't think I could watch Torpedo use his arm power, it's kind of gross! Here we learn what P.A.C.K stands for, Professional Agents/Crime Killers, you're not going to win the acronym award fellas. We also meet Jim's boss, Prof. Rolf who never got his own action figure…..

The origin of Zorak has to have been done or at least inspired by Marvel Comics, it's so familiar, the scientist goes rogue, journeys below the earth's surface and becomes a deformed madman complete with a cool costume and henchmen.

Zorak is terribly off-model here, for some reason he's adorned in purple tights which some might think is better than what he actually came with……

Now we just veer off into a big toy commercial for the Blitz Rig and the double trouble outfits. From the looks of the comic, the Blitz Rig was supposed to be a revamped Big Jim camper, it turned out to just be a Gift set combining the Howler and the BEAST pick-up truck. The double Trouble outfits were pretty cool, one set had a "surprise" feature, the other set was just outfits.

I always wonder how insane, monstrous madmen build high tech lairs and get henchmen. Do they have job fairs? I guess you shouldn't try to dissect a comic shoved into an action figure box. I love the little "montage" of the P.A.C.K getting ready, this should be backed up by some music by "Survivor".

Note the sequence where Big Jim's face changes, this is the ad for Double Trouble Big Jim. You see Zorak had a device where his face switched around from Human to Monster, so Mattel made a Jim figure where he goes from Mad to "I'm having a really big poo", the device was hidden under some really big Micheal Landon Hair. 
A lot of "hunh" moments here, firstly why didn't Torpedo just put the paper down himself and pull out his rifle? Was there a really good Mary Worth he wanted to clip? Of course, you'll be ready to forgive when you see what The Whip is doing below.
Warpath is wearing the coolest (IMO) double trouble outfit in the set, the construction workers jackhammer turns into a machine gun. You know the P.A.C.K couldn't look more like the village people at this point. They have a native American, a cop outfit, construction worker and a pirate!
I love the "to be continued" ending, it reminds me of the Doc Savage movie. Just like the Savage movie, Jim's exploits were cut short much to my chagrin. I loved the Wolf P.A.C.K as a kid and I still remember the day they disappeared from toy shelves. Thanks for reading!
GET Issue 3 of Toy-Ventures here!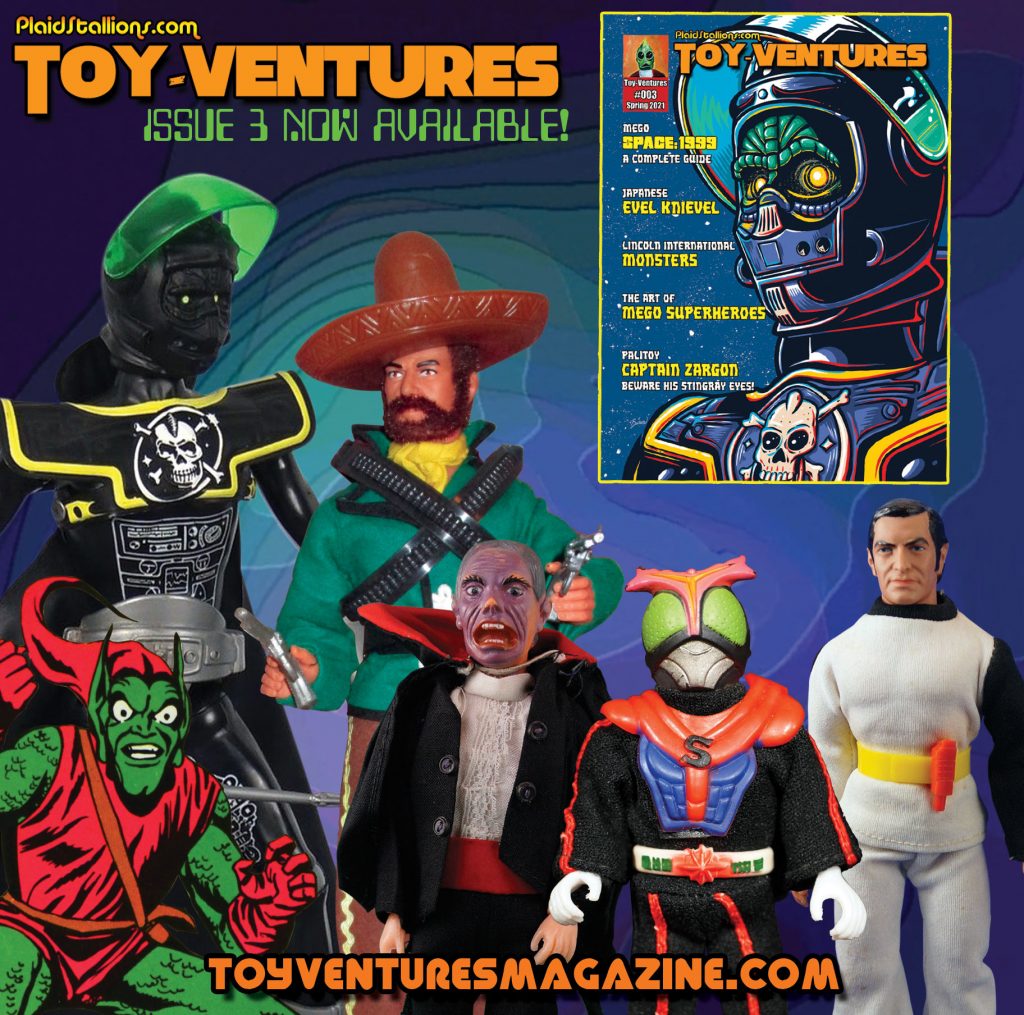 FACEBOOK GROUPS FROM PLAIDSTALLIONS

Pod Stallions is one of the most fun groups on Facebook.

Mego Knock Off Headquarters– The leading group discussing 70s dimestore goodness, we talk vintage toys, not others.