Toy-Ventures: Vintage Toy Hunt and Haul

Vintage Toy Hunt and Haul.
Toy-Ventures returns with a recap of nearly 3 weeks of hunting flea markets, Antique malls and toy shops looking for treasure. I saw a lot of cool stuff I'd like to share. Along the way, I picked up an eclectic haul of Mego and Knock-Off figures along with some oddball 70s toys. Come toy hunt with me.
Please sign the Kool Stuff Toys Petition:
https://bit.ly/3wxNONQ
Shops and Places Visited:
Sanford and Son ►https://bit.ly/37Thef9
Retro Rewind►https://bit.ly/37Thef9
Bounty Hunter Toys ►https://bountyhuntertoys.com/
Kool Stuff Toys ►https://bit.ly/36y9bUl
Follow PlaidStallions on Social Media:
Twitter ► https://bit.ly/2UzxQ5q
Facebook ► https://bit.ly/3mfY73R
Instagram ►https://bit.ly/3yZ3kAV
Website ► https://bit.ly/3yZ3kAV
#Mego #toyventures #plaidstallions #MegoKOHQ #70stoys #vintagetoys
Vintage Toy Hunt and Haul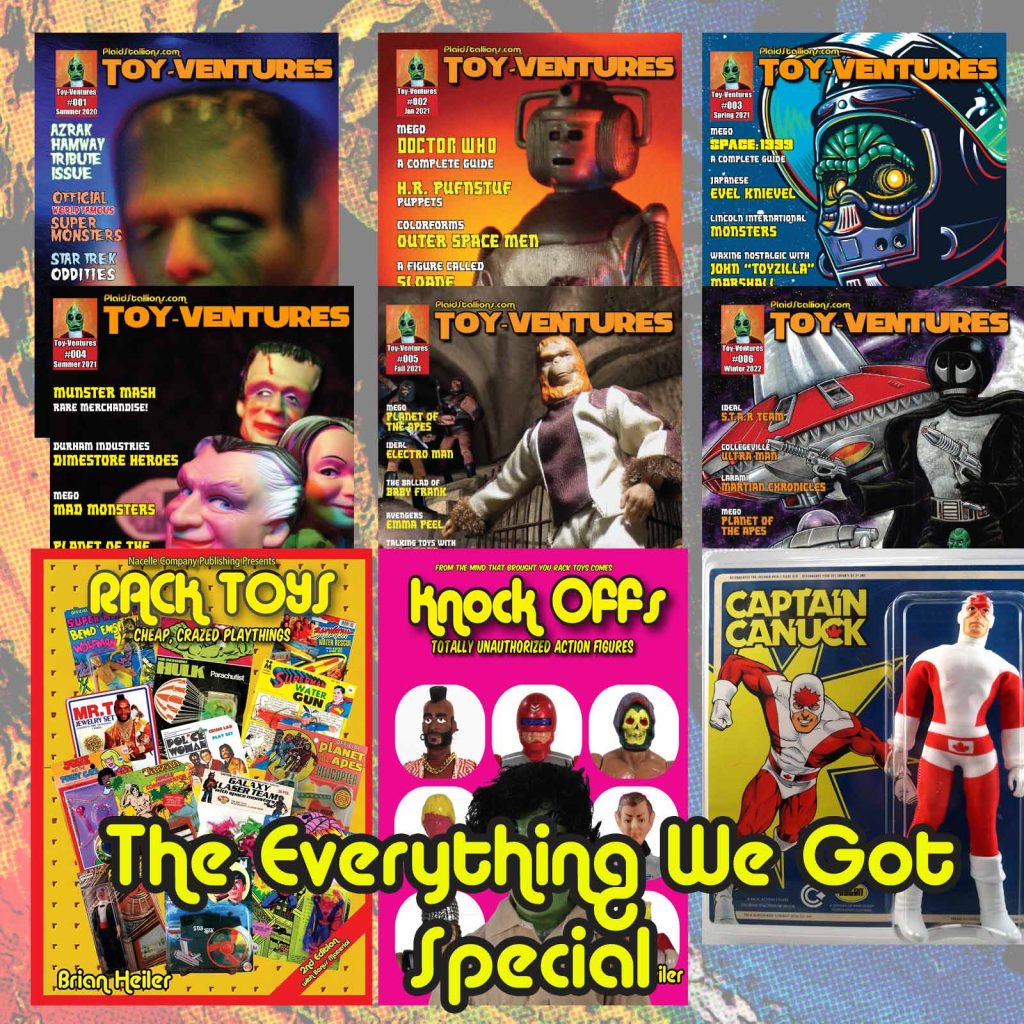 This limited edition set includes both books, all six magazines (with available premiums) and a Captain Canuck action figure. It's a $150 value for a great price. I only can make six of these, so don't wait.
Issue 6 of Toy-Ventures ships next week, order now from our shop and get a free Star Team Poster by legendary artist Dave Waugh!
Our newest book "Knock-Offs: Totally, Unauthorized Action Figures" is now available. It's 130 pages of bootleg goodness.
You can get this new book via the PlaidStallions Shop , On Amazon (Affiliate Link) or on eBay (eBay Link)
Our book Rack Toys, Cheap, Crazed Playthings is now available again! Order through our Affiliate Link
Order Rack Toys 2.0 Here through our Affiliate Link►https://amzn.to/3Bkm9z1
FACEBOOK GROUPS FROM PLAIDSTALLIONS

Pod Stallions is one of the most fun groups on Facebook. Toys, Comics, Movies, TV, it's all up for grabs and remember, you keep the glass!

Mego Knock Off Headquarters– The leading group discussing 70s Dime store knock-offs of Mego action figures, we talk vintage toys and not others. We know the difference between Astro Apes and Action Apeman! It's a really fun group where we talk about Lincoln International, AHI, Tomland, Bogi, Demo Man, Mortoy, and other generic greats.