Toy-Ventures: Toy Hunt with me!

In this week's episode of Toy-Ventures, I ask you to Toy Hunt with me as I take a tour of some antique malls and toy stores on my monthly road trip. In this episode I visit three different places on my journey:
The One of a Kind Antique Mall (Woodstock, ON)
Southworks Antique Mall (Cambridge, ON)
The Toy Society (Cambridge ON)
While I am there I showcase all the vintage toys, bootleg figures, kung fu movie posters and incredible pop culture memorabilia from the last four decades that I encounter.
It's an extra long jam-packed episode of Toy-Ventures and one I'd really like your feedback on. Should I do more of these? Would you like to toy hunt with me again? Let me know in the comments below:
 
Issue four of our magazine Toy-Ventures is now available. Toy-Ventures is bringing back the old school print toy magazine with articles written by the collectors themselves, it's a love letter to toys and action figures from the 1960s to the 1980s and this issue is our best yet. We've got a fantastic toy tribute to the Munsters, the outrageous adventures of Septor and Garth, the dimestore goodness of the Durham Click Button action figures, Superhero and Planet of the Apes knock offs and a fantastic tribute to the Mego Mad Monsters Toy Line.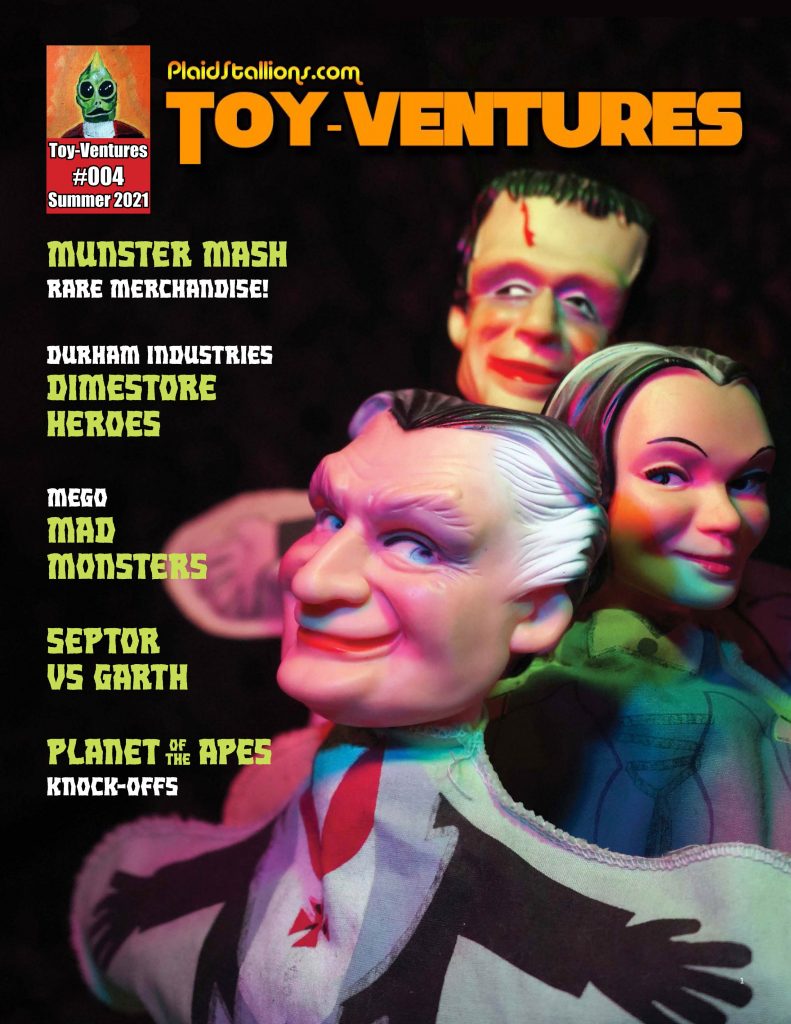 Ebay: https://ebay.us/XSS1X7
MM Store: http://www.megomuseum.com/odeon/store/products/
Amazon:https://amzn.to/3d9Q0AS
FACEBOOK GROUPS FROM PLAIDSTALLIONS

Pod Stallions is one of the most fun groups on Facebook. Join us for our all-day breakfast bar on Sundays and remember, you keep the glass!

Mego Knock Off Headquarters– The leading group discussing 70s dimestore goodness like Lincoln International, AHI, Tomland, Durham, you get the picture. Whether you like Mr. Rock or are more of an Astro Apes person, this is the group you need to be in.