Description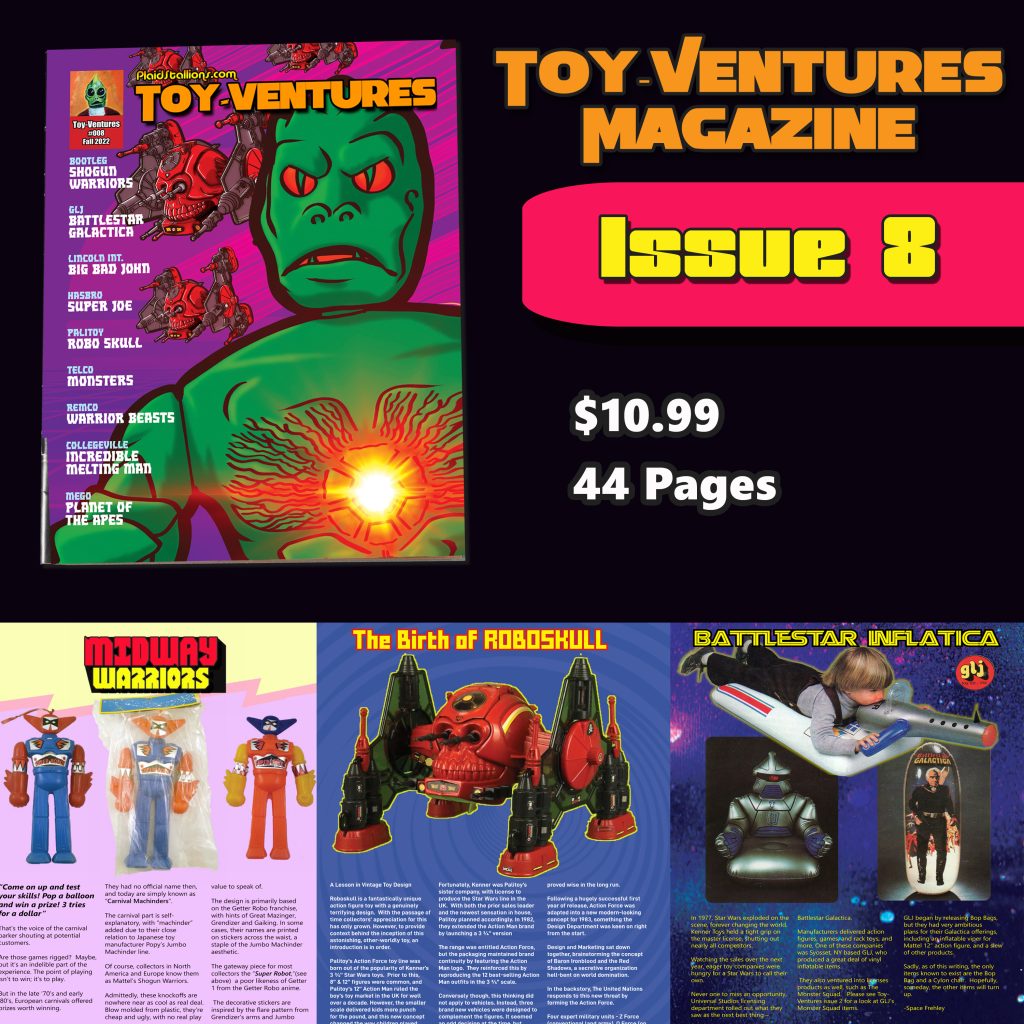 .
Issue 8 of Toy-Ventures is the first in the new direction for the magazine, with more content, new voices and the same quality you've come to expect from our print toy magazine.
This issue has the most articles we've ever included, and we're adding two of what we hope are many recurring columnists:
Basement of Horror– Monster toy guru and popular YouTube host is launching his first column with us and man; October is the perfect month for this as we talk about "The Incredible Melting Man."
The Warriors Toybox– We're elated to have Chance Priest join us for a recurring look at the neat stuff in his toy box. If you don't know Chance's work, you've been missing out; he's a trip! The first article is all about some obscure Remco Warrior Beast toys that will have you scouring eBay.
Ghoul Like Motion– Heath Smith guides us through the world of Telco Monster Motionettes; he's done a fantastic job of creating the ultimate guide to these Halloween classics.
Mid-Way Warriors– Shogun Warriors expert Dave Keymont joins us this issue for a look at the bootleg carnival rip offs of our favourite Machinders, this is just the beginning of our journey with Dave.
The Birth of RoboSkull– Our pal Tony Roberts (Analog Toys), alongside Bob Brechin (former Palitoy designer) take us on an indepth tour of developing one of the coolest 80s toys ever made, the Action Force Robo Skull. You will love this.
Mego Goes Ape Part 4– Our ongoing series covering the Mego Planet of the Apes line talks about the best-selling playsets of 1974 with input from Mego's Marty Abrams.
A Wanted Man– Who is Big Bad John, he's one of the rarest action figures out there and to collectors of Lincoln International, he's our rocket firing Boba Fett!
Single Ladies from Outer Space– The Galaxy Maidens are a bizarre entry in 80s toy history, mainly because they look like they came from a 1950s B-Movie.
Battlestar Inflatica– This article discusses the fantastic Battlestar Galactica toys we didn't get from GLJ.
Kimba the White Lion Halloween Prototype masks- Toy-Ventures regular Corey LeChat shares obscure items from the Collegeville vaults!
All this, and if you act now, you'll be guaranteed a set of Knock-Off Puffy stickers featuring Mr. Rock, Space Flyman, Dr. Zorma from the Astro Apes, the Incredible Bulk and Zing from the Star Raiders. All of the art done by the incredible Chris Franklin. This HUGE pack of stickers is yours free with purchase while supplies last.