Description
Magazine Mega Pack- All 9 Issues of Toy-Ventures Magazine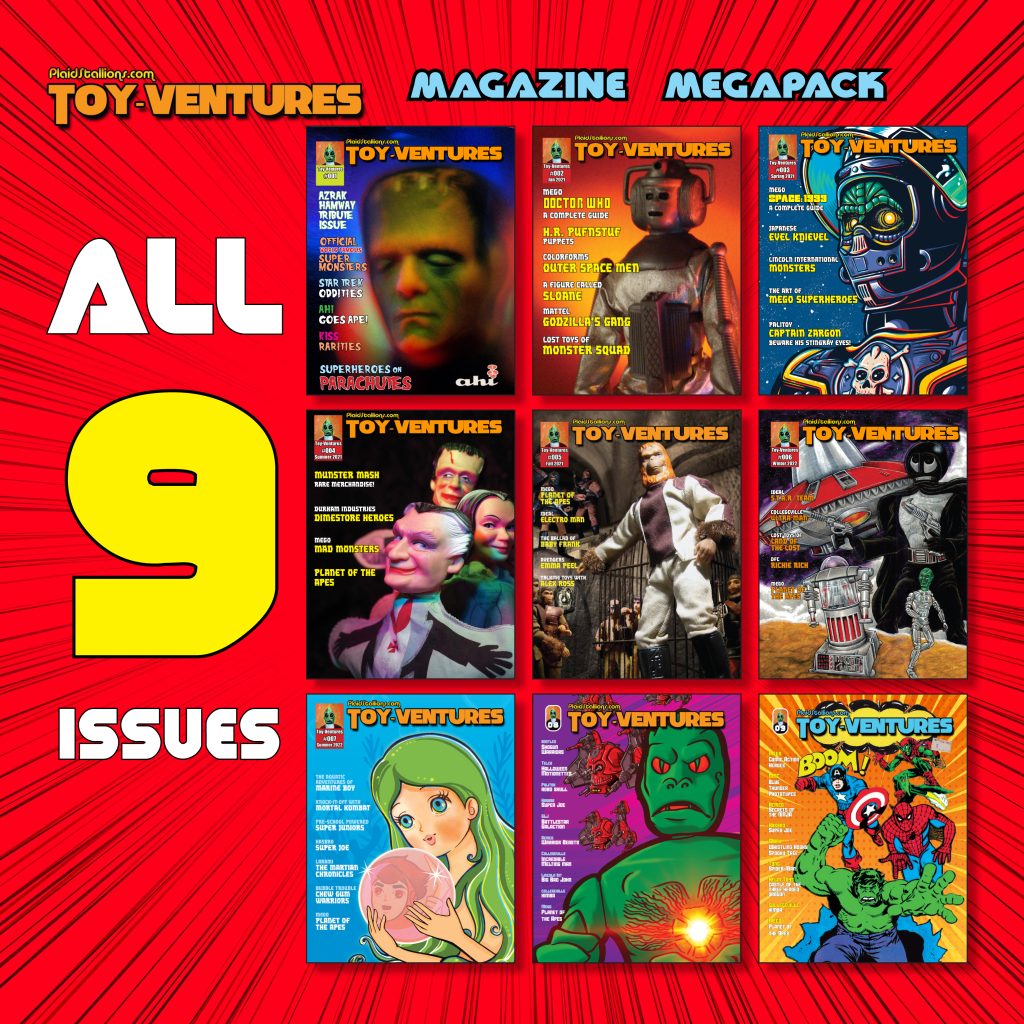 It's the Magazine Megapack! You get all 9 issues of Toy-Ventures.
All available premiums are included.
Subjects include Mego Comic Action Heroes, HR Pufnstuff, Kenner Prototypes, A Man Called Sloane, Marine Boy, Mego Superheroes, Denys Fisher Doctor Who, Palitoy Action Man, Roboskull, The Munsters, Knock-Offs, Space:1999, Basement of Horror, Chance Priest, Leicester Vintage Toyshop, Colorforms Aliens, AHI, Azrak Hamway, KISS, Godzilla, Lincoln International Monsters, Mego Mad Monsters, Collegeville Costumes, Ultra-Man, Shogun Warriors, Bootleg toys, Rack Toys, Land of the Lost, Jigglers, Planet of the Apes, Action Apeman, Hasbro Super Joe, Marty Abrams, Baby Frankenstein, Puppets, Sid and Marty Krofft, Monster Squad, STAR TEAM, Knight of Darkness, Tong, Blue Thunder, Gerry Anderson,
Contributors include:
Tony Roberts (Analog Toys)
Corey LeChat
Chris Franklin (Fire and Water Podcast)
Jason Lenzi (Bif Bang Pow!)
Ray "Acroray" Miller
Ray Castile (Basement of Horror)
Chance Priest (Chance's Toybox)
Alex Ross
John Toyzilla Marshall
Brian Heiler
Steve Fink
Joseph Hand (Leicester Vintage Toyshop)
Tyler Ham
Vincent Cerbone
Thank you, everyone, for the fantastic growing support of Toy-Ventures; we appreciate it when you spread the word as a small start-up; our best friend is word of mouth.
MAGAZINES WILL SHIP IN 48 HOURS FROM PURCHASE, US ORDERS GET TRACKING VIA USPS.