PodStallions 21: Bionic Man-ia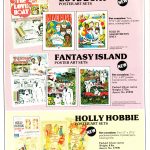 It was bound to happen, episode 21 talks of the Six Million Dollar Man television series which slow motion ran across our television screens (and our collective hearts) during the Polyester decade.

In this we discuss the series itself, the spin offs and the crazy/wonderful merchandise that made Christmas more memorable. We go through the fan club kit, discuss favourtie episodes and villains. Jason also gets to relay his experience working with the license some 30 years later and even
Of course, that being said we get off track into discussions about Mego, Star Wars, West World, Penny Dreadful, the career of John Saxon, Star Trek the Motion Picture , David Carradine and other things completely unrelated to our subject.
Episode 21 will have you looking your Bionic Eye.
Plenty more content on the PodStallions Facebook page!
We'll be adding Bionic Man collectible photos to Facebook.
PODSTALLIONS ON ITUNES
PODSTALLIONS RSS FEED