Pod Stallions 86: The Mandalorian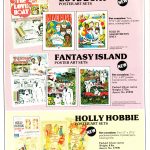 For the first show of 2021, we decided to discuss the Mandalorian but seeing as it's New Year's Eve and we're us, it sort of devolves into a discussion about Star Wars in general, fandom, the term "fan service" and a whole bunch of other tangents.
Join us if you will. Also, we both like the Mandalorian just fine BTW.
You can listen in high quality to all of our episodes here:
http://podstallion.blogspot.com/
Join our Pod Stallions Facebook group here:
https://www.facebook.com/groups/podstallions