Pod Stallions 50: Listener Request Show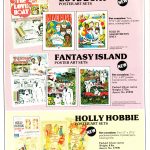 For our 50th show we put it to you, our wonderful audience and boy did you have some good ideas, seriously you gave us a year's worth of topics, Jason and I don't have to do any thinking in 2017 and we thank you because we hate thinking.


But for this show we chose these three themes:
Who we are in the real world?
What are our holy grails in collecting?
Charo?
OK, Charo isn't a question, we just discuss Charo.

It's one of our more interesting episodes and we have all of you to thank. Enjoy and look for many of your suggestions
Show notes:
Plenty more content on the PodStallions Facebook page!








PODSTALLIONS ON ITUNES
PODSTALLIONS RSS FEED