Pod Stallions 41 : Robots!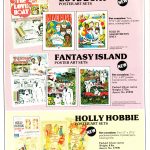 For our 41st episode (and 3rd of 2016 if you're keeping count) we're joined by Famous Monsters of Filmland Editor David Weiner (@tikiambassador) for a discussion of all things robotic.


We each pick and discuss our personal three favourite and least favourite mechanical men from film and television over the decades and discuss why. Along the way, we talk about toys, comics and even radio drama.


We open the show with some words about the influence David Bowie and the crummy news that January delivered.


Topics Discussed: Black Hole, Doctor Who, Hitchhiker's Guide to the Galaxy, Phantom Creeps, Millennium, Lost in Space, Buck Rogers, Logan's Run, Filmation, Space Academy.





Hit us up on our facebook page with your top three best and worst!



Show notes: