Our 10 Best Vintage Toy Store Photos
Our Ten Best Vintage Toy Store Photos
One of the driving passions behind PlaidStallions is collecting Vintage Toy Store Photos. It's a beautiful experience to relive those childhood memories, no matter how fleeting they are. I'm very proud of the many images I've found over the years, so what better time than December to pick our ten favourites?
Who could resist this impressive shot from 1978 of the "Sci-Fi" section of Macy's? Filled with not only the hottest Kenner Star Wars items but in the back we have the Ideal STAR TEAM and Mego Micronauts. It truly is a seven-year-old's dream if you're me.
I love everything about this photo; I want to jump into it and buy a complete set of boxed Shogun Warriors and like all the Godzillas. I wanted these badly as a kid, but the folks said no. Now they task me, they task me! *Shakes Fist*
Gimbels 1980- Look at all those Minty carded Mego Superheroes, Funstuf Rage Cage Hulks and Remco Energized Spider-Men! I am in heaven.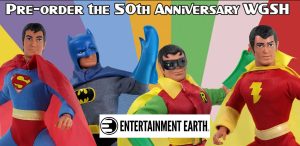 The Mego Superheroes are back!
This shot, which I would love to see in colour, is perhaps my favourite of all the photos I've found. It's the closest I'll get to the Toy Department of the Eaton's in the Scarborough Town Center as a kid. I remember being in awe of all the art on the GI Joe packaging. That display box of Mego Superheroes also screams childhood to me!
The Fisher Price Adventure People showed up every Christmas like clockwork, and I always loved them. Such an amazing line of toys, non-violent and you weren't embarrassed by having girl figures. Bring this back, Fisher Price!
I'll admit I was 15 when this photo was taken, but I still visited the toy aisles A LOT (I've never stopped), which brings me back. I especially love the Kenner Power of the Force figures being regulated to the bottom for such new figure lines as the Infaceables, GI Joe, Thundercats and Masters of the Universe. I think most if not all of these lines are available at toy stores now. Well, probably not the Infaceables; history was not kind to them.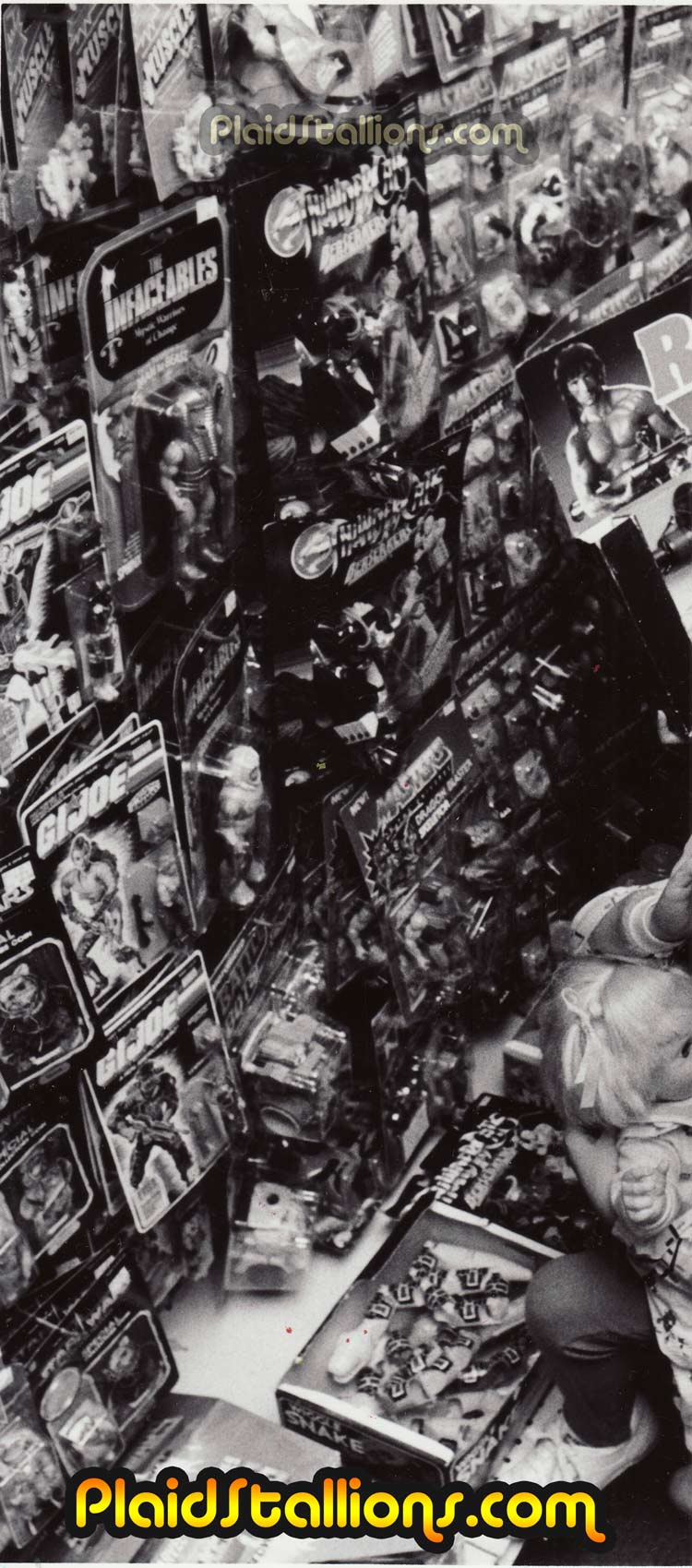 There is something so magical about a whole end cap of Glow-in-the-Dark Aurora monster models. I wonder about the value of that display.
Some sweet Bionic Man goodness on display here. Kenner Steve Austin and friends were a Christmas staple for me from 75-78 and a true highlight of being a kid. Those hot pink boxes really popped!
You know, I know it's just a byproduct of borax, but dammit, I want a can of slime. Always have.
For a kid growing up in a small farm town outside of Toronto, the New Jersey Heroes World stores might as well have been Narnia. I dreamt of going there every time I saw a comic book ad.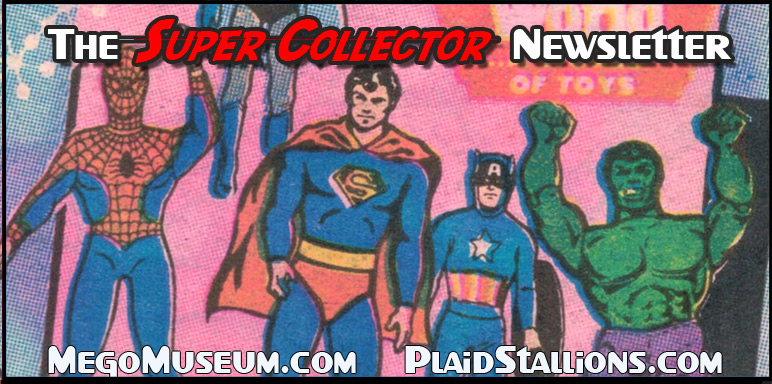 The PlaidStallions Polyester Pals have arrived and come in green and orange. Be the first kid in the sandbox with our Podcast mascots!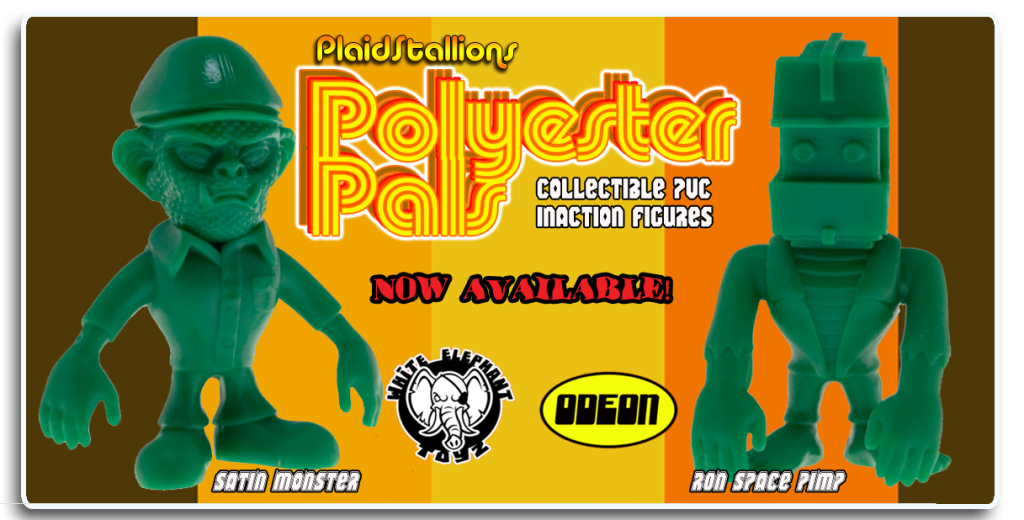 Do you miss toy collector magazines?
That's why we created Toy-Ventures magazine, an old-school print publication dedicated to vintage toys from the 1960s to the 1990s. Each issue is packed with never before seen images and information written by some of the top collectors. We've got 7 issues and climbing; please check our page here or visit our store.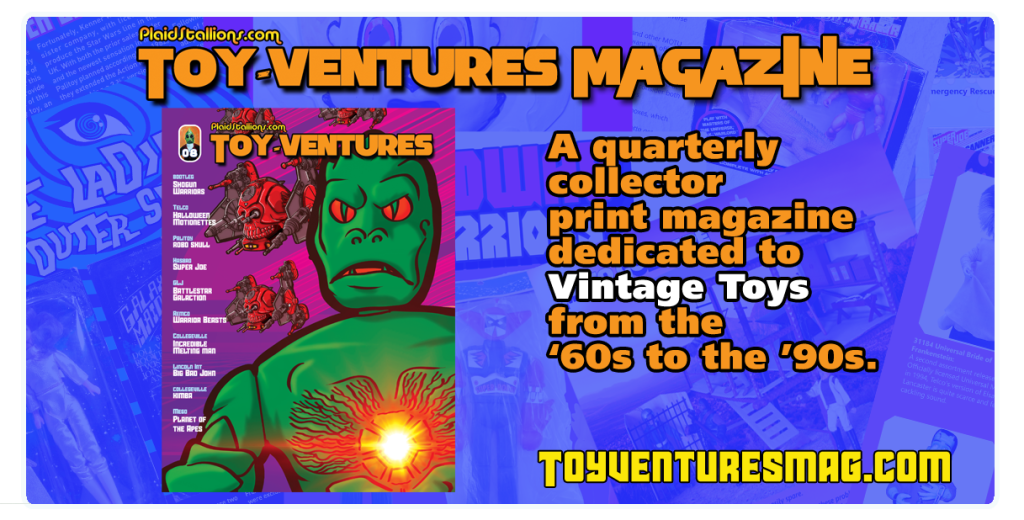 Our latest book is "Knock-Offs: Totally Unauthorized Action Figures" a love letter to cheeky copyright-infringing toys. You can get this new book via the PlaidStallions Shop, On Amazon (Affiliate Link) or eBay (eBay Link)
FACEBOOK GROUPS FROM PLAIDSTALLIONS

Pod Stallions is based on our podcast and is one of the most fun groups on Facebook. Toys, Comics, Movies, TV, it's all up for grabs and remember folks, you keep the glass! If you like our show, then you have found your tribe.

Mego Knock Off Headquarters– The leading group discussing 70s Dime store knock-offs and bootleg action figures, we talk vintage toys and not others. We know the difference between Astro Apes and Action Apeman.  It's a fun group where we talk about Lincoln International, AHI, Mighty Gary, Tomland, Bogi, Demo Man, Mortoys, and other generic greats.
5 Awesome Things on eBay this week
#grimace #superheroes #racktoys