1989 Galoob Star Trek TNG catalog
Lewis Galoob Toys inc took a major gamble in the late 1980s when it licensed the merchandising rights to the yet-to-air syndicated series "Star Trek: The Next Generation" in the late 1980s.
Star Trek had a varied history as a toy property. The television series would make millions for companies such as Mego. Still, the subsequent Motion Picture was a massive disappointment for licensors and left a mark of uncertainty on the brand's viability.
The first wave of figures was received well by fans, and it was one of the first lines to have adult collectors seeking variants. However, several issues plagued the line, such as strange case counts resulting in an overabundance of certain characters, and the series had a somewhat shaky first season.
These issues scuttled the line in its second year when only a fraction of the toys promised were released. This remarkable document from Galoob showcases some of them.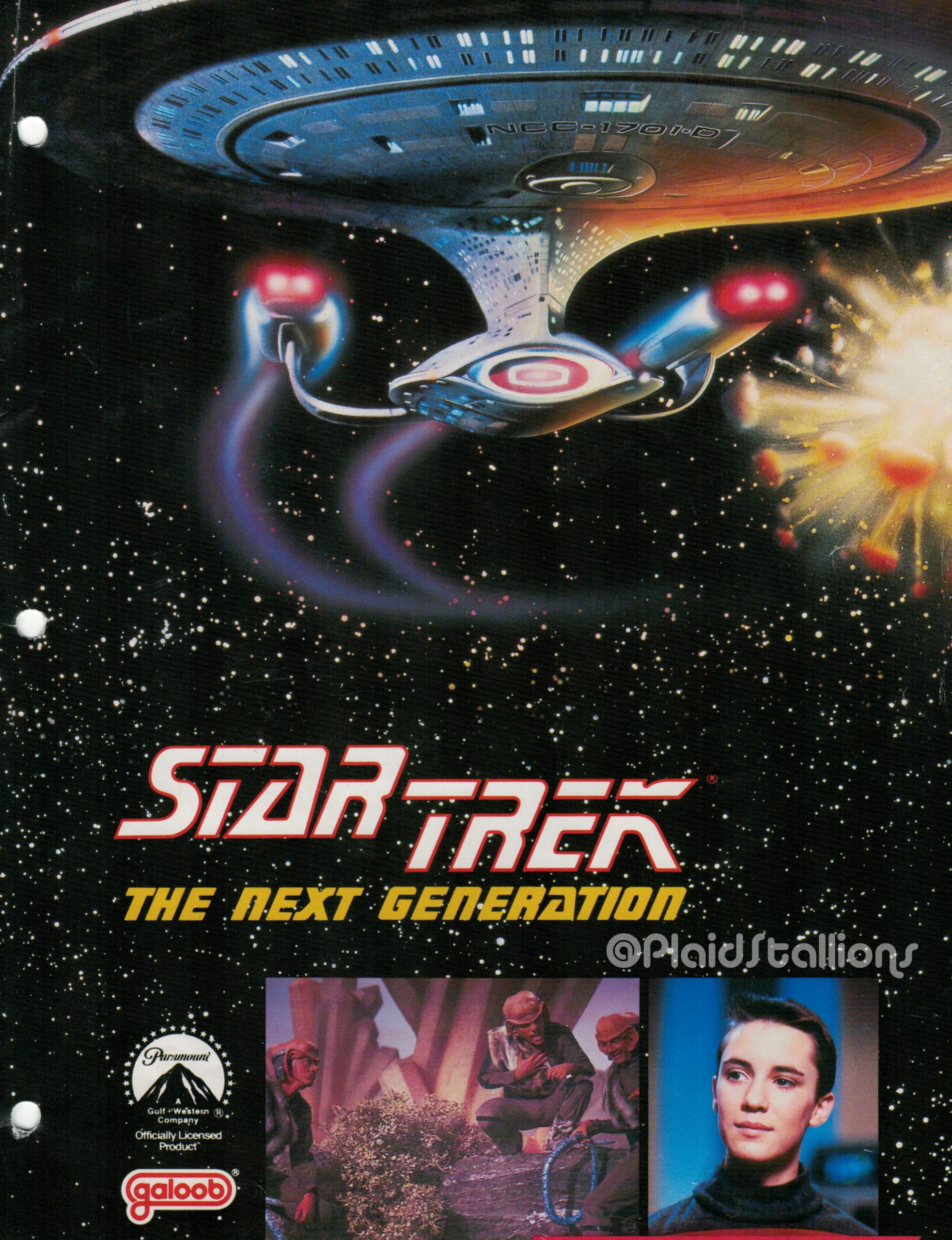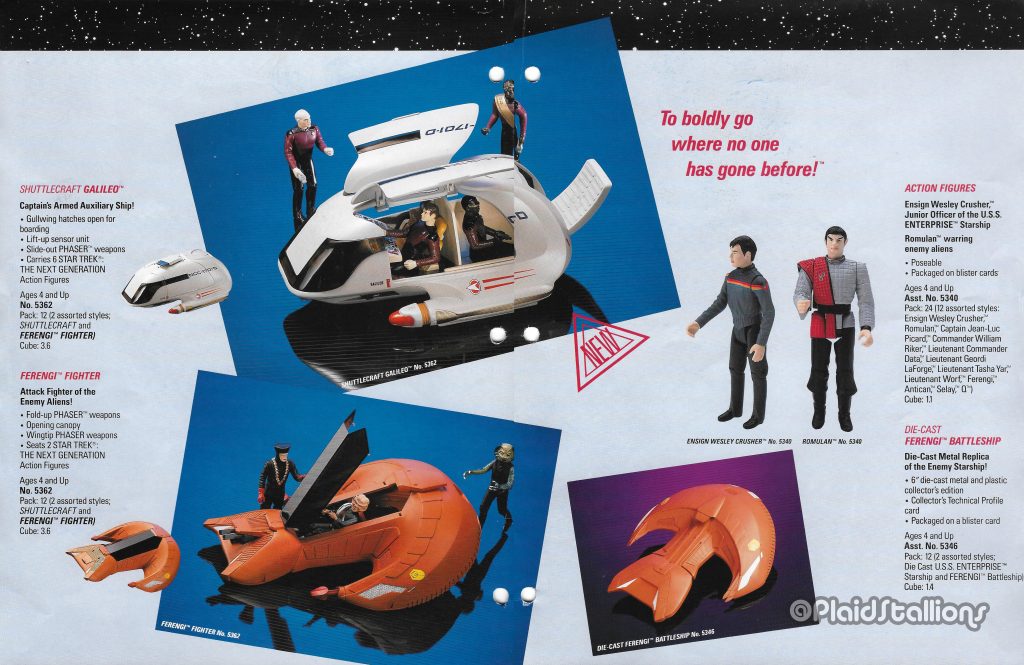 Click on the image above for a larger look at this two page spread from the Galoob Star Trek TNG catalog.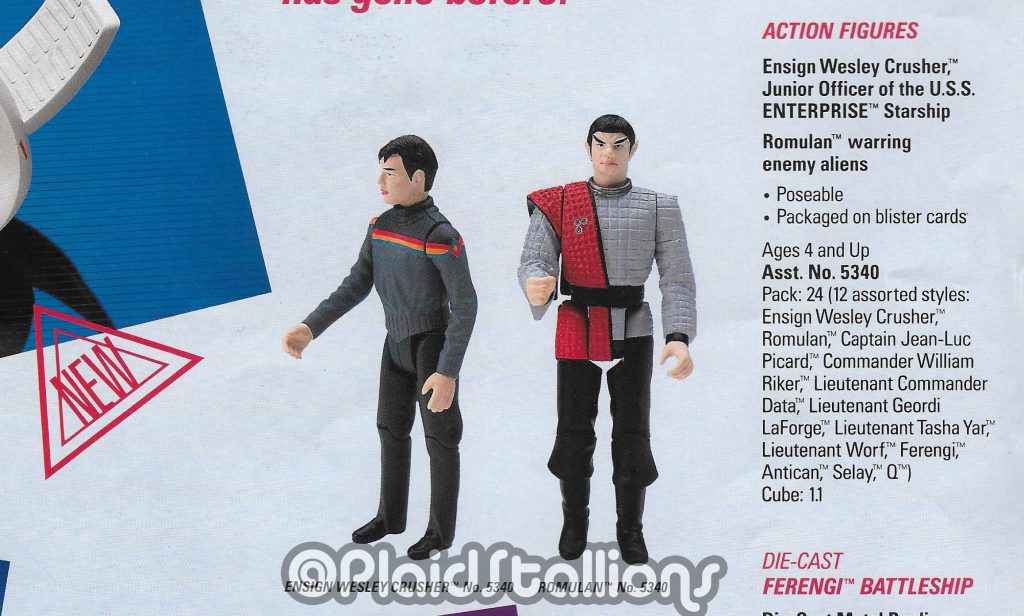 The main focus in this is the two new figures for that year, namely Wesley Crusher and the Romulan. I'm particularly smitten with the Romulan as it's the only character with ties to the original Star Trek series. Galoob sadly cancelled the line before these saw release.
The Shuttles for the Galoob Star Trek TNG line would see limited release, as did the Alien figures. I would never see these at retail; I would only see them in collector shops for five times retail. This line's distribution issues were right from the get-go it seems.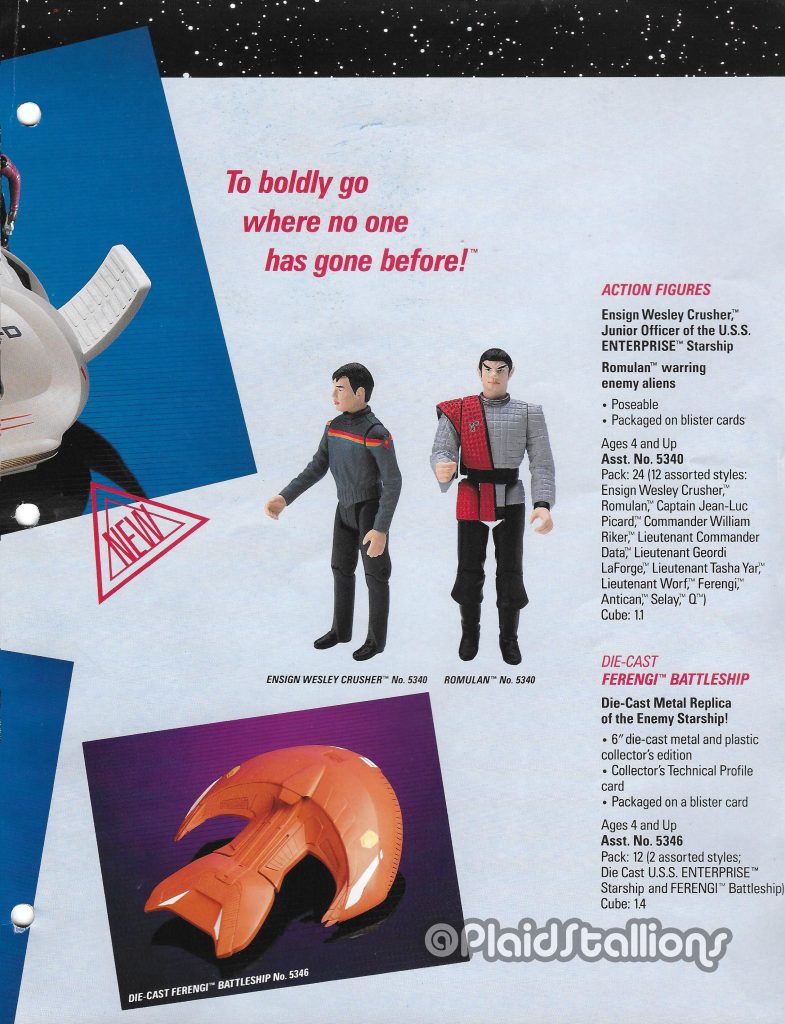 The die-cast Ferengi ship is another story. I DID see this at retail, at a Toys and Wheels store in Pickering, ON in July of 1989. I remember it because it was on an Enterprise card and my then-girlfriend said "Hey, that's not the Enterprise". I wish I had bought it, I don't know how it got there but it was sitting on the close-out rack with the other TNG toys. Oh for a time machine.
Do you miss toy magazines?
That's why we created Toy-Ventures magazine, an old-school print publication dedicated to vintage toys from the 1960s to the 1990s. Each issue is packed with never before seen images and information written by some of the top collectors. We've got six issues and climbing; please check our page here or visit our store.
Our newest book "Knock-Offs: Totally, Unauthorized Action Figures," is now available. It's 130 pages of bootleg goodness.
You can get this new book via the PlaidStallions Shop , On Amazon (Affiliate Link) or on eBay (eBay Link)
Our book Rack Toys, Cheap, Crazed Playthings is now available again! Order through our Affiliate Link
Order Rack Toys 2.0 Here through our Affiliate Link►https://amzn.to/3Bkm9z1
FACEBOOK GROUPS FROM PLAIDSTALLIONS

Pod Stallions is based on our podcast and is one of the most fun groups on Facebook. Toys, Comics, Movies, TV, it's all up for grabs and remember, you keep the glass! If you like our show, then you have found your tribe.

Mego Knock Off Headquarters– The leading group discussing 70s Dime store knock-offs and bootleg action figures, we talk vintage toys and not others. We know the difference between Astro Apes and Action Apeman.  It's a fun group where we talk about Lincoln International, AHI, Tomland, Bogi, Demo Man, Mortoys, and other generic greats.