1987 Collegeville Halloween Costume Catalog
1987 Collegeville Halloween Costume Catalog
The "Smock and Mask" costumes made famous by companies like Ben Cooper and Collegeville were still going full steam ahead in the 1980s. This was the era of action figures and toys have a full media assault of cartoons, comics and merchandise.  The 1987 Collegeville Halloween Costume catalog reflects this era with some of the most popular brands mingled in with a few that well, don't quite have the same mojo.
Photon was the name of Lasertag arenas and had a brief tv-series and action figures by Entertech.
Bravestarr was Filmation's follow up to Masters of the Universe and even had a Mattel Toy Line. 
I don't have to explain Rambo to anyone do I?
Transformers are probably the biggest license Collegeville had at this time.  I have never seen LJN Blinkins before today.
It's not the 1980s until a Ninja shows up.
Scratch and Sniff costumes which would encourage people to touch and smell your child.
Call me crazy but I don't think this was a great idea.
Nerd Candy had a costume? I learned something today!
The Peanuts were pretty much a 35-year staple.
Generic Monsters like these means Ben Cooper had the Universal Monsters License at the time. It ping ponged between Collegeville and Ben Cooper quite a bit.
At this point Collegeville has been selling that Ghost since the early 1970s, here it is in the 1973 catalog.
A line of Halloween Costumes based on Lisa Frank stickers, the 80s were truly madness.
These stretch stocking masks are "Wet the bed" terrifying. 
Nice to see Frankenstein somewhere in this.
Our book Rack Toys, Cheap, Crazed Playthings is now available again! Order through our Affiliate Link
Order Rack Toys 2.0 Here through out Affiliate Link►https://amzn.to/3Bkm9z1
Toy-Ventures Magazine is our newest creation, an old-school print magazine about vintage toys! Professionally laid out and written, each issue is brimming with obscure and rare toys from companies such as Mego, Kenner, Remco, AHI, and much more. Monsters, Superheroes, Adventurers, Knock Offs, Apes, and so much more, it's in Toy-Ventures.
Toy-Ventures Issue 5 is available now:
Ebay: https://ebay.us/XSS1X7
Plaid Stallions Store: https://plaidstallions.com/reboot/shop/
Amazon Affilitate Link:https://amzn.to/3d9Q0AS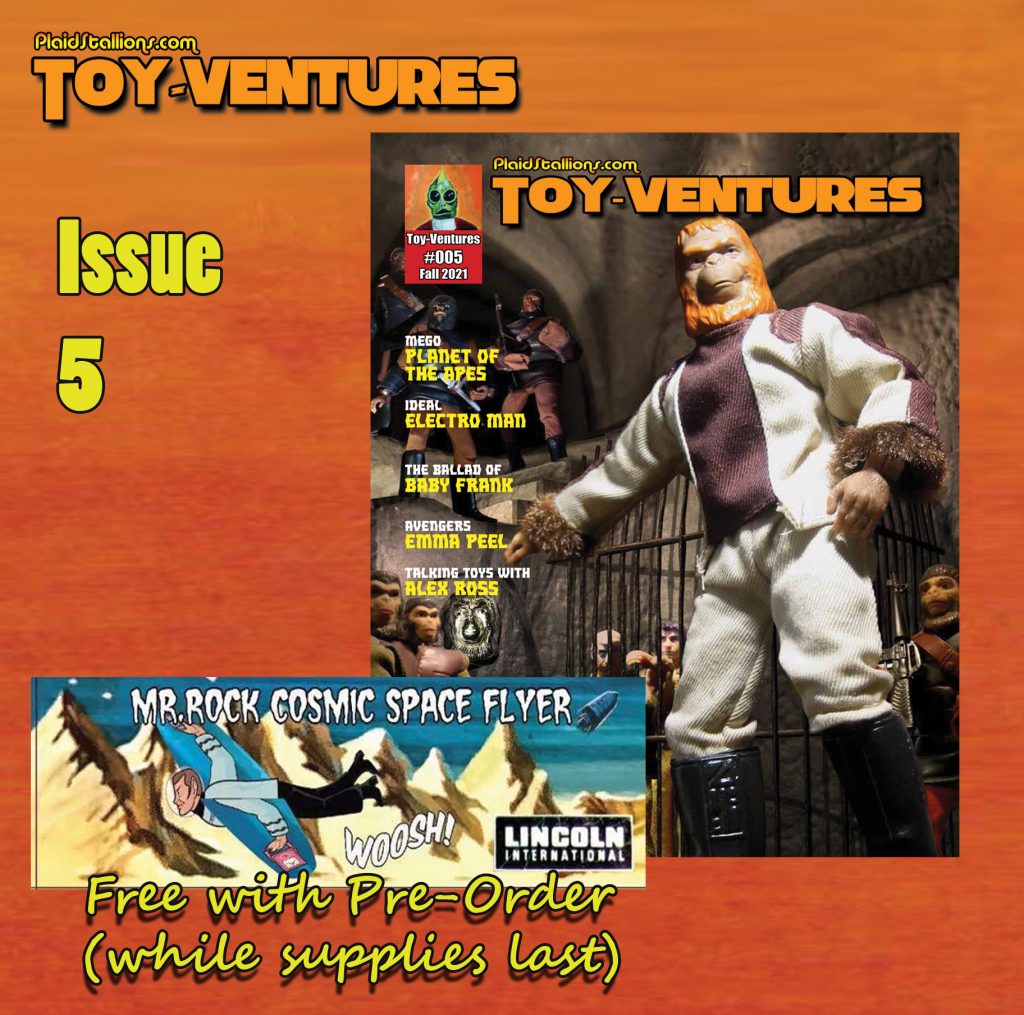 FACEBOOK GROUPS FROM PLAIDSTALLIONS

Pod Stallions is one of the most fun groups on Facebook. Toys, Comics, Movies, TV, it's all up for grabs and remember, you keep the glass!

Mego Knock Off Headquarters– The leading group discussing 70s Dime store knock-offs of Mego action figures, we talk vintage toys and not others. We know the difference between Astro Apes and Action Apeman! It's a really fun group where we talk about Lincoln International, AHI, Tomland, Bogi, Demo Man, Mortoy, and other generic greats.