1983 Fisher-Price Adventure People Catalog
Fisher-Price Adventure People Catalog From 1983
One of the most influential Action figure lines of the 1970s, the Fisher-Price Adventure People were North America's first 3 3/4″ line of action figures and vehicles. These durable toys had a great deal of play value and the toy line lasted for nearly a decade, which in the toy industry is a solid win.
Here we have a glimpse at the 1983 Fisher-Price Adventure People catalog where the adventure has more of a sci-fi slant, which is not surprising considering the popularity of Star Wars and Masters of the Universe at that time.
The Alpha Star was a big-ticket item for Fisher-Price Adventure People in 1983, the addition of a space creature was unique to this set. The Alpha Star was a follow-up to the very popular Alpha Probe from the year previous. It is packed with electronic features like its predecessor.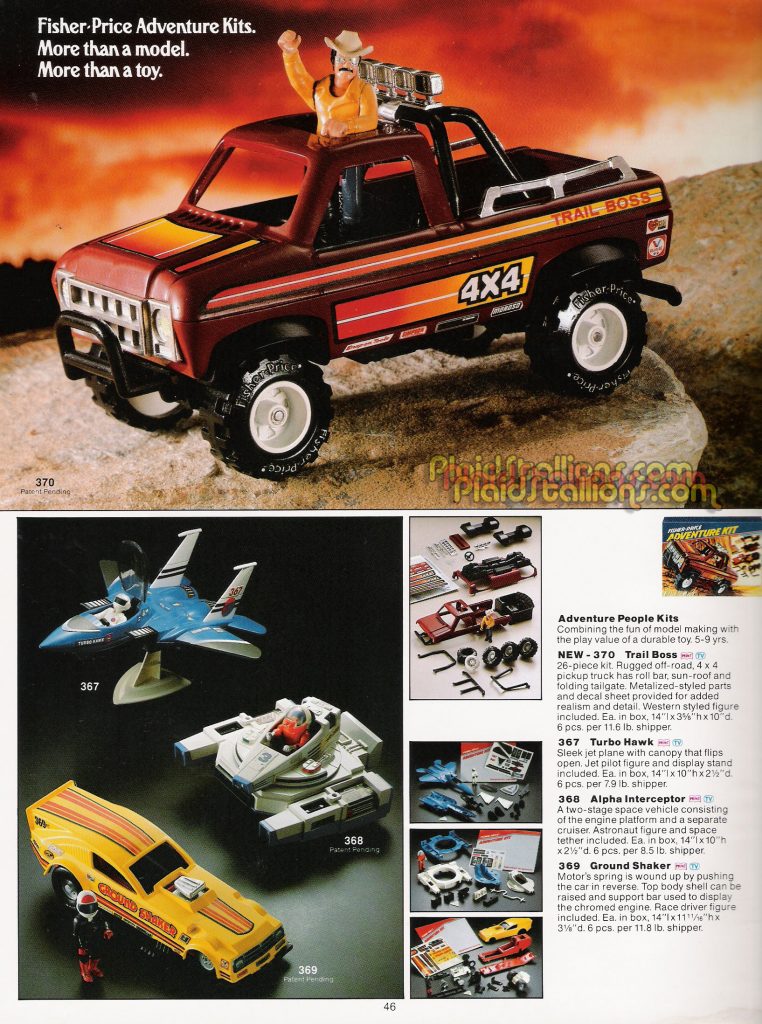 The driver of the truck bears more than a passing resemblance to one Burt Reynolds. The Fisher-Price Adventure People kits were an attempt to get the child to build the vehicle they were about to play with and possibly attract a slightly older child.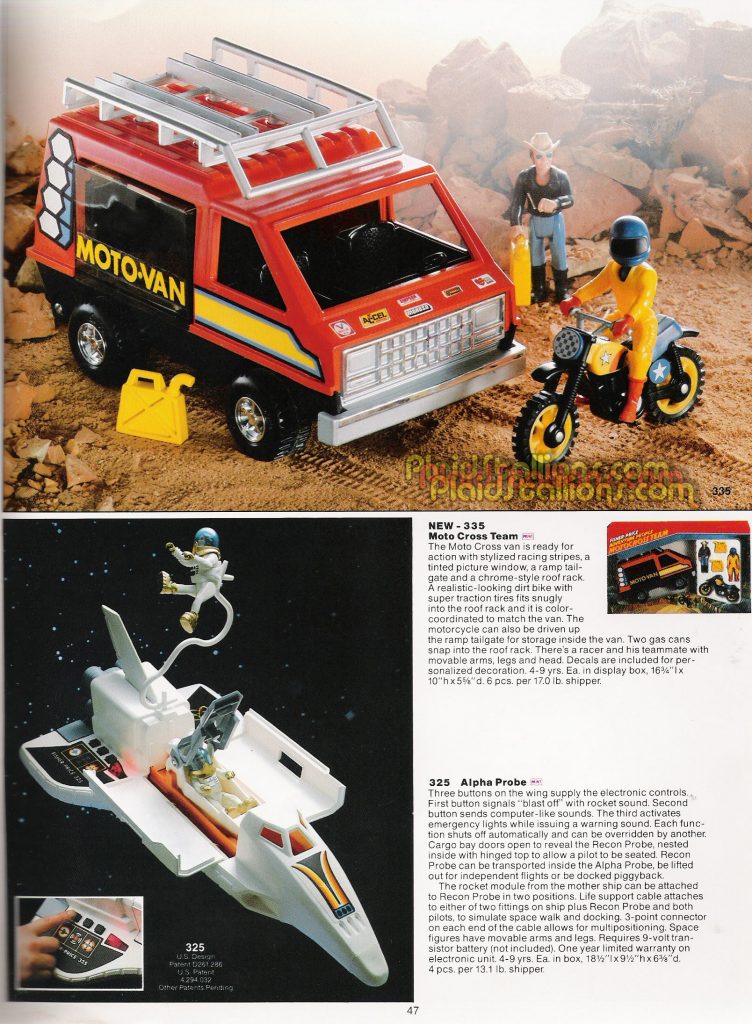 The Motor Cross set was made entirely or retooled parts from earlier sets, the man in the cowboy hat is the Ranger from earlier sets while the van is from the "Action news Team" set. The Alpha Probe was electronic, very popular and was offered for a couple of years.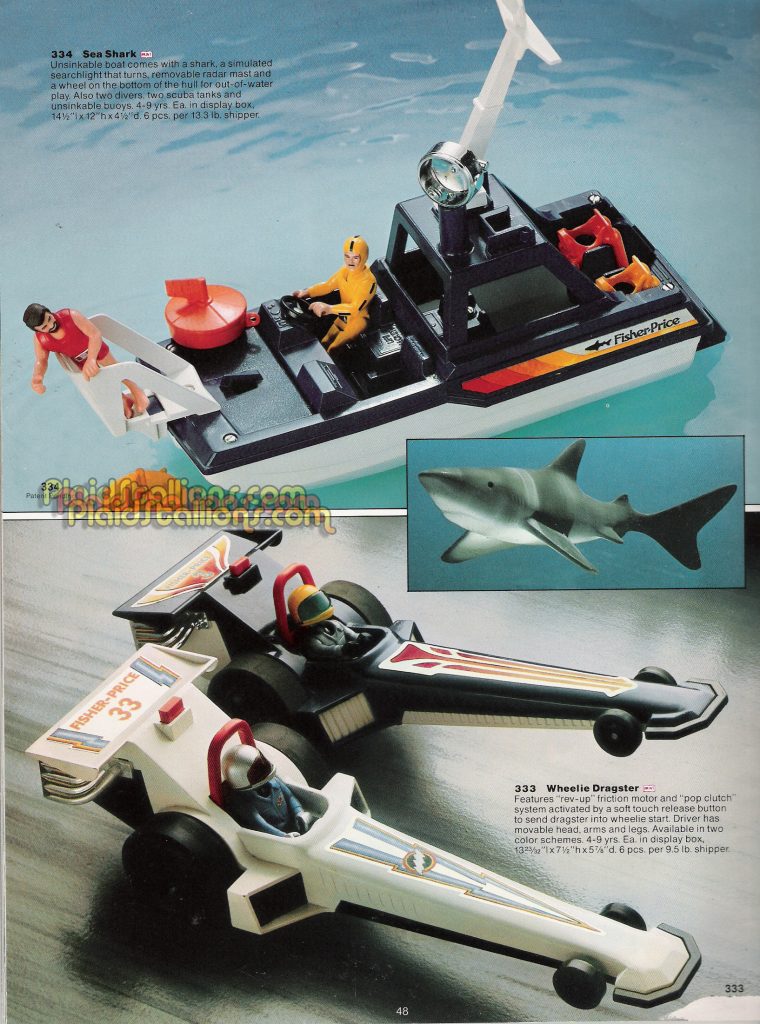 Despite all the Science Fiction in the line, the Adventure people never lost certain themes such as Underwater exploration and racing. These later sets represent a slightly more macho attitude than the sets of the mid-seventies which came with a dolphin instead of a shark.

Many of the individual Fisher-Price Adventure People figures are retooled from earlier sets and made "Spacey", take a good look and you'll recognize some of them. They're now super popular in the "Garage Toy" industry.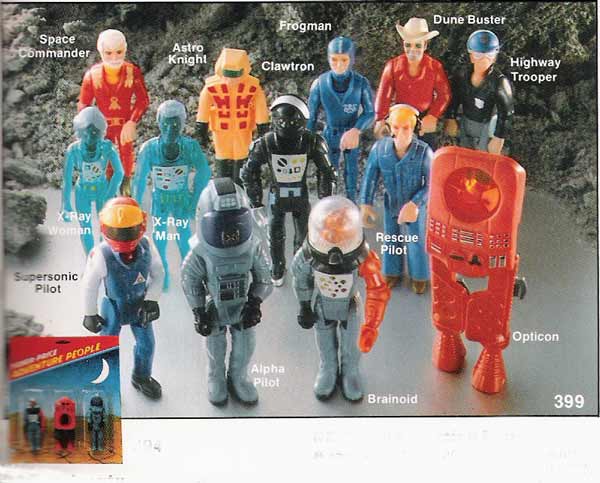 Astro Knight used to come with a glider that was a lot of fun. Individually he had very limited articulation.
Toy-Ventures Magazine is our newest creation, an old-school print magazine about vintage toys! Professionally laid out and written, each issue is brimming with obscure and rare toys from companies such as Mego, Kenner, Remco, AHI, and much more. Monsters, Superheroes, Adventurers, Knock Offs, Apes, and so much more, it's in Toy-Ventures.
Toy-Ventures Issue 4 is available now:
Ebay: https://ebay.us/XSS1X7
MM Store: http://www.megomuseum.com/odeon/store/products/
Amazon:https://amzn.to/3d9Q0AS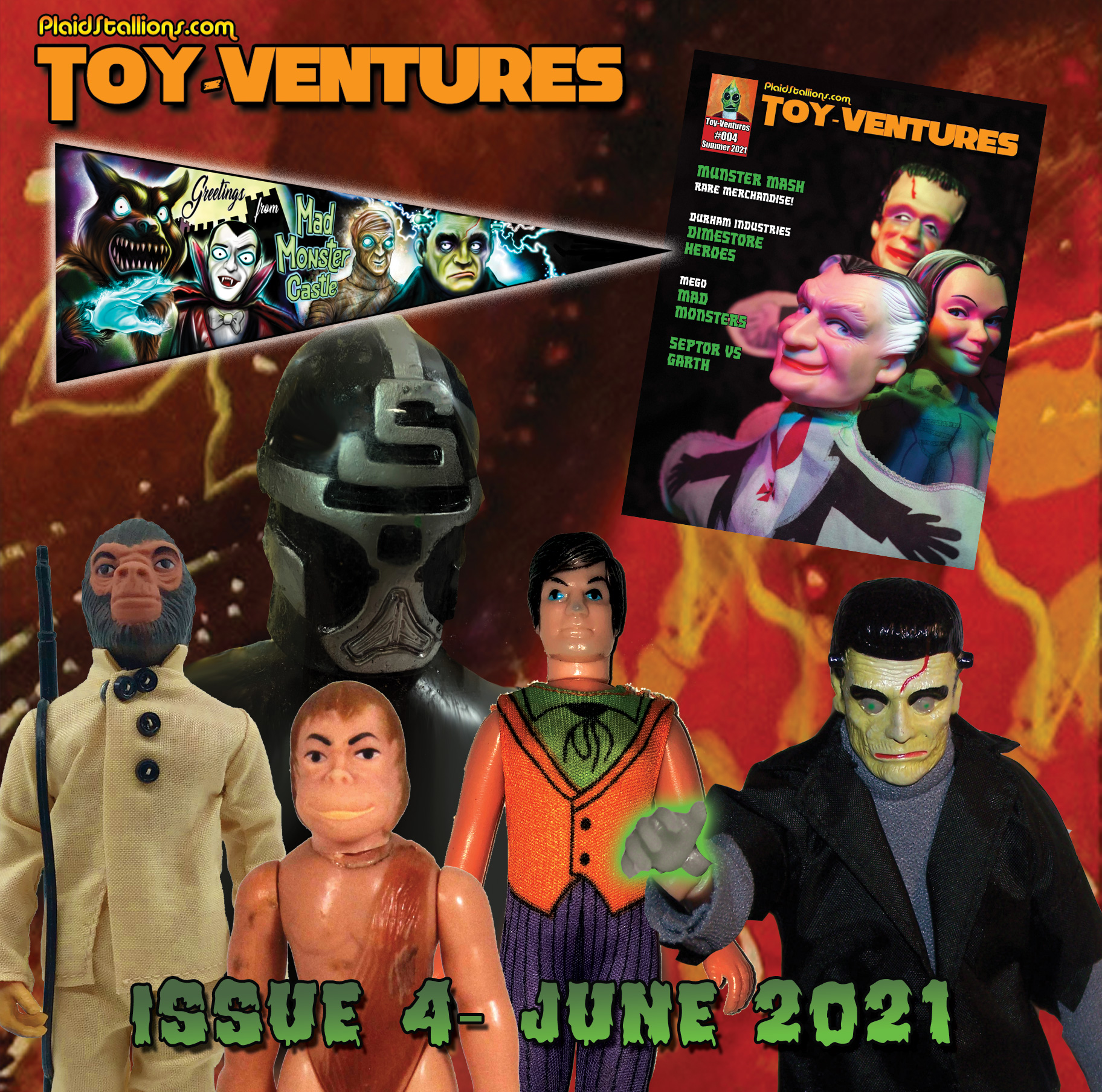 FACEBOOK GROUPS FROM PLAIDSTALLIONS

Pod Stallions is one of the most fun groups on Facebook. Toys, Comics, Movies, TV, it's all up for grabs and remember, you keep the glass!

Mego Knock Off Headquarters– The leading group discussing 70s Dime store knock-offs of Mego action figures, we talk vintage toys, not others. It's a fun group where we talk about Lincoln International, AHI, Tomland and all those companies that never thought to put their name on things.