1974 Ideal Toys Evel Knievel Catalog
Another glorious look at one of the decade's greatest successes and possibly one of the biggest hits in toy history. When Ideal toys licensed the likeness of Robert "Evel" Knievel known for his wild (and painful) stunts and combined it with one of the grooviest toy concepts known, it was gold!
During these years, the EK stunt set was a top ten bestseller in North America and it was a steady rocket ride for the next couple of years.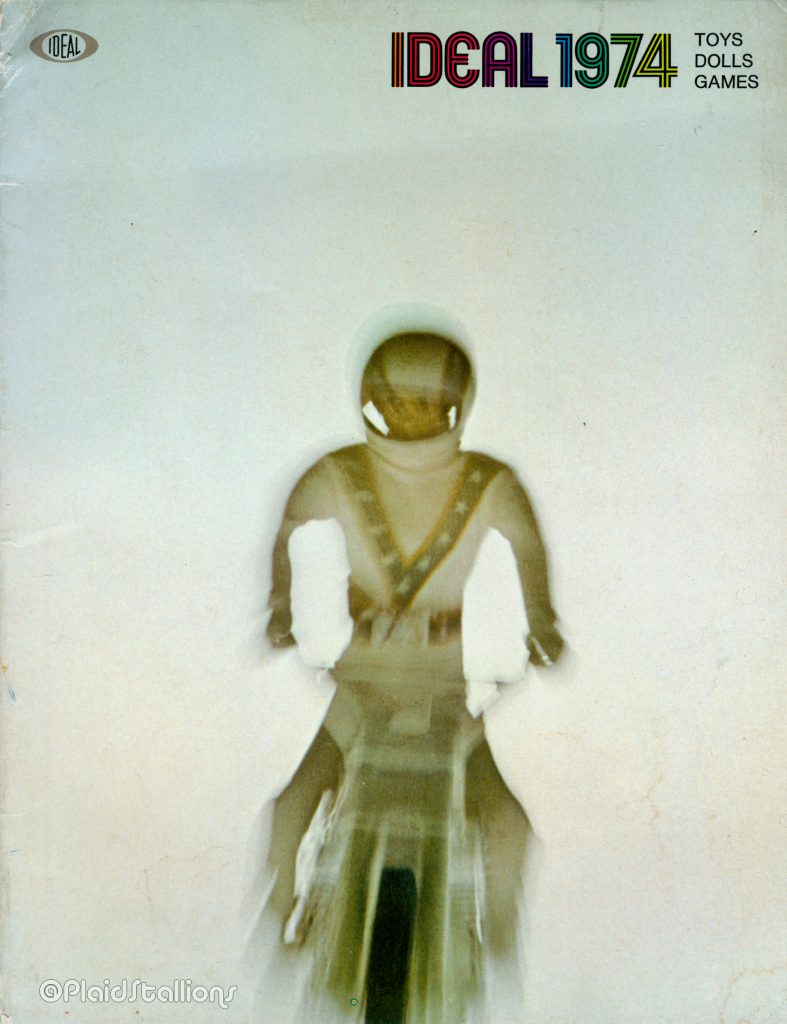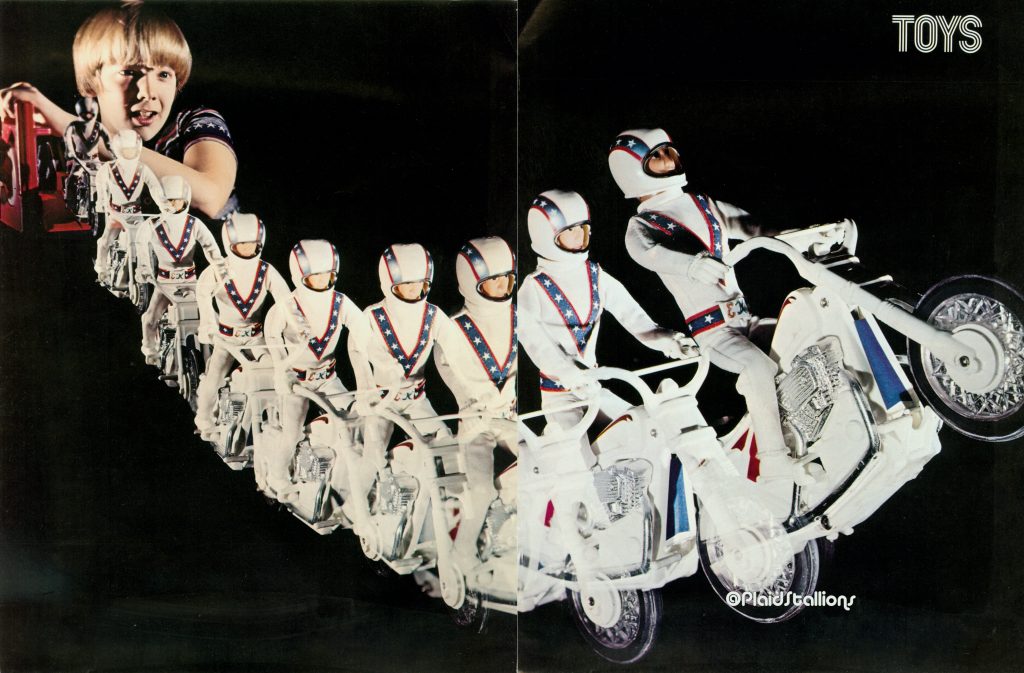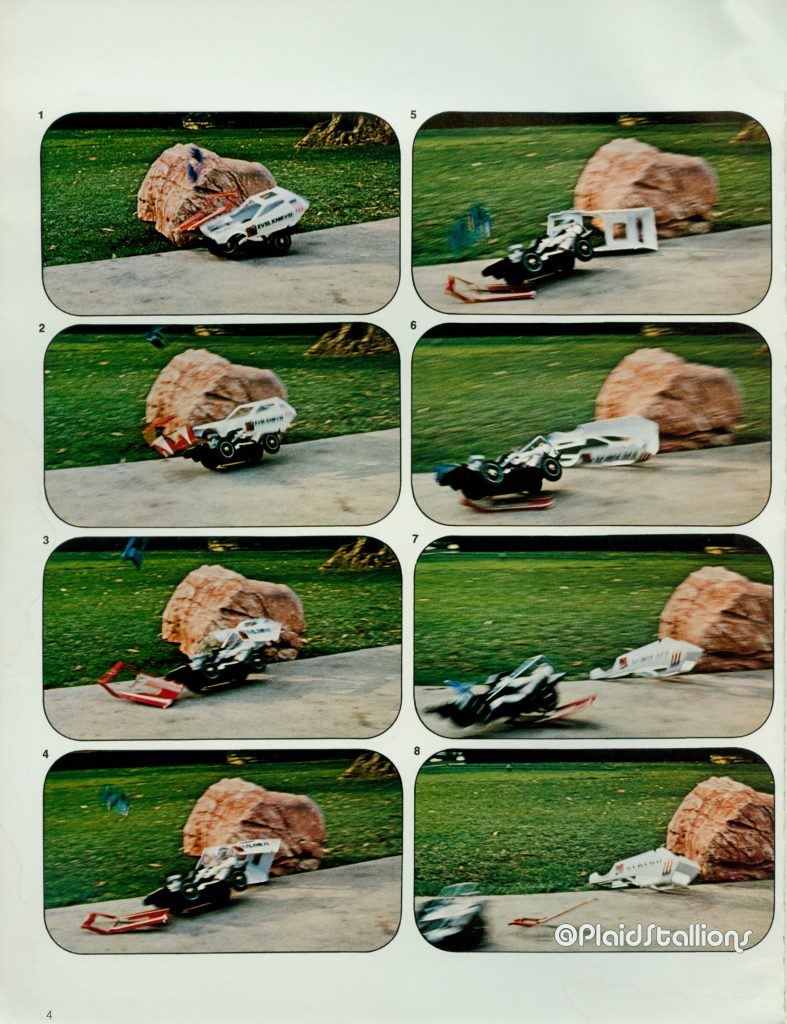 A nice depiction of the carnage that can be had with these toys, as a bonus, the Evel Knievel figure had no bones to break.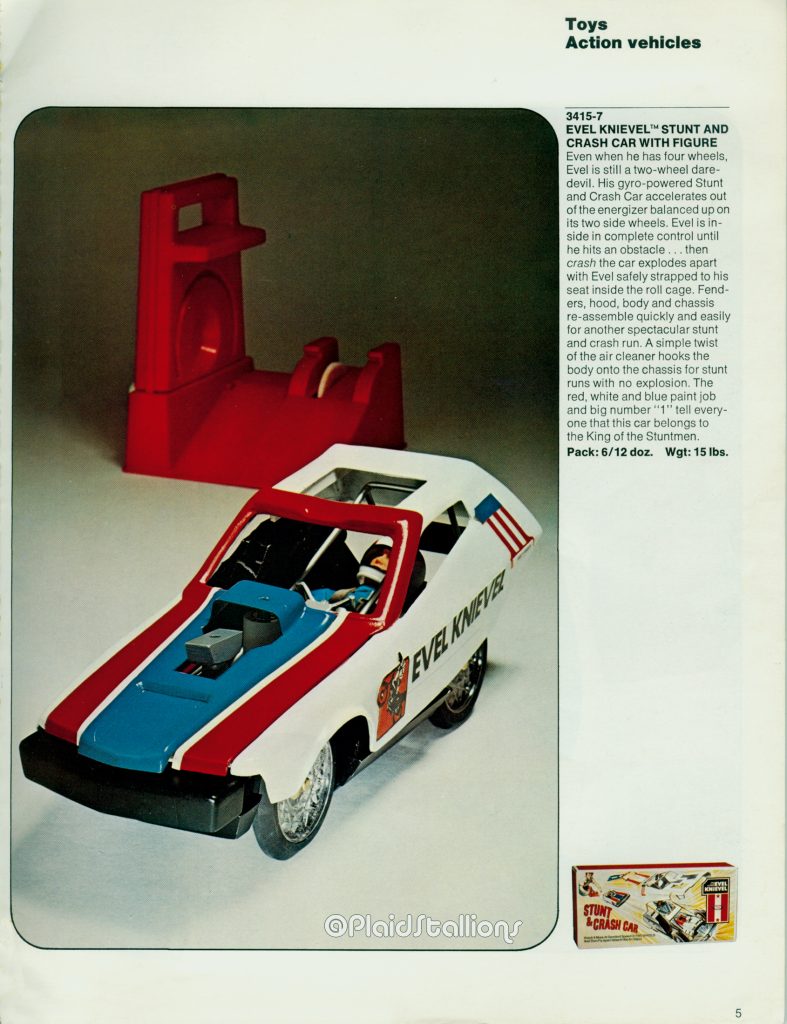 The crash car empowered little boys to break their toys, a brilliant stroke of marketing. Growing up we all want to see what would happen if we ran our toys into a wall, this gave us a safe way to do this.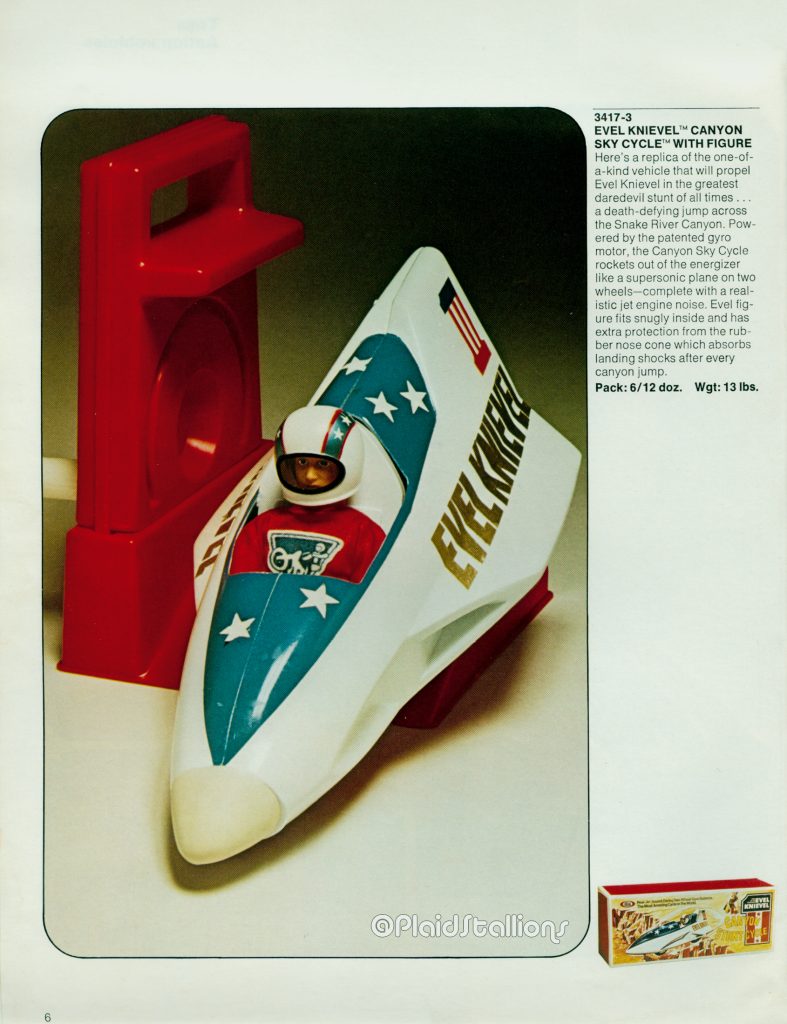 Evel's steam-powered Rocket was a bit of a bust that nearly killed him but it sure made for a cool toy. It was later recycled into Ideal's Star Wars clone, Star Team.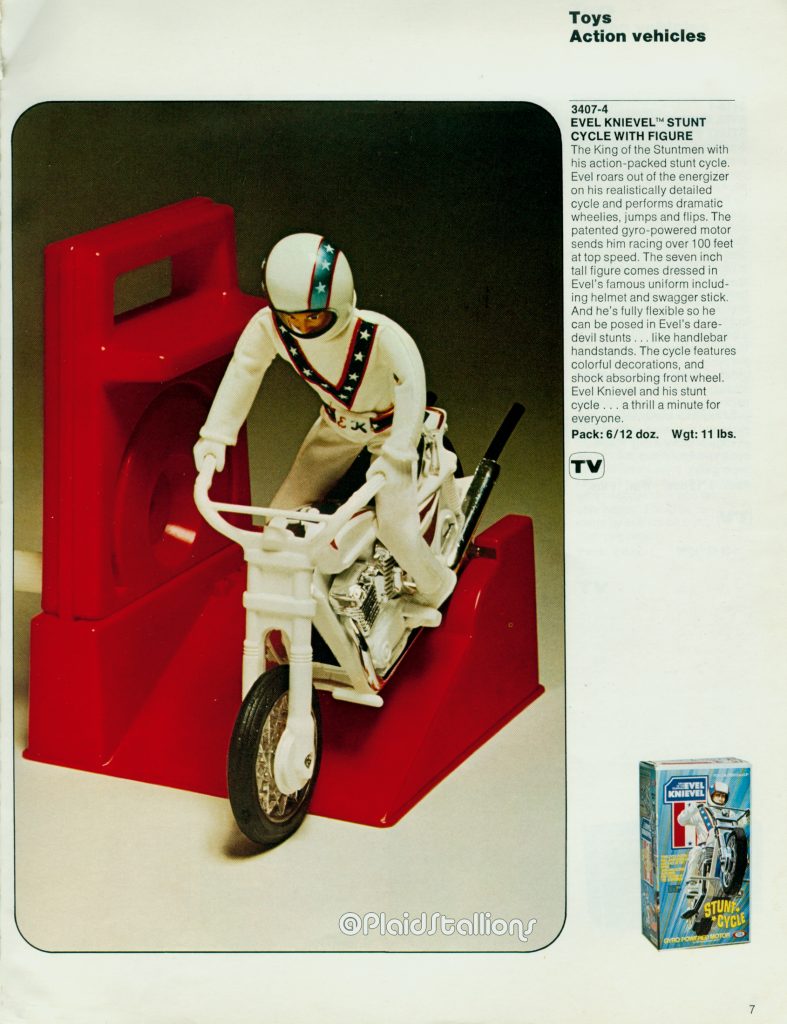 The old standard, I think most of us think "Motorcycle" when we think of Evel.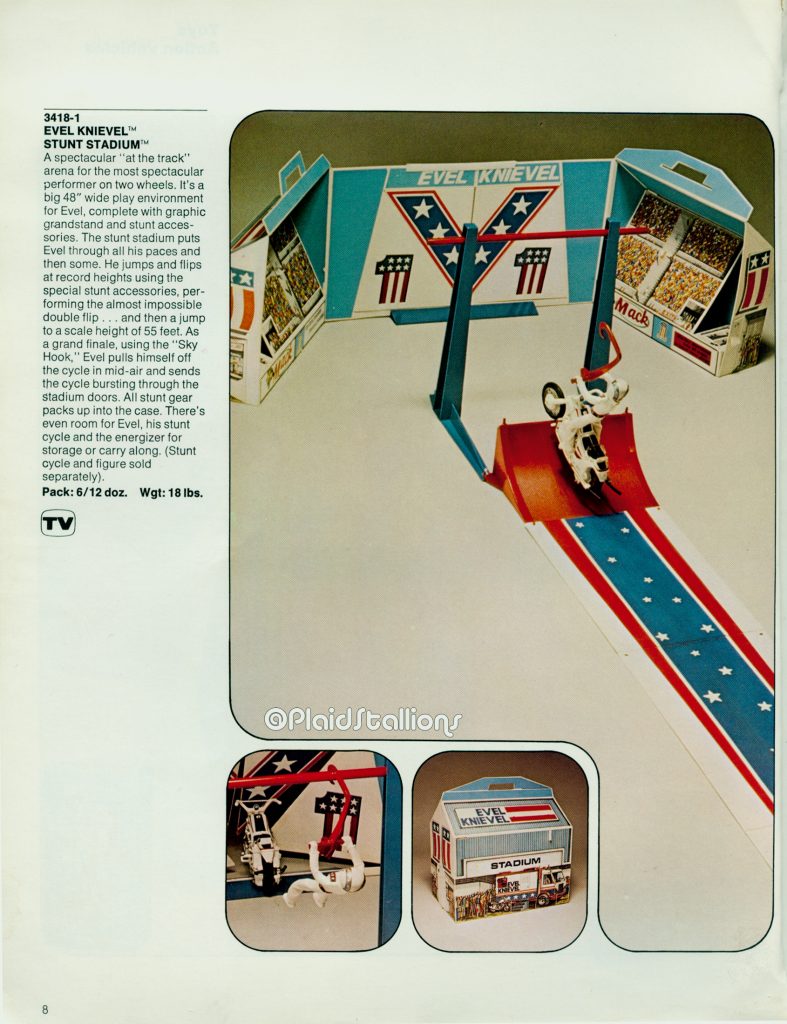 The Stunt Stadium was one of the bigger playsets of the era.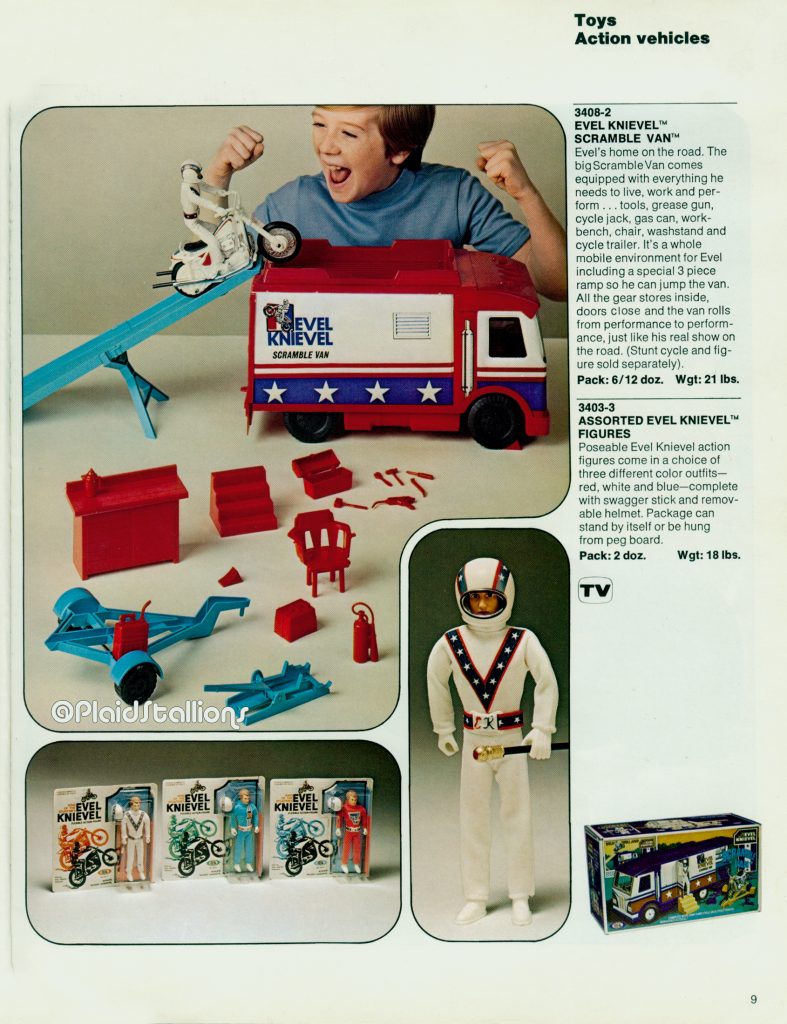 The scramble van was on Santa's "most requested" list that year..
Issue 6 of Toy-Ventures ships next week, order now from our shop and get a free Star Team Poster by legendary artist Dave Waugh!
Our newest book "Knock-Offs: Totally, Unauthorized Action Figures" is now available. It's 130 pages of bootleg goodness.
You can get this new book via the PlaidStallions Shop , On Amazon (Affiliate Link) or on eBay (eBay Link)
Our book Rack Toys, Cheap, Crazed Playthings is now available again! Order through our Affiliate Link
Order Rack Toys 2.0 Here through our Affiliate Link►https://amzn.to/3Bkm9z1
FACEBOOK GROUPS FROM PLAIDSTALLIONS

Pod Stallions is one of the most fun groups on Facebook. Toys, Comics, Movies, TV, it's all up for grabs and remember, you keep the glass!

Mego Knock Off Headquarters– The leading group discussing 70s Dime store knock-offs of Mego action figures, we talk vintage toys and not others. We know the difference between Astro Apes and Action Apeman! It's a really fun group where we talk about Lincoln International, AHI, Tomland, Bogi, Demo Man, Mortoy, and other generic greats.