1974 AHI Catalog – Azrak Hamway- Super Monsters- Batman
1974 AHI Catalog
Azrak-Hamway International was the absolute king of the 1970s licensed Rack Toys.
1974 was a giant leap for the company as it saw them significantly expand their licensed offerings and create iconic collectable toys.
AHI chose such heavy hitters as the Universal Monsters, Batman, Spider-Man, the Super Friends, Popeye, the Flinstones and more. It's rack toy heaven…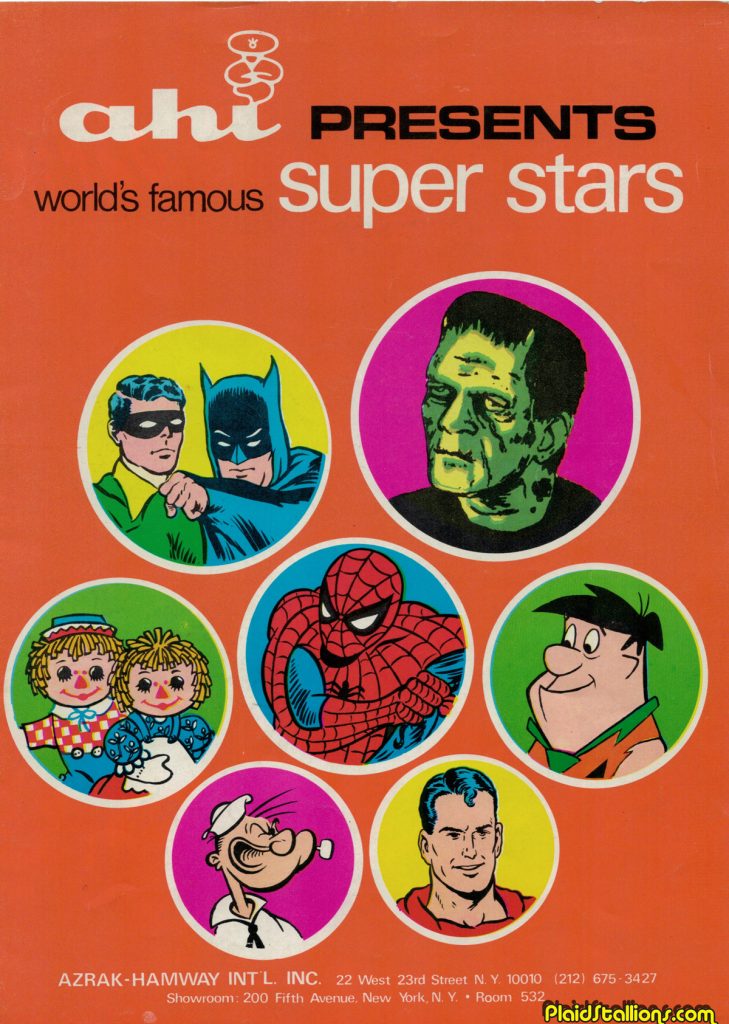 The cover to the 1974 AHI Catalog is one of my favourites in my entire collection, simple, colourful and so joyous.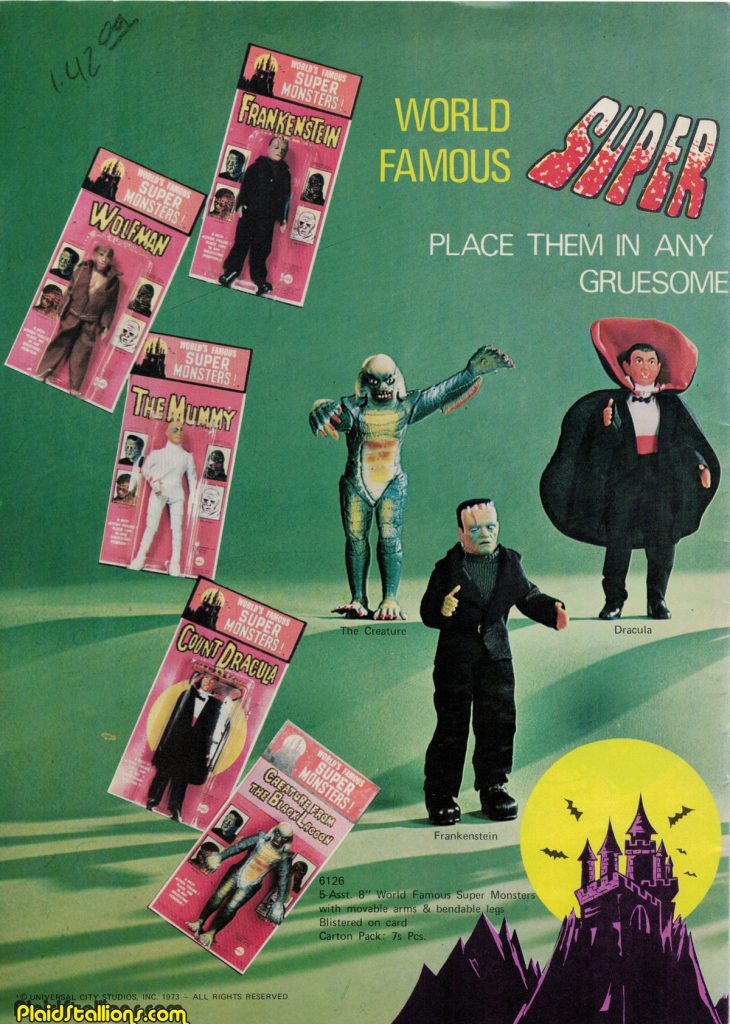 The World Famous Super Monsters were the result of AHI scooping the action figure license from rival toymaker Mego. According to Mego President Marty Abrams, Mego simply stopped negotiating and developed their own generic monster line.
For more on the Mad Monsters, check out this episode of Toy-Ventures

Click here for the double-page spread.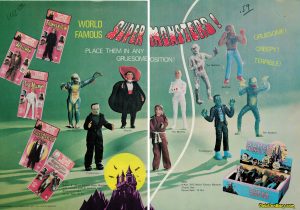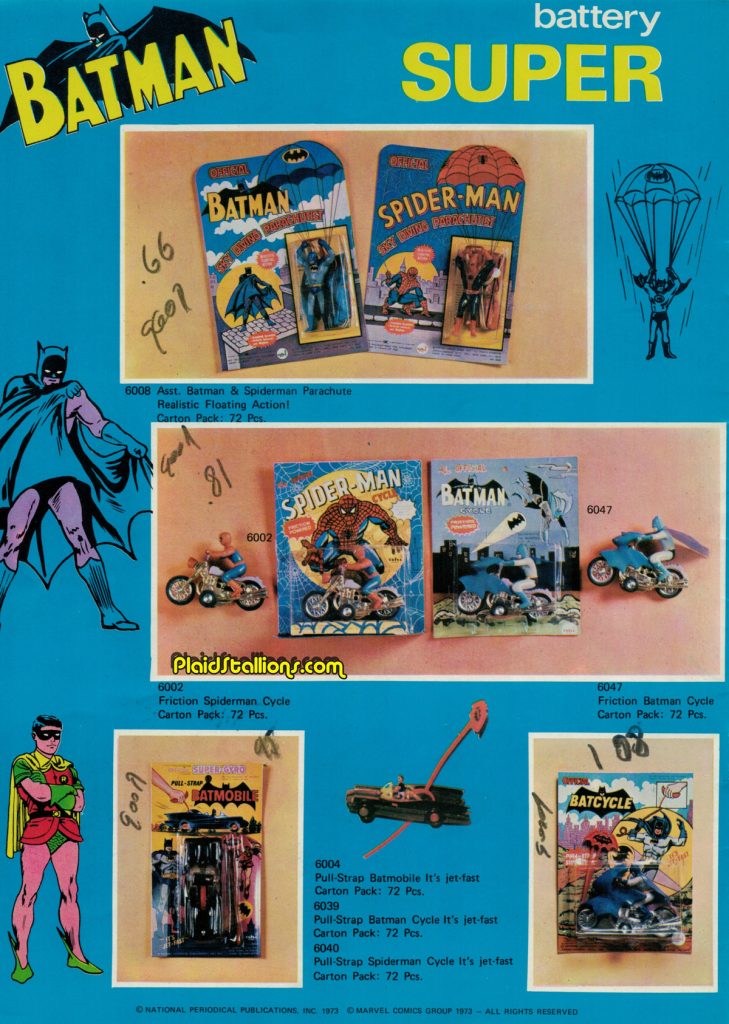 Sky Diving Parachutists and friction batmobile would be a staple for the company for a decade.
Toy-Ventures Issue 1 is a guide to Azrak-Hamway International and features Super Monsters, Batman, Planet of the Apes, Star Trek and Space:1999. You can get it at the Plaid Stallions shop.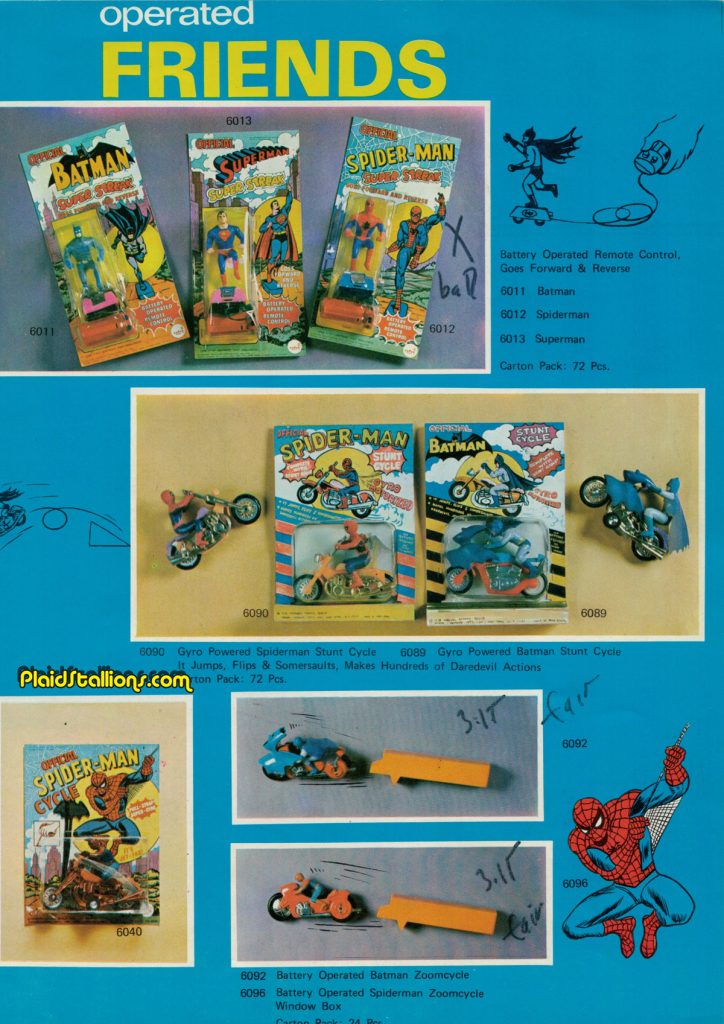 The remote control super streaks were released but are quite rare and expensive these days.
The many forms of the Batmobile would prove to be one of AHI's best-selling items.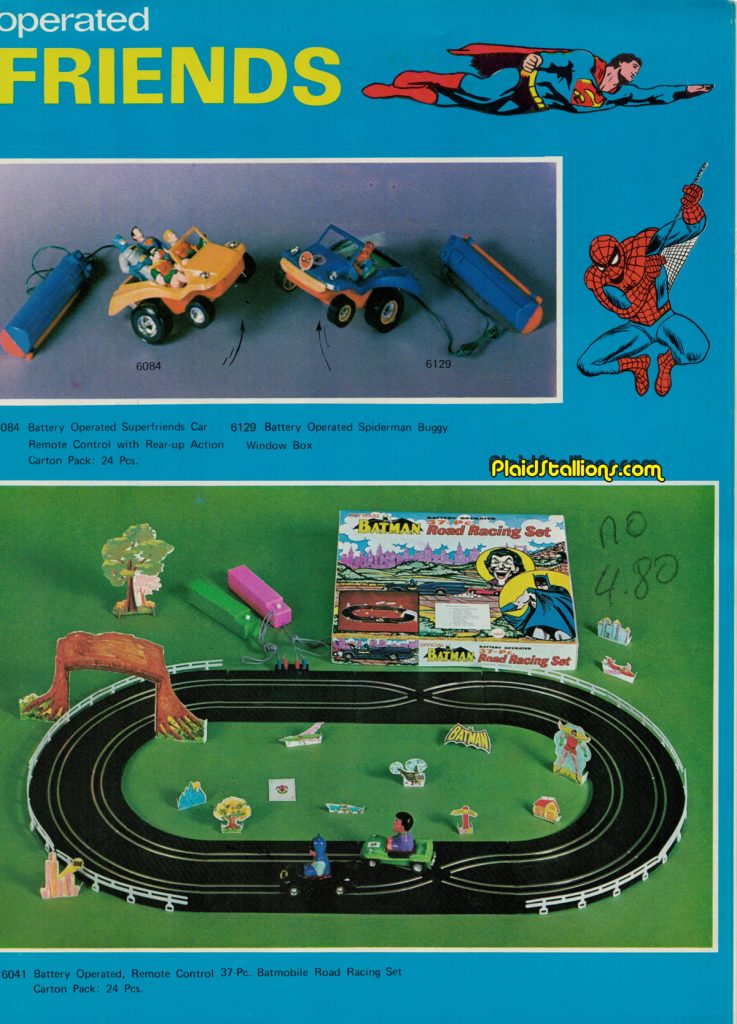 The Super Friends Buggy has Aquaman at the wheel! The Joker VS Batman Race Track has some really fun graphics.
f
I have never seen the Flinstones racing set in the wild, I wonder if it was produced.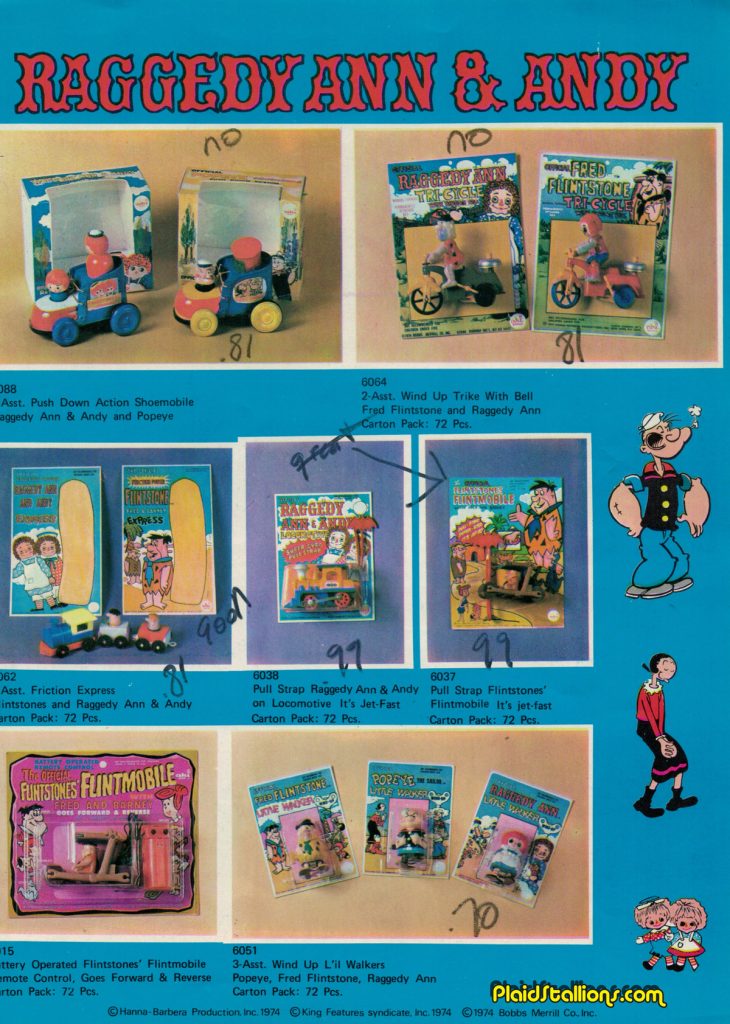 Raggedy Anne and Andy were likely meant to appeal to slightly younger children.
These 12″ Wild West figures are a tough set to piece together and don't seem to get the attention they deserve.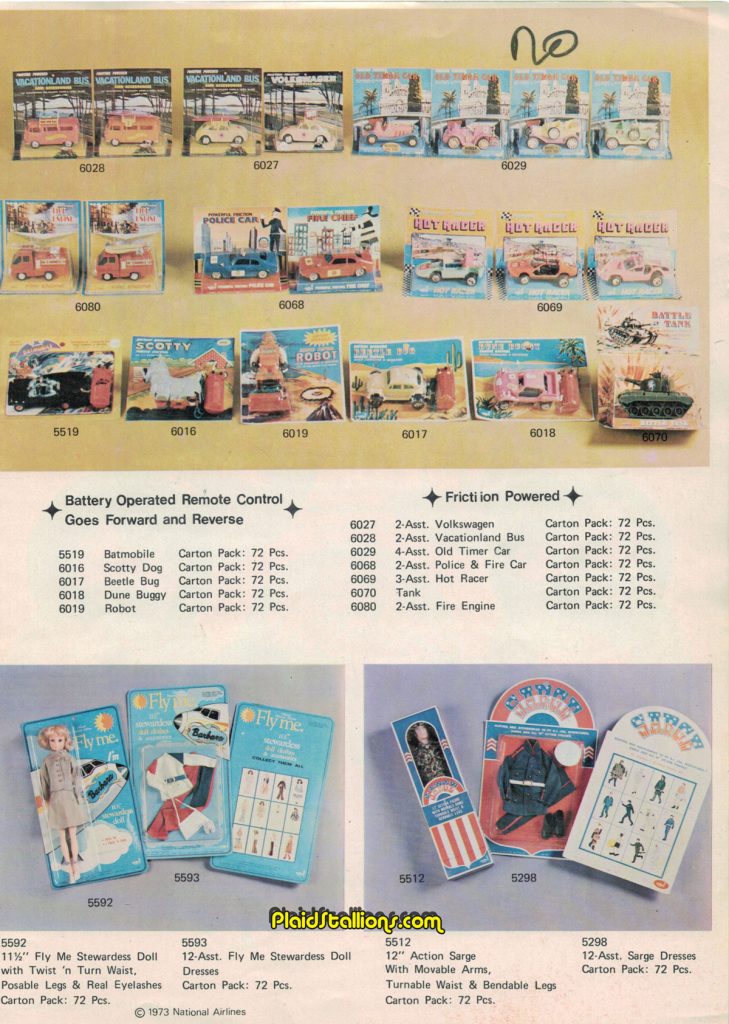 I can't help but notice an Ideal Zeroid knock-off in the top. Sarge was AHI's take on Fighting Yank which was Mego's take on GI Joe!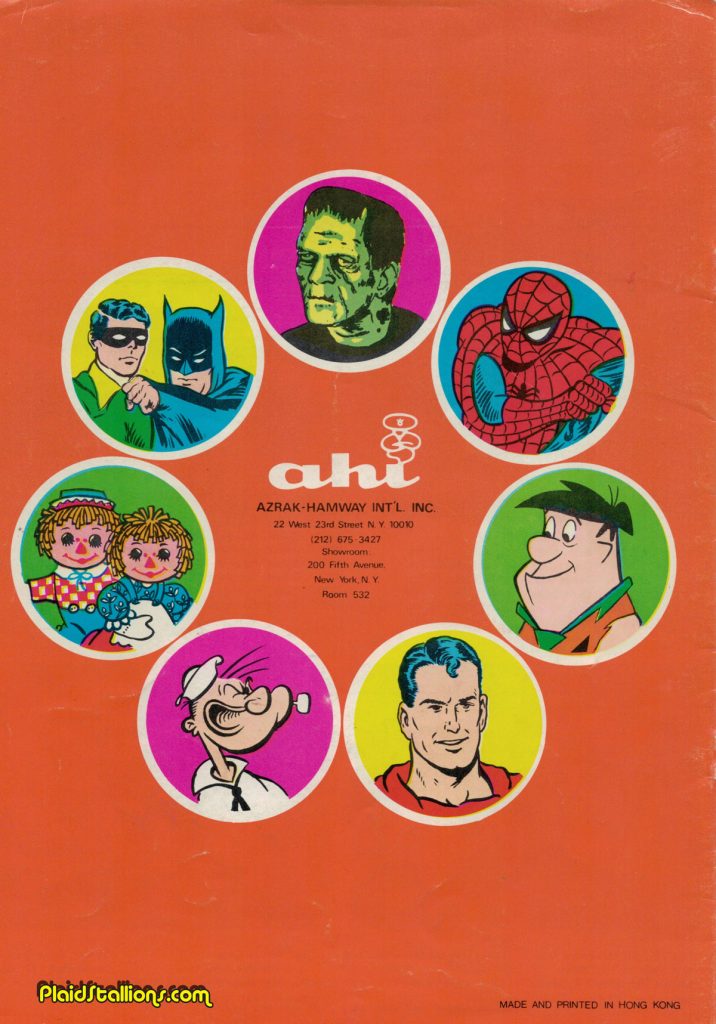 You can now subscribe to Toy-Ventures magazine, never miss an issue and be insured a pre-order premium every time.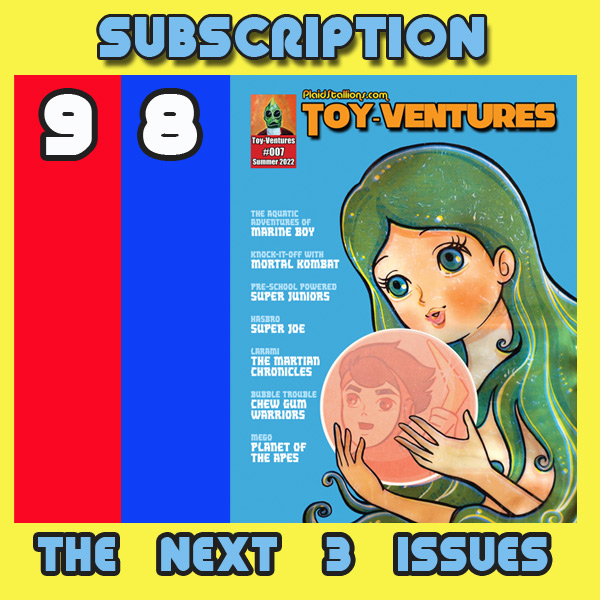 Our newest book "Knock-Offs: Totally, Unauthorized Action Figures," is now available. It's 130 pages of bootleg goodness.
You can get this new book via the PlaidStallions Shop , On Amazon (Affiliate Link) or on eBay (eBay Link)
Our book Rack Toys, Cheap, Crazed Playthings is now available again! Order through our Affiliate Link
Order Rack Toys 2.0 Here through our Affiliate Link►https://amzn.to/3Bkm9z1
FACEBOOK GROUPS FROM PLAIDSTALLIONS

Pod Stallions is based on our podcast and is one of the most fun groups on Facebook. Toys, Comics, Movies, TV, it's all up for grabs and remember, you keep the glass! If you like our show, then you have found your tribe.

Mego Knock Off Headquarters– The leading group discussing 70s Dime store knock-offs and bootleg action figures, we talk vintage toys and not others. We know the difference between Astro Apes and Action Apeman.  It's a fun group where we talk about Lincoln International, AHI, Mighty Gary, Tomland, Bogi, Demo Man, Mortoys, and other generic greats.
5 Awesome Things on eBay this week