Toy-Ventures Issue 9 drops next week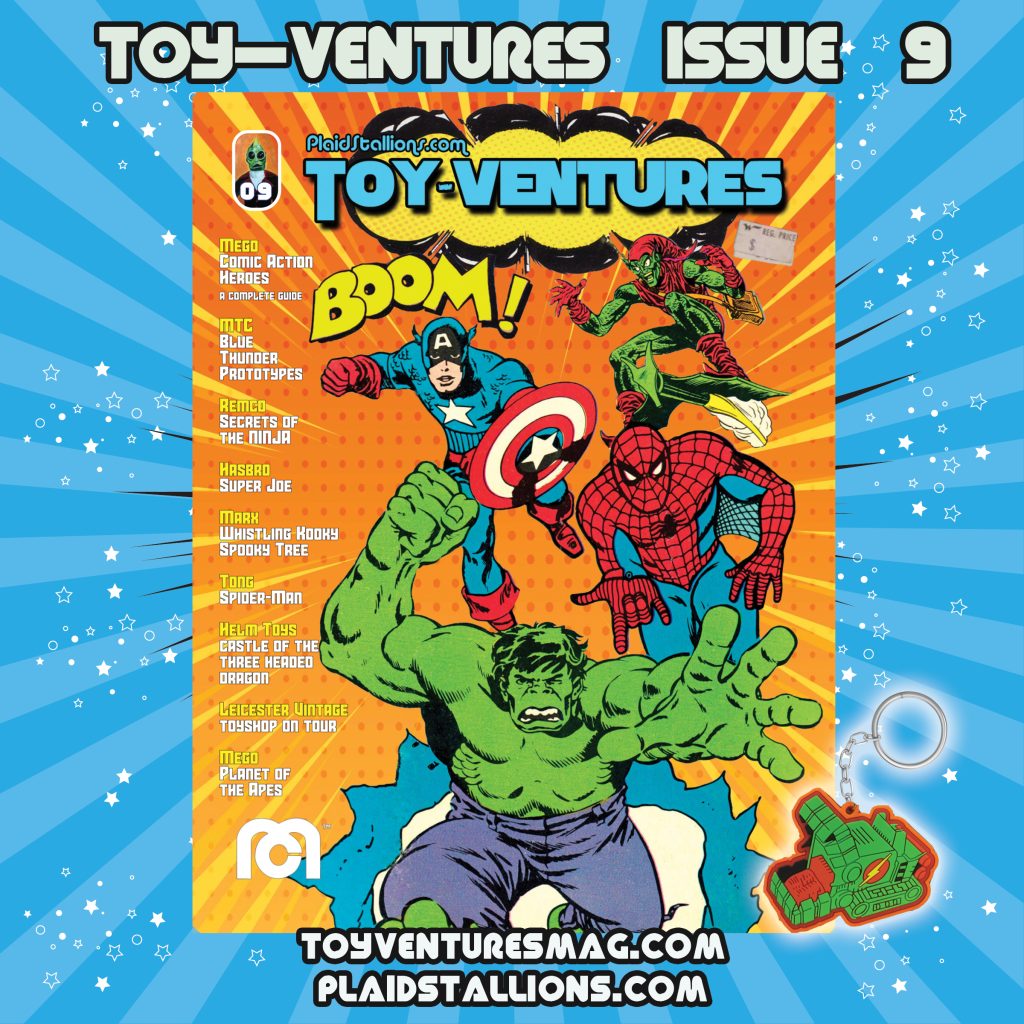 Super Happy to announce that Issue 9 of Toy-Ventures Magazine is on the press and will be shipping this month.
Issue 9 is jam-packed with vintage toy goodness.
Walloping Websnappers:
Vincent Cerbone shares this strange 8" Tong Inc. Spider- Man discovery from France.
Mego Planet of the Apes Part 6
Our ongoing coverage of the Mego toy line continues into the second wave of action figures based on the television series.
Leicester Vintage Toyshop
Our latest column features the gang from Toyshop on Tour.
Actionized Assasins
The Remco Ninja Strike Force action figure is an underrated bit of 80s cheese.
 Basement of Horror
This issue, Ray Castile shares his story about the Marx Whistling Spooky Kooky Tree. An incredibly iconic toy.
Super Joe Part 3
Steve Stovall looks at vehicles, playsets and the amazing Terron with this third installment of Hasbro's Super Joe toy line.
The Warriors Toybox
Chance Priest tempts us with the Castle of the Three-Headed Dragon playset by Helm Toys.
 Stolen Thunder
Exploring the ill-fated Multiple Toys Blue Thunder action figure line from 1984.
 Compact Action Heroes
The Toy-Ventures guide to the fantastic Mego Comic Action Heroes Toy line. The most comprehensive piece on the line ever produced.
SPECIAL LIMITED-TIME OFFER-
If you order Toy-Ventures magazine issue 9 through our shop, you will get a free keychain of the Mangler, the crazy Green Goblin killing toy from 1976.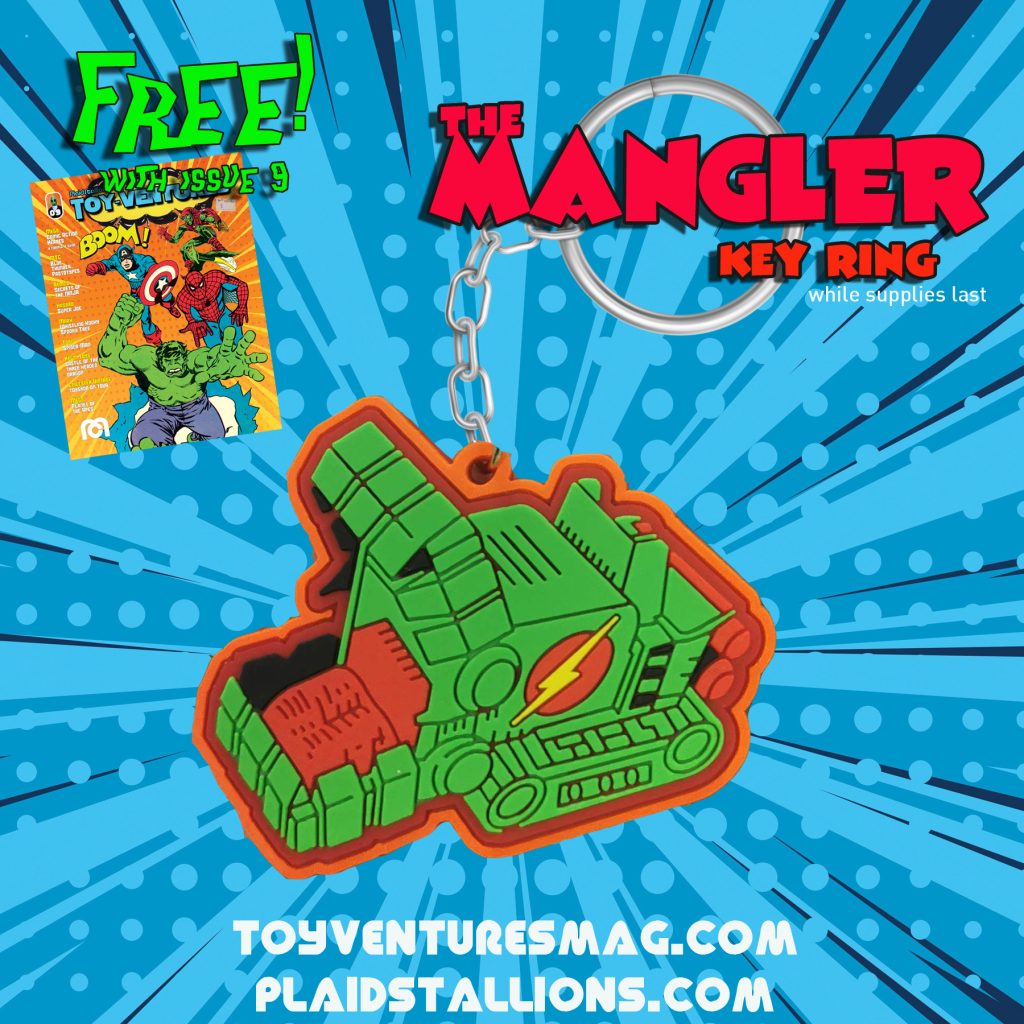 #Mego #toyventures #toymagazine
All Issues of Toy-Ventures are now available at our shop.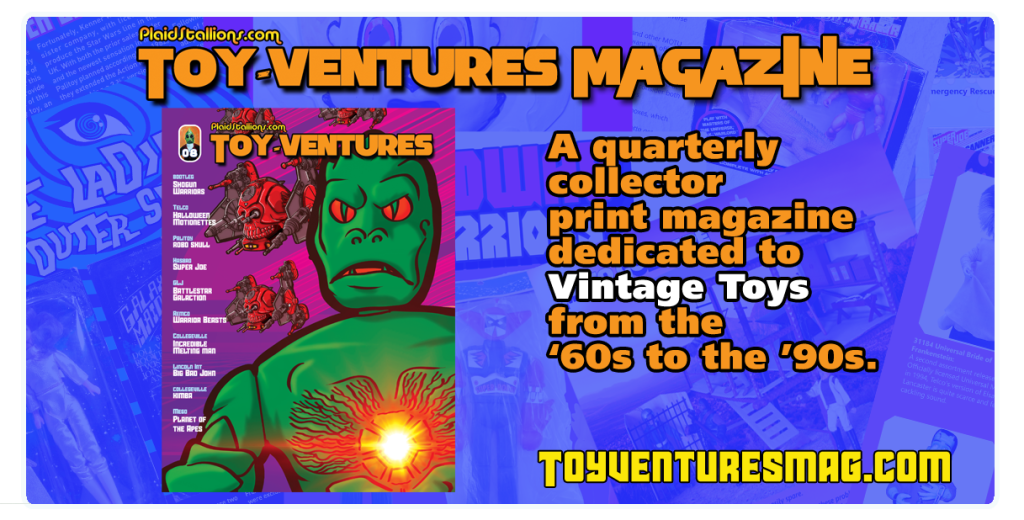 Do you miss toy collector magazines?
That's why we created Toy-Ventures magazine, an old-school print publication dedicated to vintage toys from the 1960s to the 1990s. Each issue is packed with never before seen images and information written by some of the top collectors. We've got 9 issues and climbing; please check our page here or visit our store.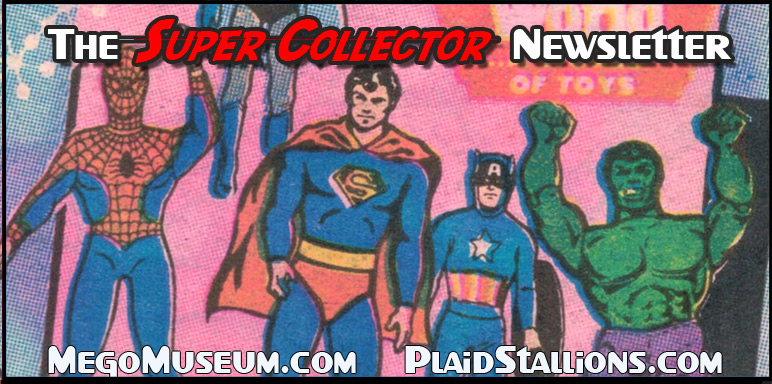 The PlaidStallions Polyester Pals have arrived and come in green and orange. Be the first kid in the sandbox with our Podcast mascots!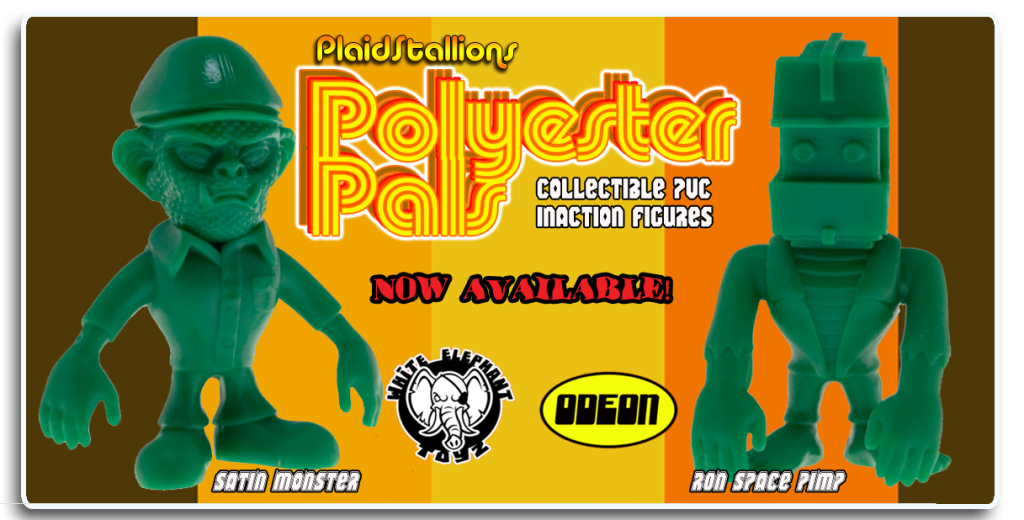 Our latest book is "Knock-Offs: Totally Unauthorized Action Figures" a love letter to cheeky copyright-infringing toys. You can get this new book via the PlaidStallions Shop, On Amazon (Affiliate Link) or eBay (eBay Link)
FACEBOOK GROUPS FROM PLAID STALLIONS

Pod Stallions is based on our podcast and is one of the most fun groups on Facebook. Toys, Comics, Movies, TV, it's all up for grabs and remember folks, you keep the glass! If you like our show, then you have found your tribe.

Mego Knock Off Headquarters– The leading group discussing 70s Dime store knock-offs and bootleg action figures, we talk vintage toys and not others. We know the difference between Astro Apes and Action Apeman.  It's a fun group where we talk about Lincoln International, AHI, Mighty Gary, Tomland, Bogi, Demo Man, Mortoys, and other generic greats.
Mr. Rock
#plaidstallions #toyventures #knockoffs