Toy-Ventures Issue 8 Sneak Peek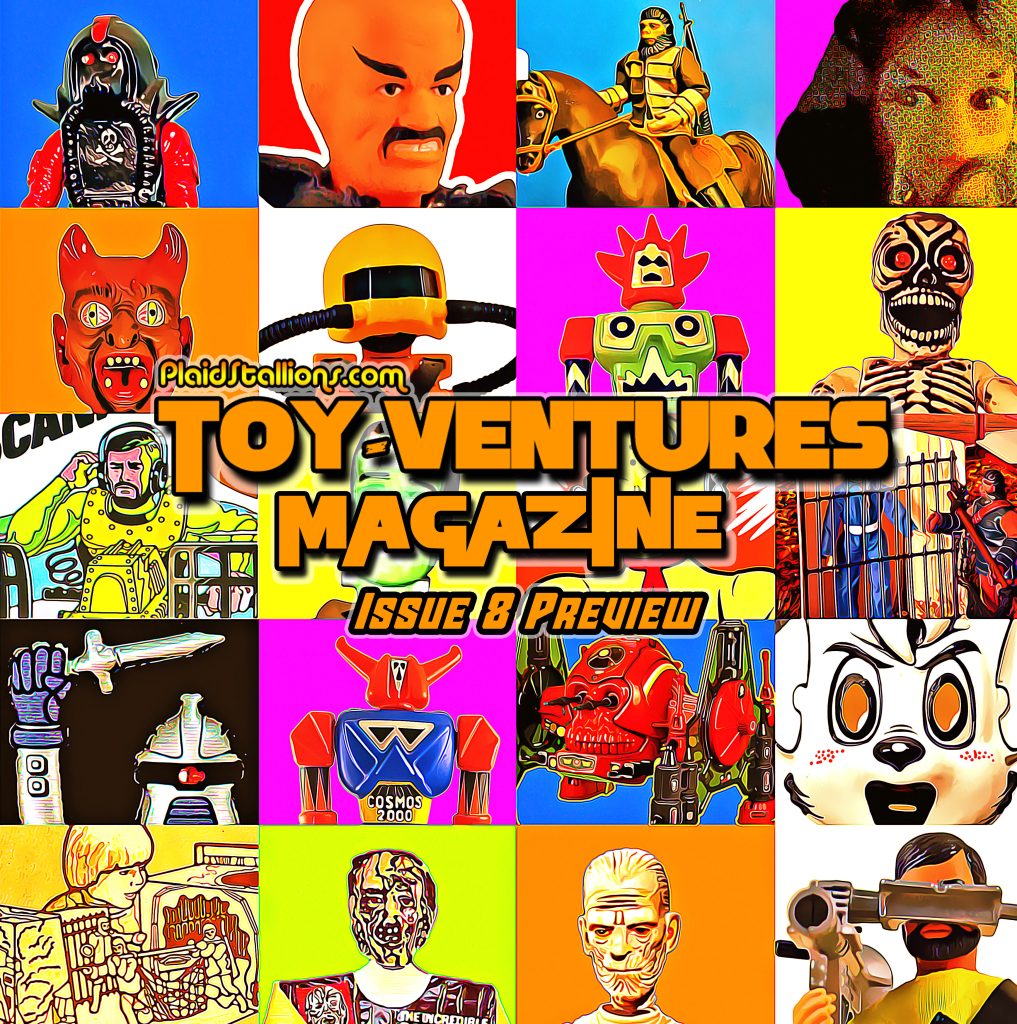 Hello All,
I'm happy to share a sneak preview of Toy-Ventures magazine issue 8. Due in October, this issue will showcase the new direction for the magazine but will also retain the flavour you've come to expect from TV.
Toy-Ventures Issue 8 will contain the most vintage toy articles we've ever attempted, covering genres from the 1960s to the 1980s, like Military toys, Monsters, unproduced prototypes, Anime, Science Fiction, Knock-Offs, and Halloween costumes.
Our Mego Planet of the Apes coverage continues, as does Steve Stovall's (3DSuperJoes) incredibly well-researched look at Hasbro's Super Joe. Also returning to issue 8 is toy historian Tony Roberts (Analog Toys) with another fantastic look behind the curtain at the creation of a legendary Palitoy collectible.
New voices to Toy-Ventures this month include Heath Smith, Raymond Castile, Chance Priest, Dave Keymount and George Spigot, sharing their vast knowledge on unique subjects that I can't wait to reveal.
As for the pre-order/subscriber prize for this issue, Chris Franklin has cooked up something magical and insane.
Stay Tuned to Toy-Ventures magazine by visiting our Facebook page, and please share this post; every little bit helps us our toy collector magazine grow. Thank You!
Do you miss toy collector magazines?
That's why we created Toy-Ventures magazine, an old-school print publication dedicated to vintage toys from the 1960s to the 1990s. Each issue is packed with unseen images and information written by some of the top collectors. We've got 7 issues and climbing; please check our page here or visit our store.

Our newest book "Knock-Offs: Totally, Unauthorized Action Figures," is now available. It's 130 pages of bootleg goodness.
You can get this new book via the PlaidStallions Shop , On Amazon (Affiliate Link) or on eBay (eBay Link)
Our book Rack Toys, Cheap, Crazed Playthings is now available again! Order through our Affiliate Link
Order Rack Toys 2.0 Here through our Affiliate Link►https://amzn.to/3Bkm9z1
FACEBOOK GROUPS FROM PLAIDSTALLIONS

Pod Stallions is based on our podcast and is one of the most fun groups on Facebook. Toys, Comics, Movies, TV, it's all up for grabs and remember, you keep the glass! If you like our show, then you have found your tribe.

Mego Knock Off Headquarters– The leading group discussing 70s Dime store knock-offs and bootleg action figures, we talk vintage toys and not others. We know the difference between Astro Apes and Action Apeman.  It's a fun group where we talk about Lincoln International, AHI, Mighty Gary, Tomland, Bogi, Demo Man, Mortoys, and other generic greats.
Toy-Ventures Issue 8 Sneak Peek