Description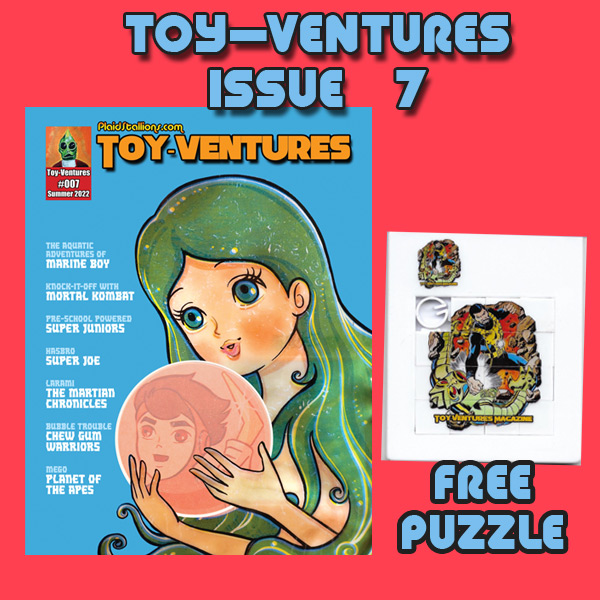 SPECIAL LIMITED TIME OFFER-
If you order Toy-Ventures magazine issue 7 through our store, your issue will come with a limited-edition Super Joe Puzzle
Toy-Ventures magazine issue 7 is now available for Pre-Order Shipping this June 2022
Hey Everyone, I'm so happy to announce that issue 7 of Toy-Ventures magazine is now available to pre-order.
This particular issue is absolutely jam-packed with toy love, so let's break down what you can expect:
The Aquatic Adventures of Marine Boy– Corey LeChat takes you on a merchandise journey for this early Japanese import.
K-O Mortal Kombat Knock-Offs- Newcome Eric Gibeau talks about the amazing Mego Knock Off Mortal Kombat figures from the mid-1990s from Paco.
The Super Juniors– Chris Franklin returns to Toy-Ventures to talk about some baby superheroes.
Hasbro Super Joe- Beginning our multi-issue look at the Gi Joe "middle child" expert Steve Stovall takes on a journey through the  Hasbro Super Joe toy line.
The Martian Chronicles– How did a TV mini-series starring Rock Hudson get a toy line? Only in the 1970s…
Chew Gum Warriors– New contributor Michael Grifka talks about the candy-filled space characters of the early 1980s in this awesome article.
PRE-ORDER BONUS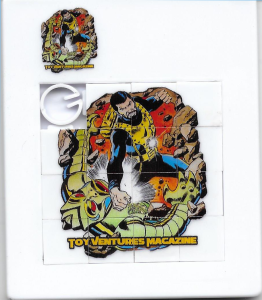 Get a Super Joe puzzle, just like the ones that drove you nuts as a kid and it's totally free with every order while supplies last. While supplies last, this item depicts Joe duking it out with Gor, King of the Terrons. I will not help you if you can't figure it out. I am no Einstein.