Pod Stallions Mini Sode 1: Movies We Watched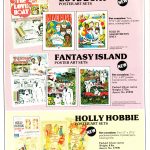 Due to all the nice requests about making more Pod Casts and our desire to talk, we've started a new concept here.

Presenting the first Mini-Sode, an extra half hour show each month on a variety of topics that are perhaps not long enough for our standard format.

For our inaugural mini-show we decided to pick a simple question "What were the last two movies you watched?" and it goes all the map from Italian futuristic gladiators to talking bears to super human Simon Pegg to punks in Toronto.


Topics Include: Fulci, Kentucky Fried Movie, Zombie, Monty Python, Simon Pegg, Paddington, Peter Capaldi, Vic Morrow, Fred Williamson, Running Man, Mandingo, Meatballs,
Hit us up on our facebook page with your feedback.