Pod Stallions Episode 26: The Retro Awards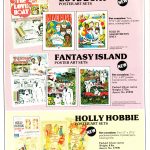 We're back and we're launching our first episode of 2015 resurrecting the Retro Awards.
For those not familiar with the Retro Awards, it's a celebration of things that came out in the last year (for this show we've slid into 2013 a l'il bit) that we feel rocked a 70s vibe.
Of course along the way we get terribly sidetracked and discuss the Hudson brothers, Planet of the Apes, Doctor Who annuals, Herve Villechez and Tim Burton's Batman. Surprising we're still better at hosting awards shows than James Franco…
Awards Run Down:



Best Films of 2014:
Dawn of the Planet of the Apes (Brian)
Guardians of the Galaxy (Jason )


Runner up:
Captain America: Winter Soldier (Jason and Brian)




Best Blur-Ray, DVD or Download of 2014


Batman 1966 (Jason)
Phantom of the Paradise (Brian)

Runners up:
The Guy from Harlem Rifftrax (Brian)
Doctor Shockers Vault of Horror (also Brian)
Best Book
Planet of the Apes Evolution of a Legend (Brian)
Doctor Who Annual 2015 (Jason)

Runners up:
Mail Order Mysteries (Brian)


Best Magazines
Empire (Jason)
Shock Cinema (Brian)


Best Record or CD
The Small Faces: Here comes the nice (Jason)


Best Toys


Neca Taylor (Brian)
Kane in Spacesuit (Jason)



Runners up
Bif Bang Pow Dalek
Anchor Man 12″ Figure with Scotch Vision
Lucifer from Battlestar Galactica


Plenty more content on the PodStallions Facebook page!








PODSTALLIONS ON ITUNES
PODSTALLIONS RSS FEED