Pod Stallions 22: Store Bought Costumes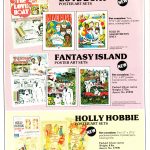 As the title suggests, episode 22 delves into the wonderful world of Halloween costumes but none of that "Home made with your mom's love" kinda junk, this talks about the good old "smock and mask" stuff you got at places like Woolco or Kresge's.
In what is probably our most visual episode, Jason and Brian go through the many catalogs on Plaidstallions from companies such as Collegeville, Ben Cooper and Kusan.

From deep discussions about Grizzly Adams, The Village People, Hee-Haw, Tattoo from Fantasy Island and of course, Flash Gordon. This one doesn't leave many 70s stones unturned.
Look for cameos by your favourite Star Wars characters Yada, Darth Vadar and Baba Fett.
Plenty more content on the PodStallions Facebook page!
We'll be adding Halloween Costume photos to Facebook.
PODSTALLIONS ON ITUNES
PODSTALLIONS RSS FEED