Our best sellers are Star Wars, Shoguns & Micronauts.
Ever wonder what was selling in 1978? Probably not, but here is Gary (seen below holding a Micronauts Astro Station and Shogun Warriors Dragun), a manager at Bradberry in Decatur IL, explaining the hot-selling toys for 1978.
Gary Bradberry Manager
Lionel Play World Decatur, Illinois

Our best-selling items this year are the Star Wars characters, the Shogun [Warriors] and the Micronauts. Of course, we expect something big like this every year, and it's a good guess that next year we'll be looking at something coming from a movie like Close En­counters . . . maybe a man from outer space or a flying saucer of some kind.
Along with Star Wars' toys, Ken­ner's Fuzzy Pumper was popular. And I don't want to forget Chutes Away and Mr. Quarterback for as long as we had them in stock. Other good items are the electronic gad­gets, Baby Come Back, comput­erized football and road race sets. The price of these items (some more than $25) has not been a fac­tor. Customers would pay anything for them, especially during the last four weeks of the year.
We aren't promoting anything special. We categorize items throughout our store and the average shopper (usually a woman) will buy according to age, whether its dolls or sporting goods. Our #1 items are TV-advertised merchandise. ­We advertise heavily on radio and TV during the fourth quarter of the year and average two newspaper ­ads each week. We also run four­magazine-type ads each year as newspaper supplements.
Business in general? Probably the same as last year: pretty good. This year, however, shoppers seemed to put off their Christmas shopping until the last minute. I guess the economy and lack of funds have some impact. Because of the late shopping trend, some essential items were gone. But customers didn't seem to mind. They came in to buy and switched to some­thing else when we didn't have what they were looking for.
Check out our latest show: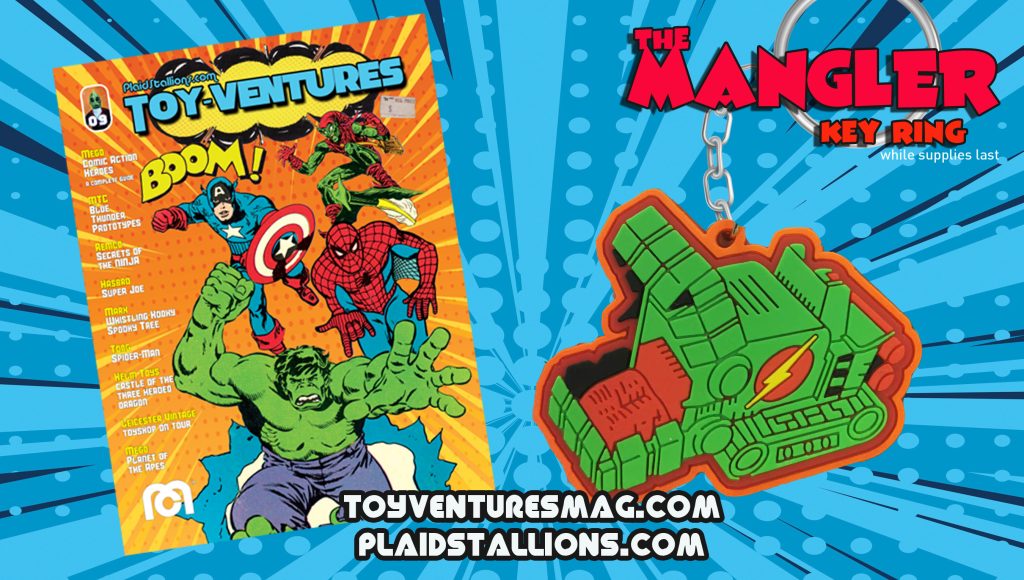 Do you miss toy collector magazines?
That's why we created Toy-Ventures magazine, an old-school print publication dedicated to vintage toys from the 1960s to the 1990s. Each issue is packed with never before seen images and information written by some of the top collectors. We've got nine issues and climbing; please check our page here or visit our store.
The PlaidStallions Polyester Pals have arrived and come in green and orange. Be the first kid in the sandbox with our Podcast mascots!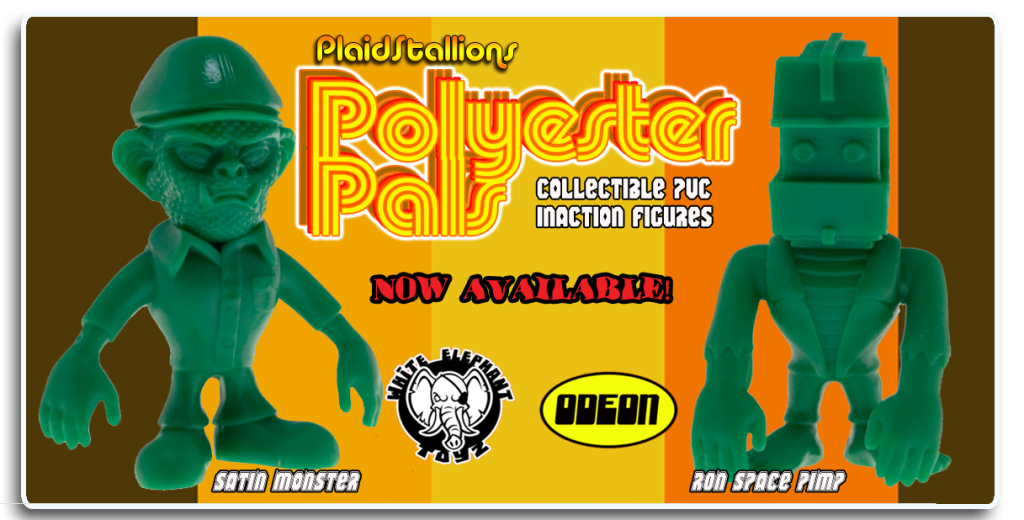 Our latest book is "Knock-Offs: Totally Unauthorized Action Figures" a love letter to cheeky copyright-infringing toys. You can get this new book via the PlaidStallions Shop, On Amazon (Affiliate Link) or eBay (eBay Link)
FACEBOOK GROUPS FROM PLAID STALLIONS

Pod Stallions is based on our podcast and is one of the most fun groups on Facebook. Toys, Comics, Movies, TV, it's all up for grabs, and remember, folks, you keep the glass! If you like our show, then you have found your tribe.

Mego Knock Off Headquarters– The leading group discussing 70s Dime store knock-offs and bootleg action figures, we talk vintage toys and not others. We know the difference between Astro Apes and Action Apeman.  It's a fun group where we talk about Lincoln Monsters, AHI, Mighty Gary, Tomland, Bogi, Demo Man, Mortoys, and other generic greats.
Micronauts
Topics discussed, Mego Micronauts, Kenner Star Wars, Mattel Shogun Warriors, Toys, 1978,