Now Available: Mr. Rock Limited Edition Keychain
Mr. Rock Limited Edition Keychain
Hey folks, I'm happy to announce another addition to our growing range of Toys and Collectibles at the PlaidStallions Store.
This limited edition Mr. Rock key chain is now available. Featuring gorgeous artwork by Chris Franklin (from the Fire and Water Podcast network) showcasing Rock in the classic model kit pose, made famous by another alien.
Mr. Rock is a good luck charm for me; he is featured in both of my books, Rack Toys and Knock Offs and issue 3 of Toy-Ventures magazine. It's my dream to own a carded one, but that may depend on whether that money tree I planted works out.
I did a video on Mr. Rock that you can watch here:
Mr. Rock also has his own gallery page here on PlaidStallions.
You can get the Mr. Rock keychain here for $4.99 which includes shipping to US and Canada (Europe, UK, Japan, and Aussieland is an extra two bones) Now, fair warning I can't seem to turn off shipping right now so it will charge you but I'll refund it after. The perils of being a one-man show is you have to figure stuff out on the fly.
This is just the first of many oddball collectible items we'll be offering in the PlaidStallions shop this year, can't wait to talk about February!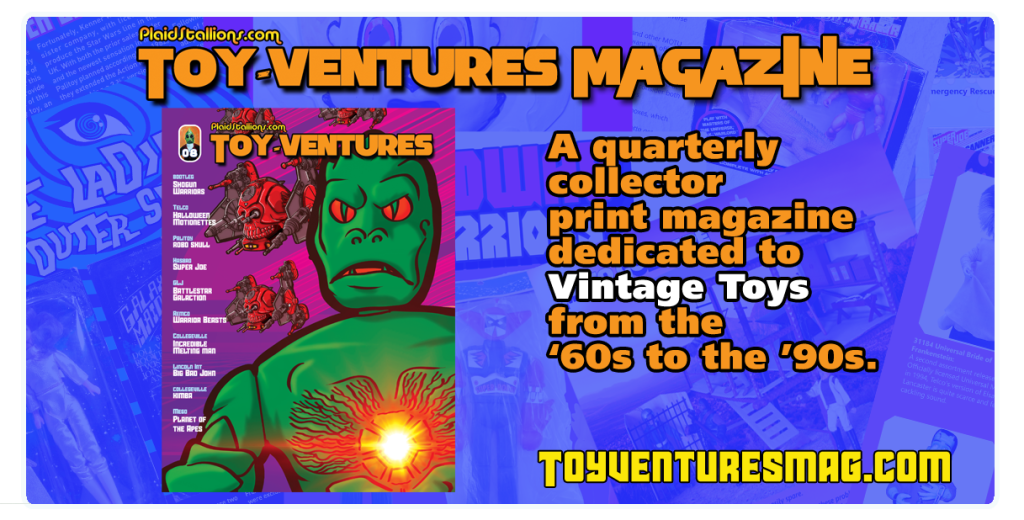 Do you miss toy collector magazines?
That's why we created Toy-Ventures magazine, an old-school print publication dedicated to vintage toys from the 1960s to the 1990s. Each issue is packed with never before seen images and information written by some of the top collectors. We've got 8 issues and climbing; please check our page here or visit our store.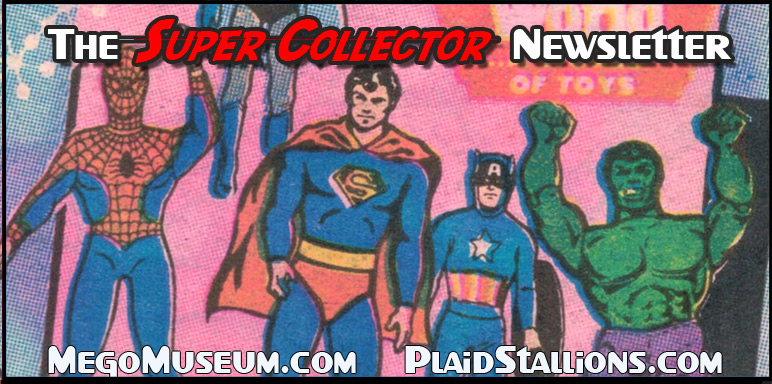 The PlaidStallions Polyester Pals have arrived and come in green and orange. Be the first kid in the sandbox with our Podcast mascots!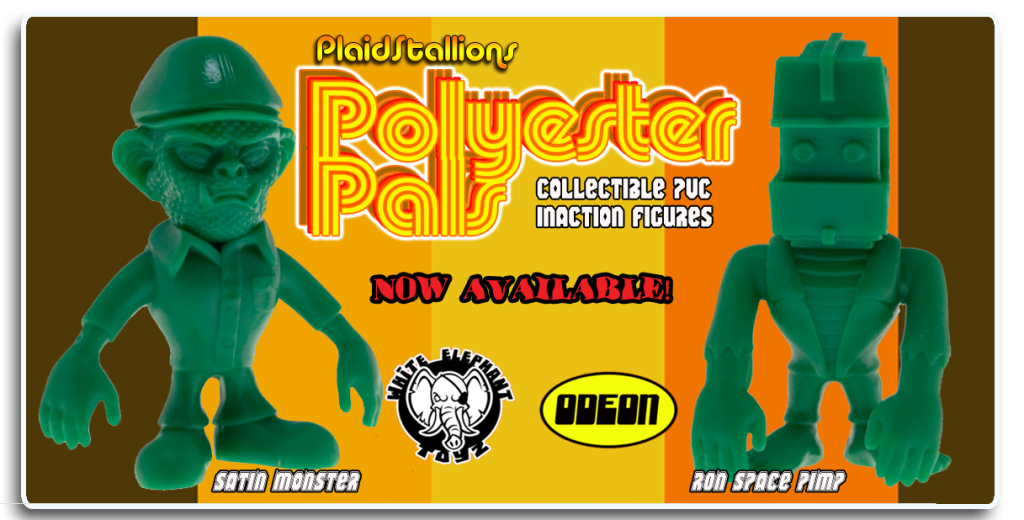 Our latest book is "Knock-Offs: Totally Unauthorized Action Figures" a love letter to cheeky copyright-infringing toys. You can get this new book via the PlaidStallions Shop, On Amazon (Affiliate Link) or eBay (eBay Link)
FACEBOOK GROUPS FROM PLAIDSTALLIONS

Pod Stallions is based on our podcast and is one of the most fun groups on Facebook. Toys, Comics, Movies, TV, it's all up for grabs and remember folks, you keep the glass! If you like our show, then you have found your tribe.

Mego Knock Off Headquarters– The leading group discussing 70s Dime store knock-offs and bootleg action figures, we talk vintage toys and not others. We know the difference between Astro Apes and Action Apeman.  It's a fun group where we talk about Lincoln International, AHI, Mighty Gary, Tomland, Bogi, Demo Man, Mortoys, and other generic greats.
Mr. Rock
#plaidstallions #toyventures #knockoffs