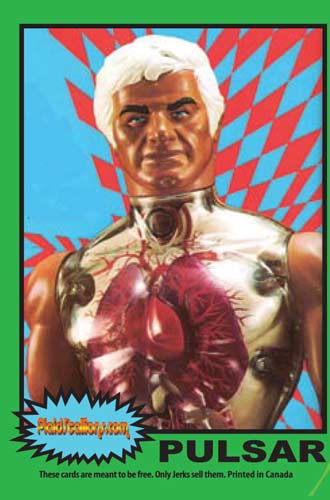 I'm unveiling two more PlaidStallions Trading Cards today at Megomeet so I thought I'd share, I opened the series with bad guys, both by Kenner, that was totally unintentional. So I decided the next two would be good guys and by coincidence, they're both Mattel Toys.

Pulsar seemed like a natural, this image is mind blowing. If you're wondering about the off cut, yeah it's intentional. When we were working on this my printer noticed a lot of vintage cards were off cut like that. If you asked me it worked too good.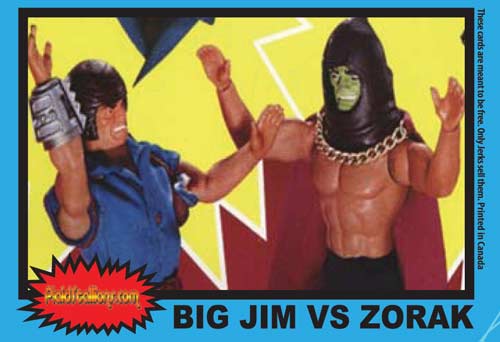 Second card (or card # 4 I guess) is Big Jim VS Zorak, this is the Double Trouble Jim from the P.A.C.K. I don't know how many of these cards I'm going to do so Jim got rushed to the front of the line so to speak. If I do more cards past the planned 12, I'll probably get back to Big Jim.
This card is Star Wars blue, pretty much ending the use of this template. My initial plan was to keep switching the template every 2 cards but I got rushed for time, when cards 5 and 6 surface, they'll be totally different but vaguely familiar.
Anyway, if you're planning on going to MegoMeet come get a mitt full of these, otherwise I'll probably be giving them out through here for the next twenty years.