Mego Star Trek and Buck Rogers – 1980 Consumer's Distributing Catalog
One of the pages that I drooled over in the 1980 Consumer's Distributing catalogue would be this spread of Mego (Well here in Canada, Grand Toys), Star Trek the Motion Picture and Buck Rogers toys.
I was that kid who loved the Motion Picture merchandise mainly because of the Marvel comic. Buck Rogers was also "must-see TV" in my household.
Consumers had a great assortment of Mego Star Trek merchandise, including four of the Aliens. All of the Aliens were sold in Canada because Grand Toys paid upfront for merchandise with a letter of credit, so even though Star Trek was a dud for Mego, the second wave hit Canadian shores regardless.
For Buck Rogers, I vividly remember clipping out the figure sets (which came in little brown catalogue boxes that I wish I could find) and pasting them to my Christmas list that year.
However, the Mego Buck Rogers line was not to be. My parents decided I had too many figure lines. They had a good case, citing the whole "Battlestar Galactica" debacle (had to have the figures, never gelled with the show). I really couldn't find a loophole, so despite my love for the series (I still love it!), I had to settle for playing with my friend's Buck figures when he visited.
The one odd thing about the Mego Buck Rogers assortment in the consumers' catalogue is the omission of the Star Fighter, quickly the most popular vehicle in the line. Instead, however, the Land Rover is pretty darn swell.

We've got a new book coming! Knock-Offs Totally Unauthorized Action Figures is our follow-up to Rack Toys, click here for more info.
Our book Rack Toys, Cheap, Crazed Playthings is now available again! Order through our Affiliate Link
Order Rack Toys 2.0 Here through out Affiliate Link►https://amzn.to/3Bkm9z1
Toy-Ventures Magazine is our newest creation, an old-school print magazine about vintage toys! Professionally laid out and written, each issue is brimming with obscure and rare toys from companies such as Mego, Kenner, Remco, AHI, and much more. Monsters, Superheroes, Adventurers, Knock Offs, Apes, and so much more, it's in Toy-Ventures.
Toy-Ventures Issue 5 is available now:
Ebay: https://ebay.us/XSS1X7
Plaid Stallions Store: https://plaidstallions.com/reboot/shop/
Amazon Affilitate Link:https://amzn.to/3d9Q0AS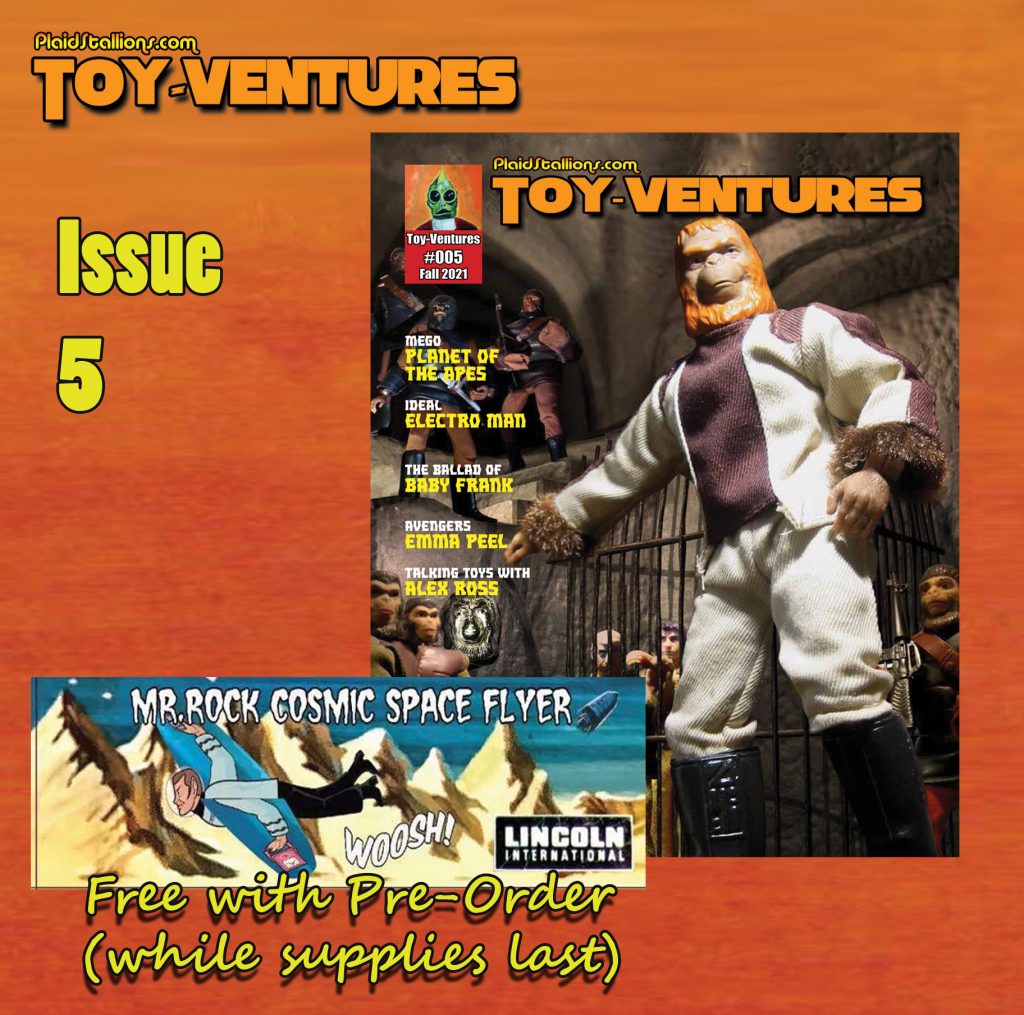 FACEBOOK GROUPS FROM PLAIDSTALLIONS

Pod Stallions is one of the most fun groups on Facebook. Toys, Comics, Movies, TV, it's all up for grabs and remember, you keep the glass!

Mego Knock Off Headquarters– The leading group discussing 70s Dime store knock-offs of Mego action figures, we talk vintage toys and not others. We know the difference between Astro Apes and Action Apeman! It's a really fun group where we talk about Lincoln International, AHI, Tomland, Bogi, Demo Man, Mortoy, and other generic greats.
Get Toy-Ventures Issue 3 here with a comprehensive look at the Lincoln Monster line:
https://plaidstallions.com/reboot/shop/
Join Mego Knock Off Head Quarters Here;
https://www.facebook.com/groups/Megoknockoff
Order our book Rack Toys 2.0 Here through our Amazon Affiliate Link►https://amzn.to/3Bkm9z1
PS Store: https://plaidstallions.com/reboot/shop/
Follow PlaidStallions on Social Media:
Twitter ► https://bit.ly/2UzxQ5q
Facebook ► https://bit.ly/3mfY73R
Instagram ►https://bit.ly/3yZ3kAV
Website ► https://bit.ly/3yZ3kAV