James Bond Rack Toys by Imperial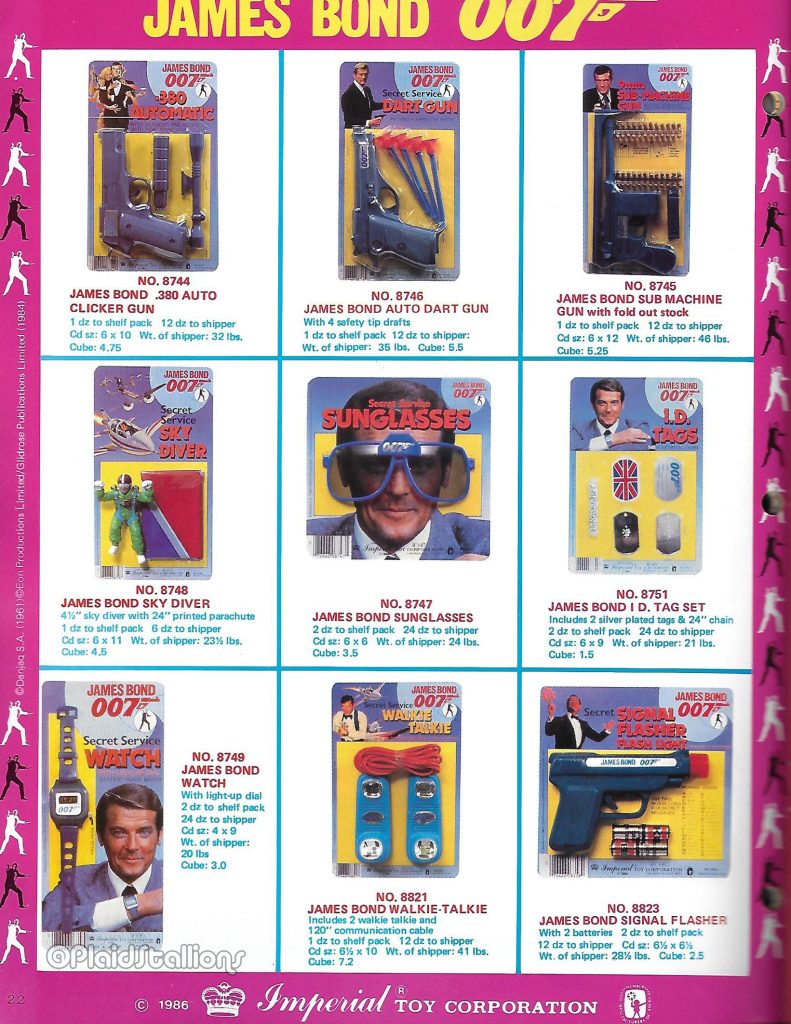 James Bond Rack Toys by Imperial
In 1986, just after 59-year-old Roger Moore had left the role, Imperial Toy Corporation decided to launch an aggressive line of Rack Toys featuring the movie super spy. These were not the first time Bond had been featured on Rack Toys, AHI had done it in the 1970s but Bond merchandise was not common for the time, save for the odd model kit or evergreen Corgi car.
It was a way to yet again label slap the 007 logos on existing toolings like guns and that epic parachute man, which also weaved its way into  Imperials' Delta Force line. However, the most memorable piece of Imperial James Bond merchandise has to be the sunglasses, whose card back provided some unintentional hilarity.
The names Bond, Elton Bond. I really hope Roger Moore saw these at least once in his life. It's probably unlikely as they don't have Ben Franklin stores in Monte Carlo but a guy can dream.
One year later James Bond would regenerate into Timothy Dalton and all these toys would look like yesterday's news.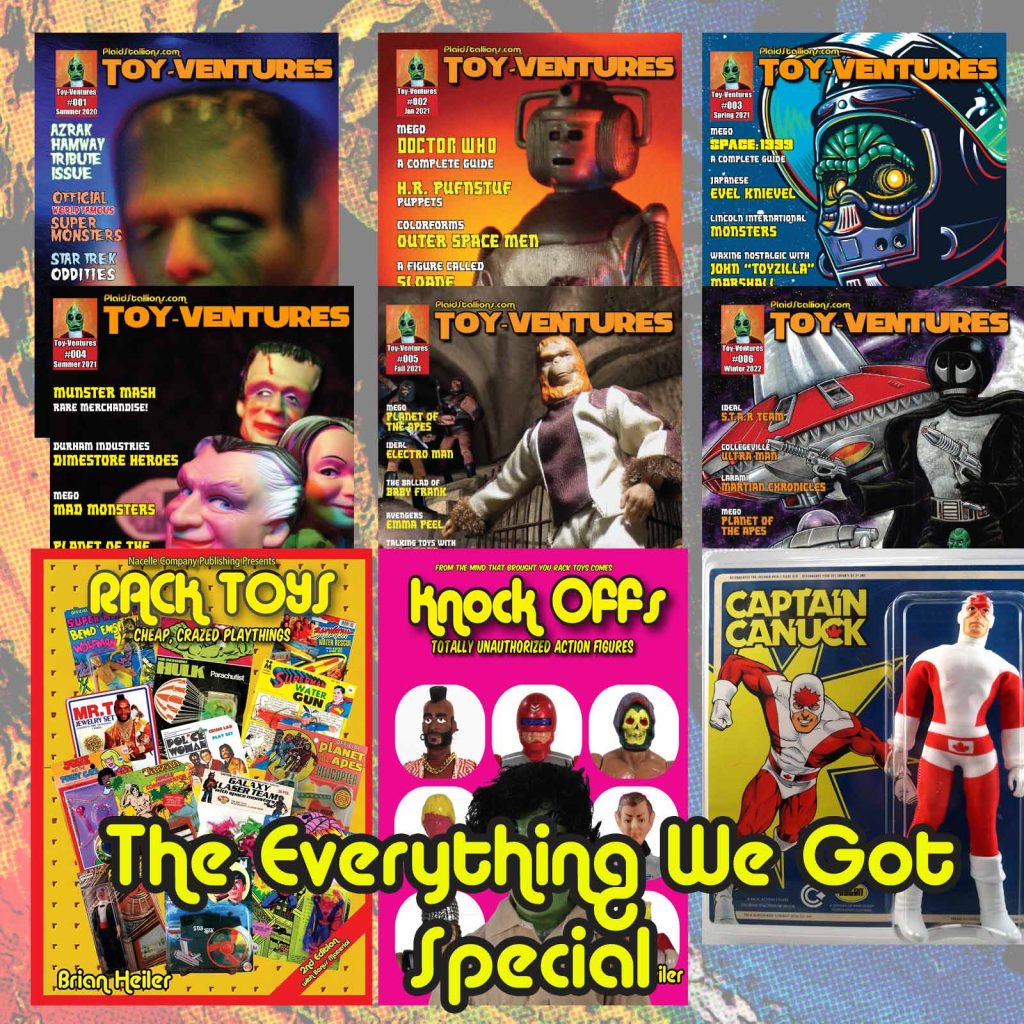 This limited edition set includes both books, all six magazines (with available premiums) and a Captain Canuck action figure. It's a $150 value for a great price. I only can make six of these, so don't wait.
Issue 6 of Toy-Ventures ships next week, order now from our shop and get a free Star Team Poster by legendary artist Dave Waugh!
Our newest book "Knock-Offs: Totally, Unauthorized Action Figures" is now available. It's 130 pages of bootleg goodness.
You can get this new book via the PlaidStallions Shop , On Amazon (Affiliate Link) or on eBay (eBay Link)
Our book Rack Toys, Cheap, Crazed Playthings is now available again! Order through our Affiliate Link
Order Rack Toys 2.0 Here through our Affiliate Link►https://amzn.to/3Bkm9z1
FACEBOOK GROUPS FROM PLAIDSTALLIONS

Pod Stallions is one of the most fun groups on Facebook. Toys, Comics, Movies, TV, it's all up for grabs and remember, you keep the glass!

Mego Knock Off Headquarters– The leading group discussing 70s Dime store knock-offs of Mego action figures, we talk vintage toys and not others. We know the difference between Astro Apes and Action Apeman! It's a really fun group where we talk about Lincoln International, AHI, Tomland, Bogi, Demo Man, Mortoy, and other generic greats.