Over the years I've known women who have told me they asked for Tomy's Mighty Men and Monster Maker only to receive this, the so called "girl's version", Fashion Plates. My wife was one of those people, luckily her brother got the MMMM, so she still got to play with it.
Not to put down Fashion Plates (I'm sure it was a fun toy) but Monsters aren't gender specific, they're just cool.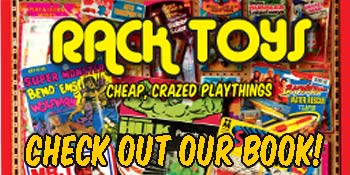 Rack Toys: Cheap, Crazed Playthings is a limited edition 144 page book from the creator of Plaid Stallions. Order from us and get three free promotional post cards.