Amazing AHI Batman Rack Toy Collection up for auction
My friends at Heritage Auctions have an amazing collection of Batman items on the auction block right now and they've been kind enough to let me share some of this glorious collection.
As folks might know, I'm rather fond of Rack Toys, particularly ones made by Azrak-Hamway International or AHI for short. AHI had a really great ten year run with both the Marvel and DC Superheroes. However, their major output was Batman toys, mainly because he has so many toys himself. This collection showcases some items that I've never actually seen before.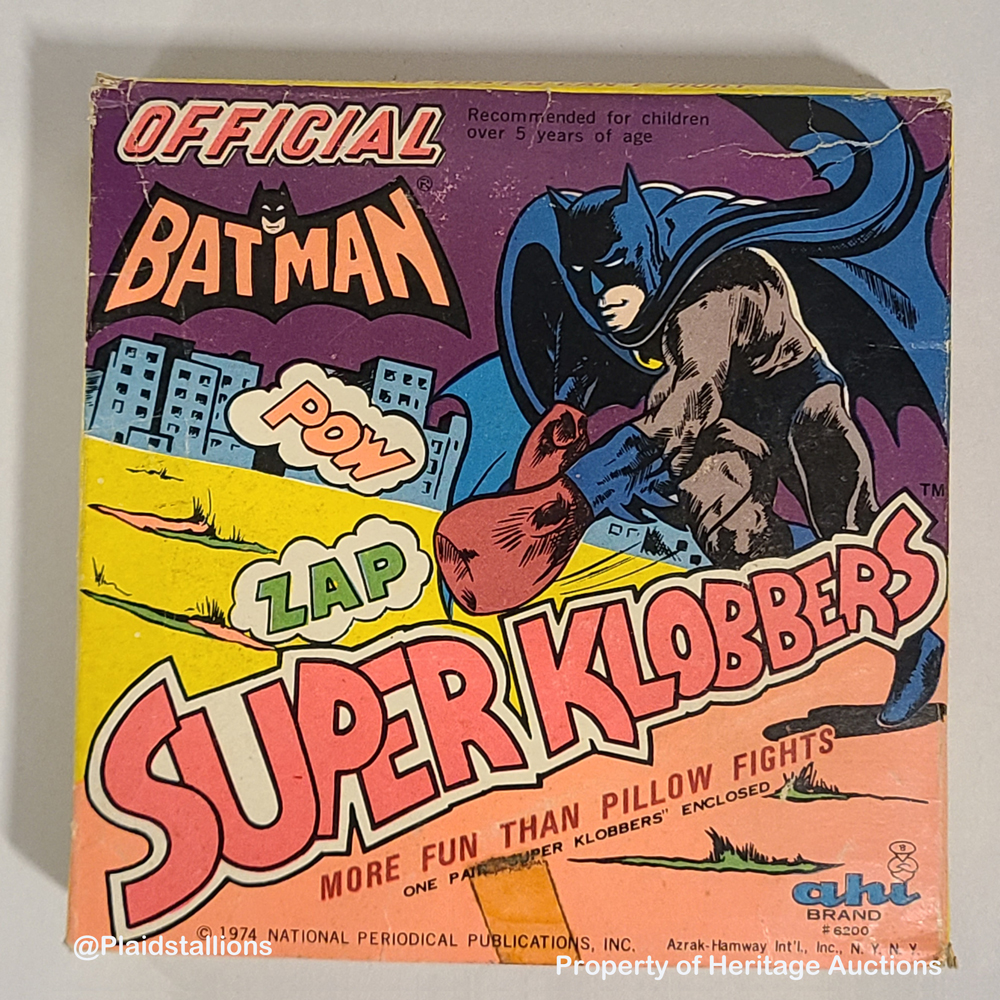 These Batman Super Klobbers are the first thing that caught my eye. These are essentially a knock-off of "Socker Boppers" with Batman on them. They are very rare; I've seen exactly one set of Superman, Batman and Spider-Man during my toy-hunting lifetime. One of the things that I truly enjoy about Rack Toys is the art direction which appears to "Do whatever you want!" I miss that time; this is a wonderful and hilarious swipe on Neal Adams. The other artwork also takes from Infantino and Murphy Anderson.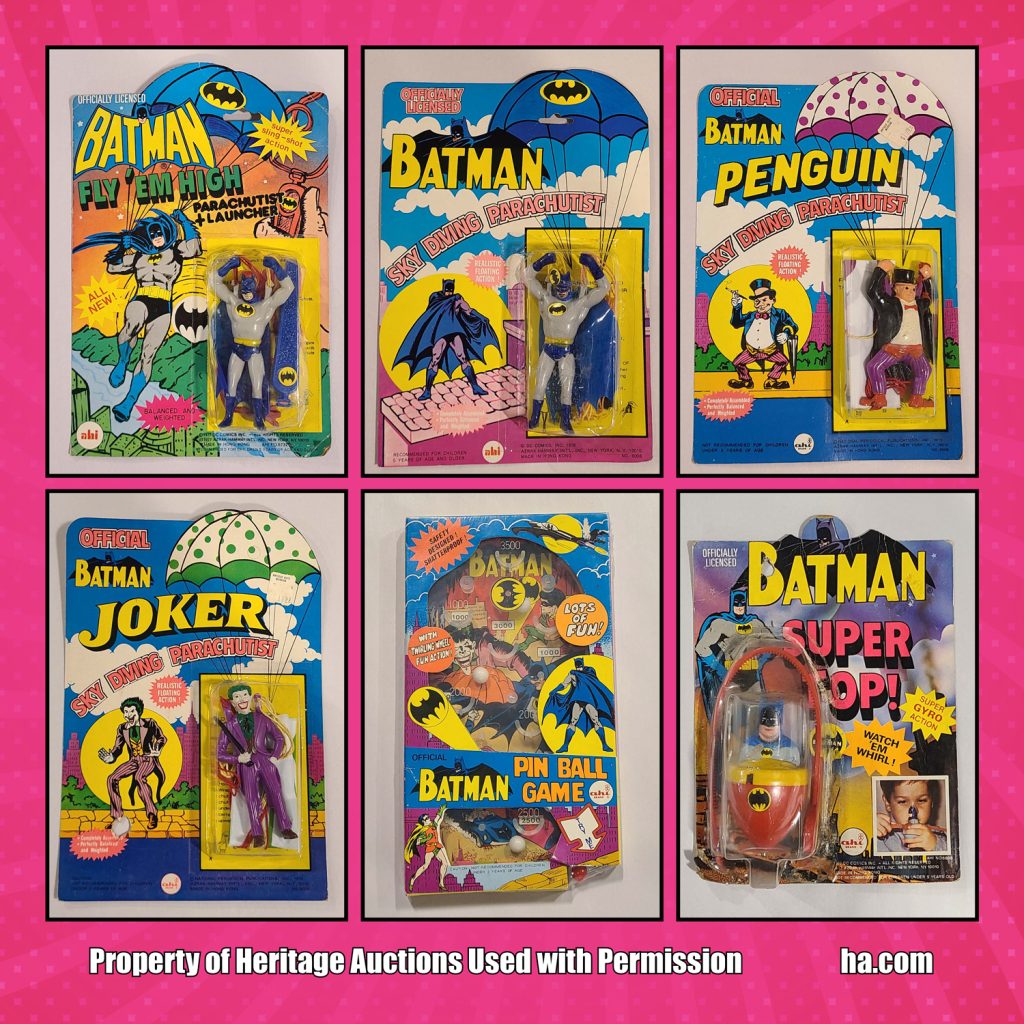 These parachuting figures are an obsession of mine, I love the last version Batman card (top middle). As evidenced by his absence, Robin is the hardest figure to find in the set.
Bat vehicles were a sold seller for AHI for a decade and there are some real hidden gems here. My personal favourite is the UK Jotastar version of the Bat Copter (Top Right). It's not known if JotaStar bought these from AHI or just their factory. 
I also love the Orange variant of the Bat Cycle. AHI was known for releasing toys in what my friend Corey calls "Test colours." I've seen bright blue phasers and red Space:1999 stun guns. It was the wild west back then.
The belle of the ball for AHI was the batmobile; it still sells! The card art for these varies as much as its shape; what I love about this is that they don't look related; every single one is its own unique and beautiful design. Each card is made to catch your eye and well, to see them like this is overwhelming and amazing. 
About Heritage Auctions:
The Ultimate Batman Collection auction contains 621 lots dating from the 1940's to today. The bulk of the collection comes from the 1960's and 70's and contains a wide range of original Batman items including action figures, tin toys, trading cards, comics, posters, food packaging, models, puzzles, games, and so much more. Also included are many incredibly rare and one-of-a-kind pieces like dioramas by Hot Toys, original artwork by Walt Howarth, and several items that may be the only of their kind left in existence. The collection also reaches far into internationally-released Batman items as it was primarily collected 1970's and 80's by a well-traveled collector based in the UK. There are few vintage Batman collections that could rival the extensive nature of the one represented in this auction.
Please visit Heritage Auctions for More.
Mego Meet 2023 will become part of Power-Con August 11-13 in Columbus, Ohio. Greater Columbus Convention Center
400 North High Street
Columbus, Ohio 43215
USA Tickets can be purchased here:
https://thepower-con.com/tickets-exclusives/
The Super Collector Newsletter combines all the news from Mego Museum and Plaid Stallions and a lot of other fun stuff across the Interwebs. It's got customs, new action figures, vintage finds and a lot of pop culture. Sign Up Here!
Toy-Ventures Magazine Issue 10 is here!
Do you miss print toy magazines? I sure did; that's why I created Toy Ventures. A full-colour print magazine that celebrates toys from the 1960s to the 1980s. It features collector guides, interviews and even some satire. We're on issue 10 now but still have a limited supply of our back issues; please visit our Shop for more information.

We co-produced this amazing action figure with White Elephant Toyz; it's an 8″ Mego Style Officially Licensed Tura Satana figure with a beautiful box by Joeseph Linsner! Get yours while supplies last.

Knock-Offs Totally Unauthorized Action figures is from the demented mind that brought you "Rack Toys: Cheap, Crazed Playthings" and features hundreds of hilarious, charming, copyright infringing toys. Get a signed copy in our shop!
Facebook Groups we enjoy

The official FB group for PlaidStallions, come for the conversation, stay for the chill vibe. Remember, you keep the glass.

Mego Knock Off Headquarters is a group created to discuss bootleg toys and customs. Totally chill vibe for fans of Tomland, Lincoln International, Mego and AHI. It's a super fun group, join the Mego-KO-HQ!