1984 Ideal Toys Robo Force Catalog
Robo Force was a nicely designed series of Robot Action Figures that seemed to be largely influenced by Star Wars.
The line, despite having an animated special, was not a commercial success. This may have been due to Hasbro's Transformers launching the same year, really making Maxx Steele and his crew look a bit old school.  The line endures cult popularity to this day and it's one of the last Ideal action figure lines to be released. Roboforce is now set for a major comeback from Nacelle Company, scroll down to see more on that.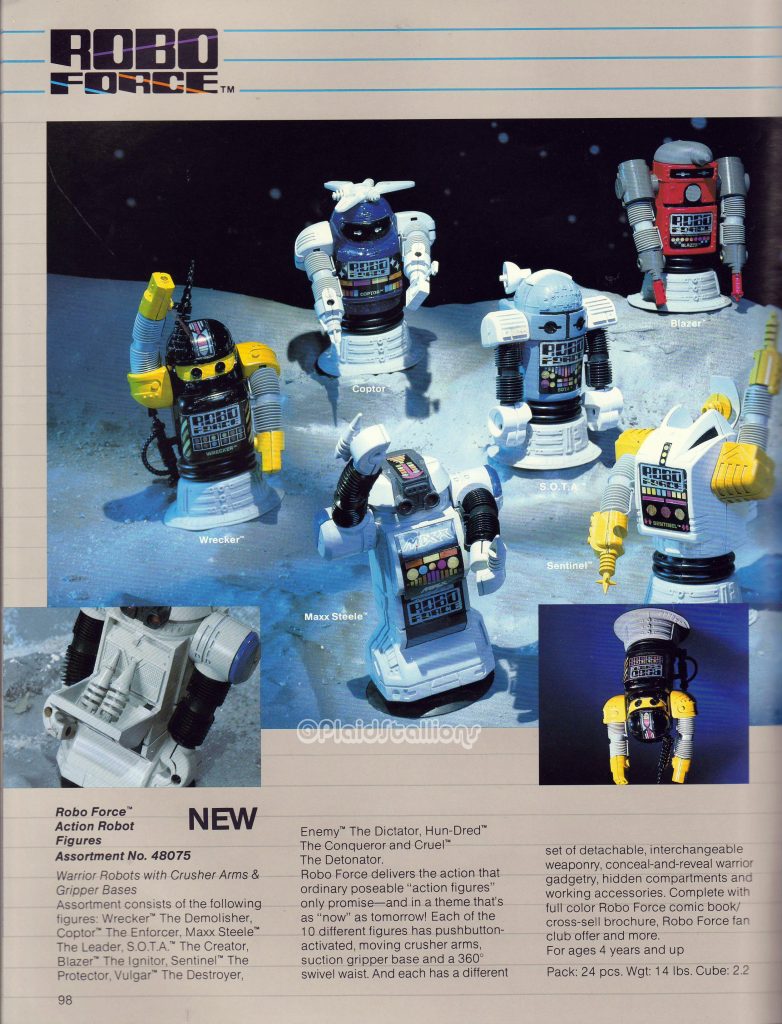 While the Robo Force figures would look clunky compared to Go-Bots or Transformers, I love that they look like they came out of a 1960s Patrick Troughton Doctor Who episode.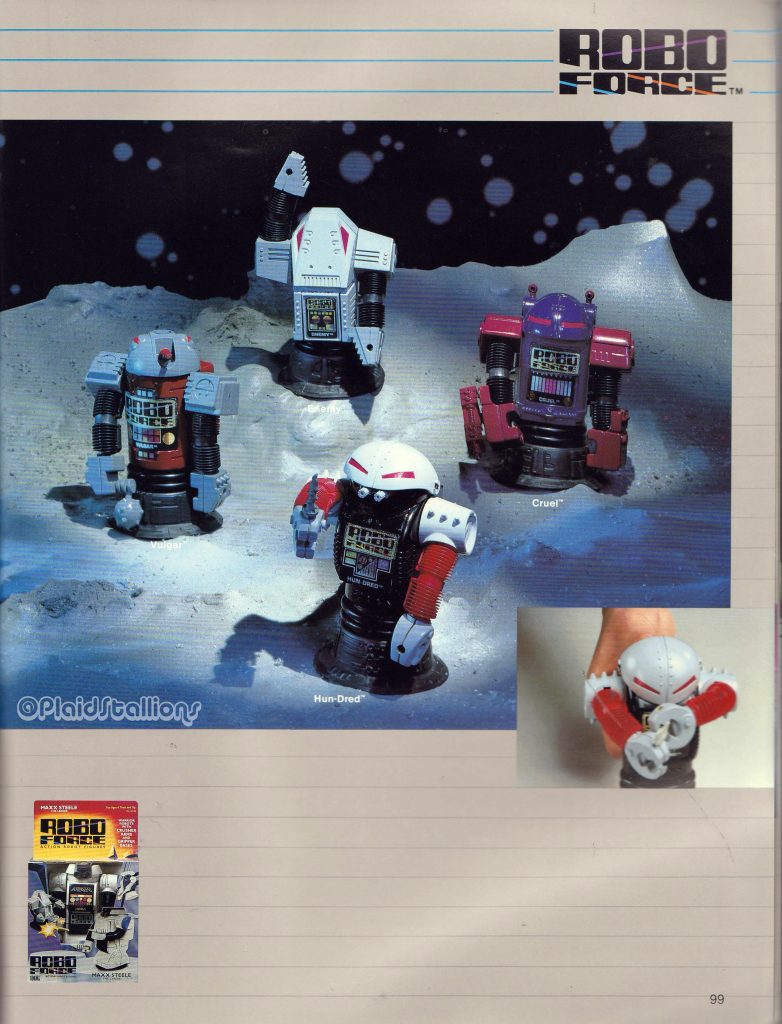 The figures had suction bases and gripping crushing arms. The arms really bring home that wonderful esoteric look that I enjoy about this line.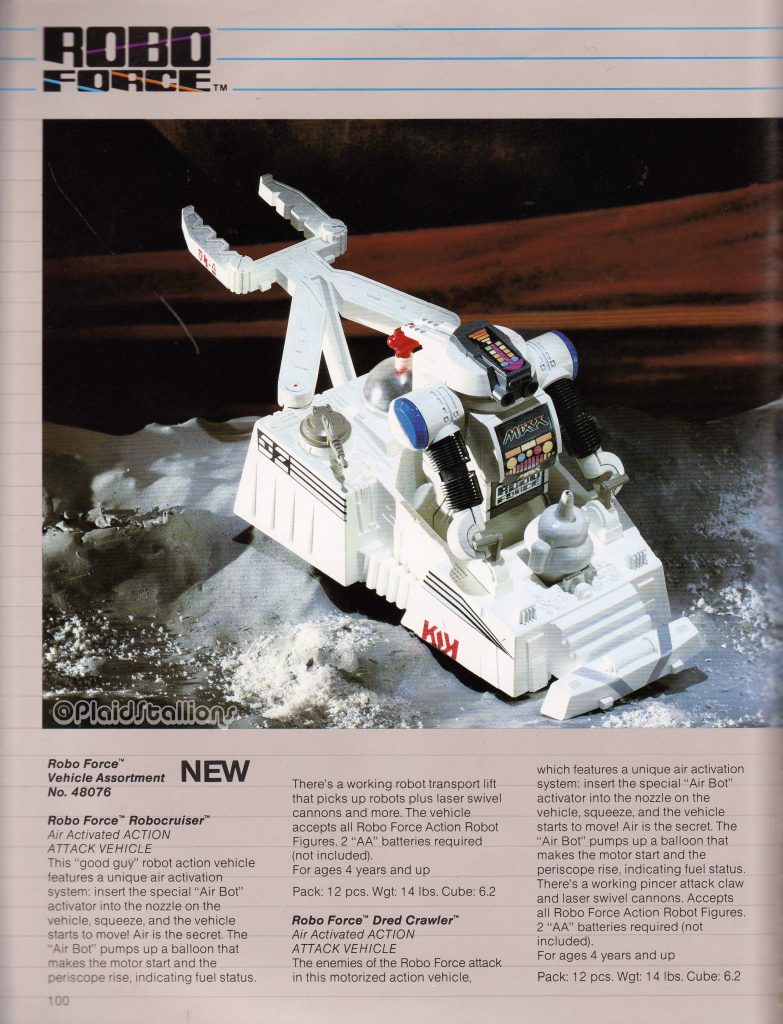 Robo Force Robocruiser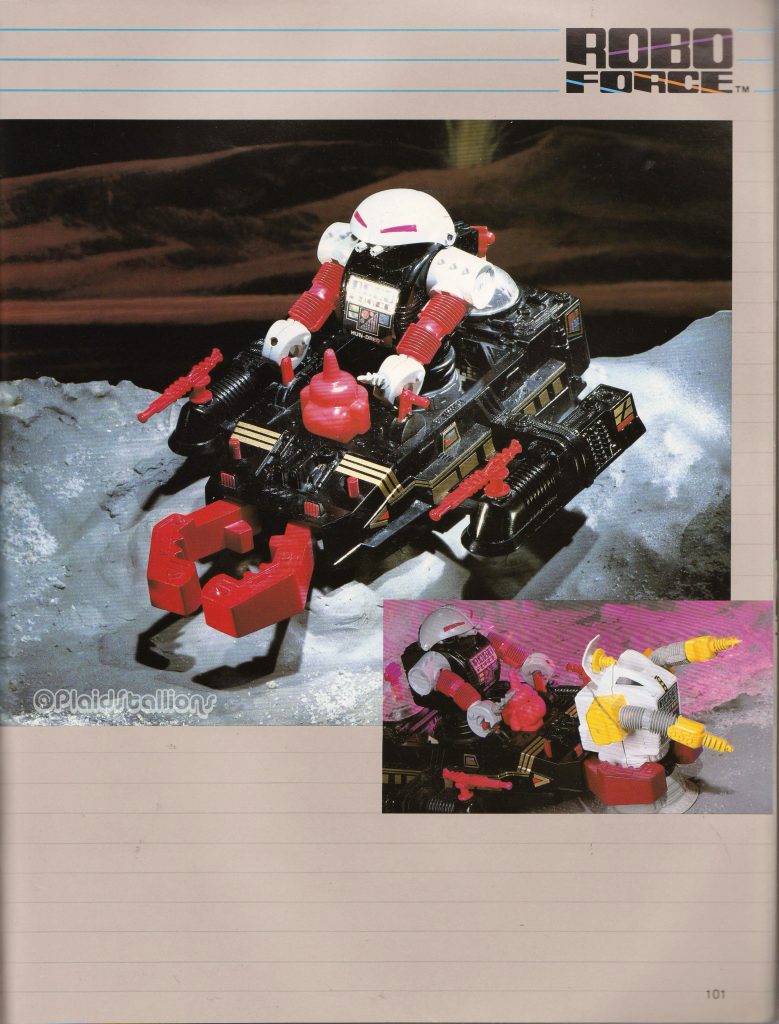 Robo Force Dread Crawler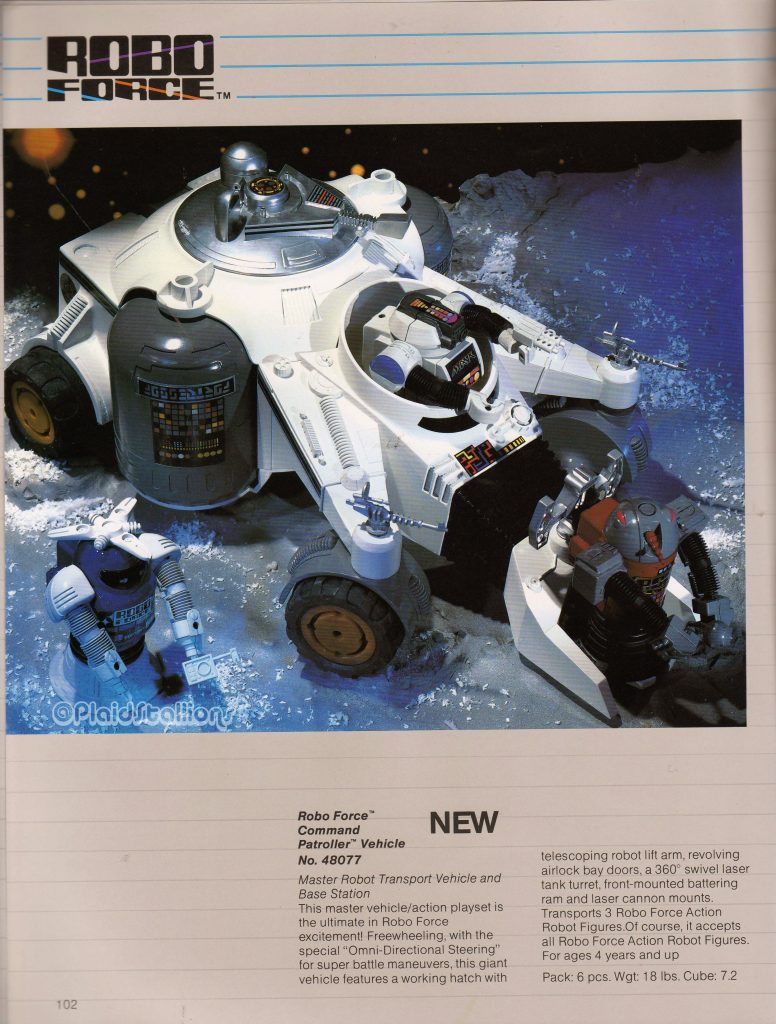 Robo Force Command Patroller Vehicle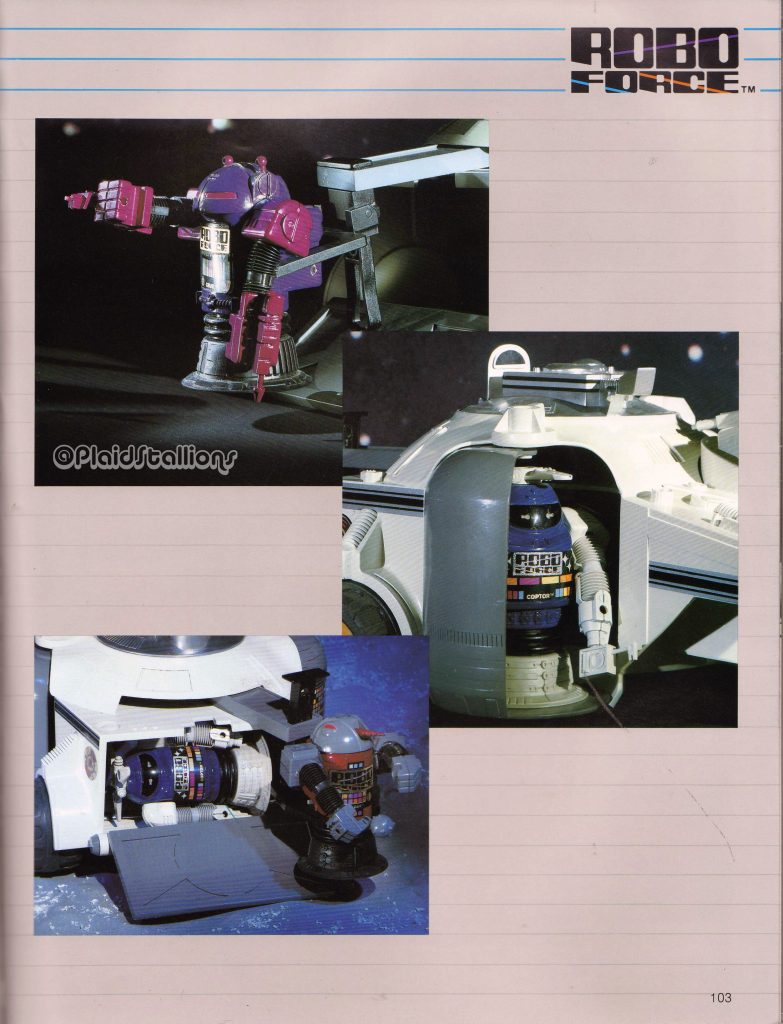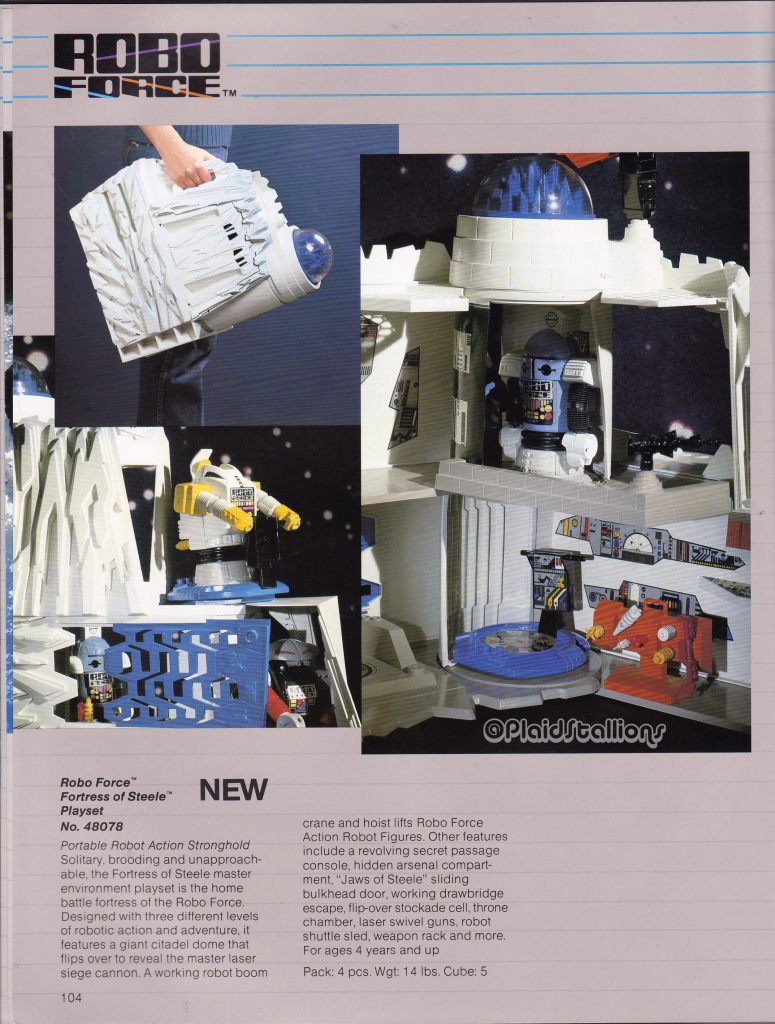 Robo Force Fortress of Steele Playset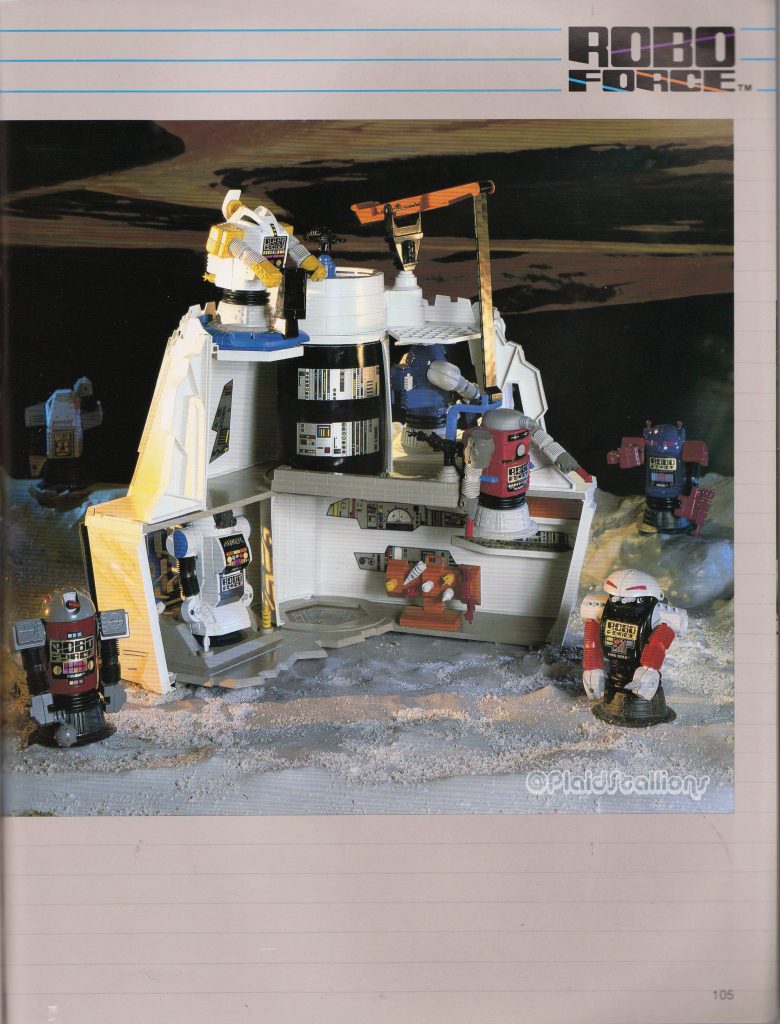 The 80s were a golden age for playsets.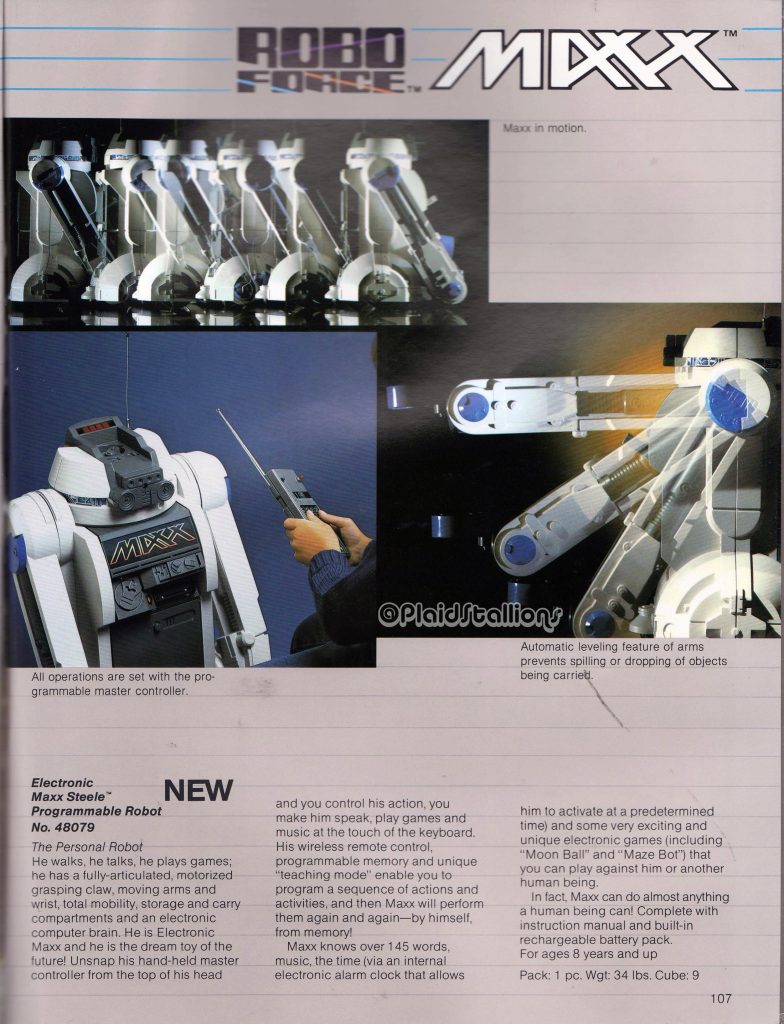 RC Max Steele!
ROBO FORCE: THE COMEBACK

The Nacelle Company Reveals Pre-Sale Info For Wave One Of Their Robo Force Collectible Figure Line
LOS ANGELES, CA – The Nacelle Company, the studio behind Netflix's The Toys That Made Us, The Movies That Made Us, A Toy Store Near You, and Behind The Attraction on Disney+ are excited to announce the first wave of Robo Force 7.5 inch collectible action figures will be available to pre-order for $49.99 on NacelleStore.com starting April 22, 2022! After spending the last year acquiring nostalgic IPs like The Great Garloo, Power Lords, Big Loo and the legendary Marx Toys brand, Nacelle is kicking off their first wave of Robo Force action figures with highly detailed and fully articulated versions of Maxx Steele and Wrecker.
In 2021, Nacelle Company announced its acquisition of the beloved 80s franchise, Robo Force, with plans to reintroduce the characters through a television series, books and other lifestyle products. Now, less than a year later, the company is revealing the first images of the Robo Force action figure line created by renowned toy designer, David Vonner. Painstaking detail was used to make sure that Robo Force's rich history should be taken seriously, yet updated with modern aesthetics meant to broaden the audience.
Robo Force's Maxx Steele and Wrecker return as part of Nacelle's Very Important Toy Line of 7.5-inch scale figures. These deluxe, fully articulated, 7.5" figures feature beautiful package art, alongside its own collector-friendly window box.
Maxx Steele was destined to be the latest and greatest in law enforcement (he was literally built to do it), but on the day before his first patrol, the UTOPIA101 line was revealed to the world. Maxx Steele was quietly reassigned to the traffic beat. Despite his best efforts to conform, Maxx Steele's passion for crime fighting, along with a growing distrust of the UTOPIA line, leads Maxx down a path into other, unauthorized, lines of police work. This will create problems. A LOT of problems.
Wrecker was built to be the jack-of-all-trades for the ROBO FORCE line; he has a tool for every occasion. Sadly, due to the rise of the UTOPIA101 line, those occasions never occurred. Reassigned to use his staggering strength and empathy codex to do the most mundane jobs in the basement of Police Rhombus HQ, Wrecker eventually teams up with Maxx Steele to help protect the innocent, and keep an eye on the increasingly erratic UTOPIA Force (as well as Hun-Dred and his evil minions).
Nacelle Company's Robo Force revival proves that nostalgic public interest in the franchise is higher than it's ever been and this is the perfect time to reintroduce Robo Force to a new generation of fans and collectors.
"Of all the IP's we've been buying, we wanted to launch our toy division with Robo Force because not only are they fun and iconic, but due to them being crushed at Toy Fair in 1984 by another line of charismatic transforming robots, we wanted to give them their due with a reimagined storyline and high end redesigns.  But don't despair lovers of the 80's version, our new figures will of course have the infamous suction cups, but these will be attached to something the originals never had; legs!" said Nacelle Company Founder and CEO, Brian Volk-Weiss.
7.5-inch scale (19.05 cm)
Injection Molded Action Figure
Highly Detailed
Fully Articulated
Reimagined from the classic Robo Force™ line
Part of The Nacelle Company's Very Important Toy Line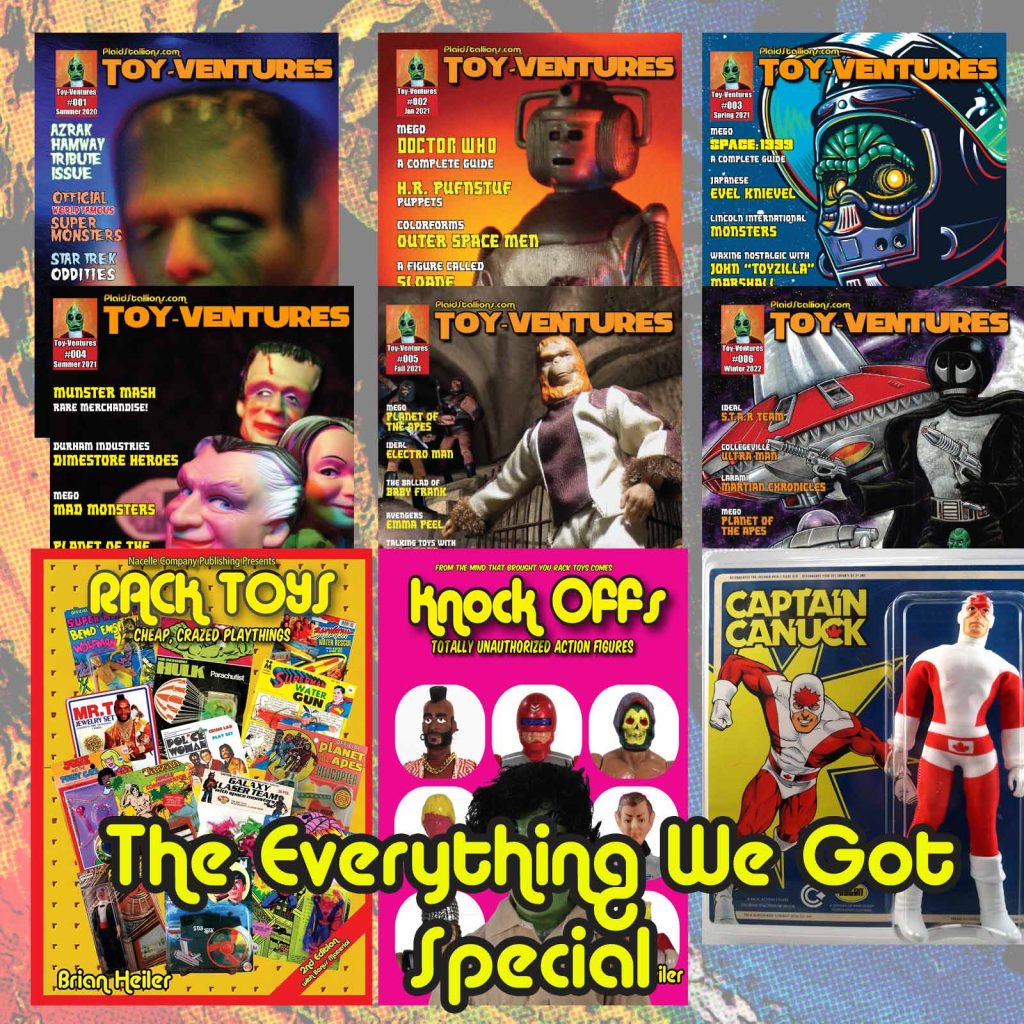 This limited edition set includes both books, all six magazines (with available premiums) and a Captain Canuck action figure. It's a $150 value for a great price. I only can make six of these, so don't wait.
Issue 6 of Toy-Ventures ships next week, order now from our shop and get a free Star Team Poster by legendary artist Dave Waugh!
Our newest book "Knock-Offs: Totally, Unauthorized Action Figures" is now available. It's 130 pages of bootleg goodness.
You can get this new book via the PlaidStallions Shop , On Amazon (Affiliate Link) or on eBay (eBay Link)
Our book Rack Toys, Cheap, Crazed Playthings is now available again! Order through our Affiliate Link
Order Rack Toys 2.0 Here through our Affiliate Link►https://amzn.to/3Bkm9z1
FACEBOOK GROUPS FROM PLAIDSTALLIONS

Pod Stallions is one of the most fun groups on Facebook. Toys, Comics, Movies, TV, it's all up for grabs and remember, you keep the glass!

Mego Knock Off Headquarters– The leading group discussing 70s Dime store knock-offs of Mego action figures, we talk vintage toys and not others. We know the difference between Astro Apes and Action Apeman! It's a really fun group where we talk about Lincoln International, AHI, Tomland, Bogi, Demo Man, Mortoy, and other generic greats.