1984 Galoob Blackstar Catalog
Blackstar was a Filmation animated program that made its debut in September of 1981; the series blended science fiction with fantasy (borrowing a little from JRR Tolkien) and saw its end the December of that same year.
Blackstar saw a second life, thanks to Filmation's next project, "He-Man and the Masters of the Universe," based on a hot toy line combining science fiction with fantasy.
The show aired again in 1983, and toymaker Galoob would license it for action figures hoping to capitalize on the MOTU craze.
At the time, many toymakers were mining fantasy programs to compete with He-Man, Remco licensed Conan, Warlord, Kazar and Thundarr the Barbarian, hoping to cash in on the craze.
The gambit worked, and Blackstar enjoyed a very positive two years of sales.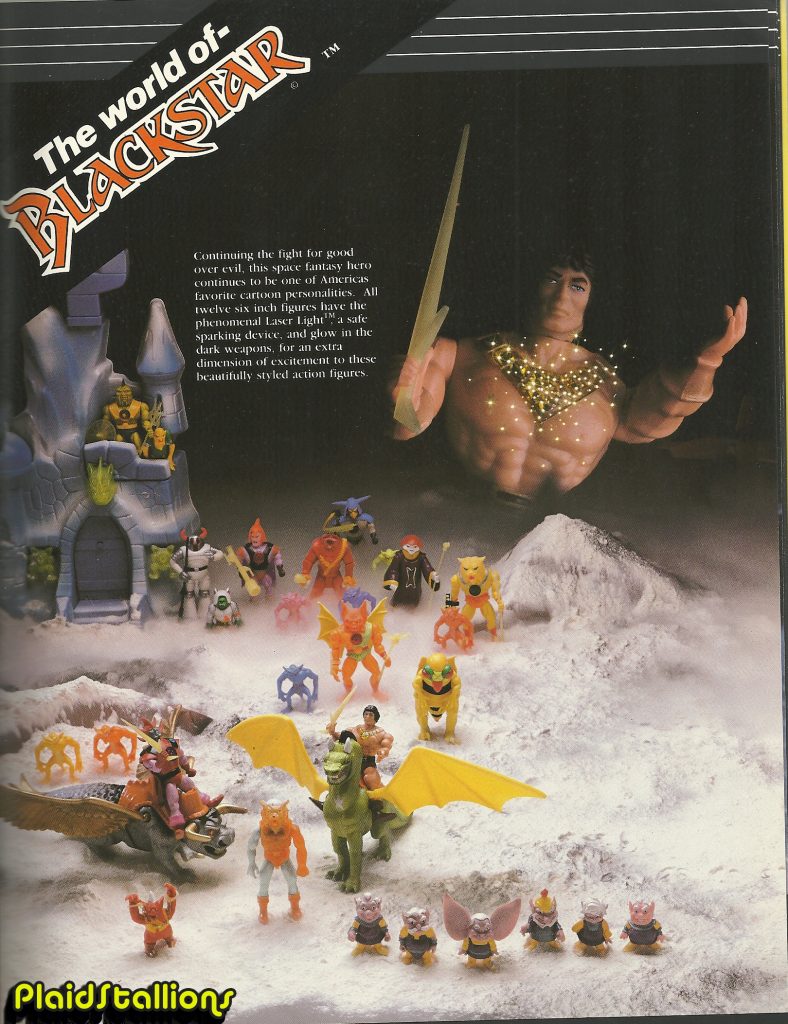 Galoob really went all out with the Blackstar range adding many of the main characters from the show, including the impish "Trobbits".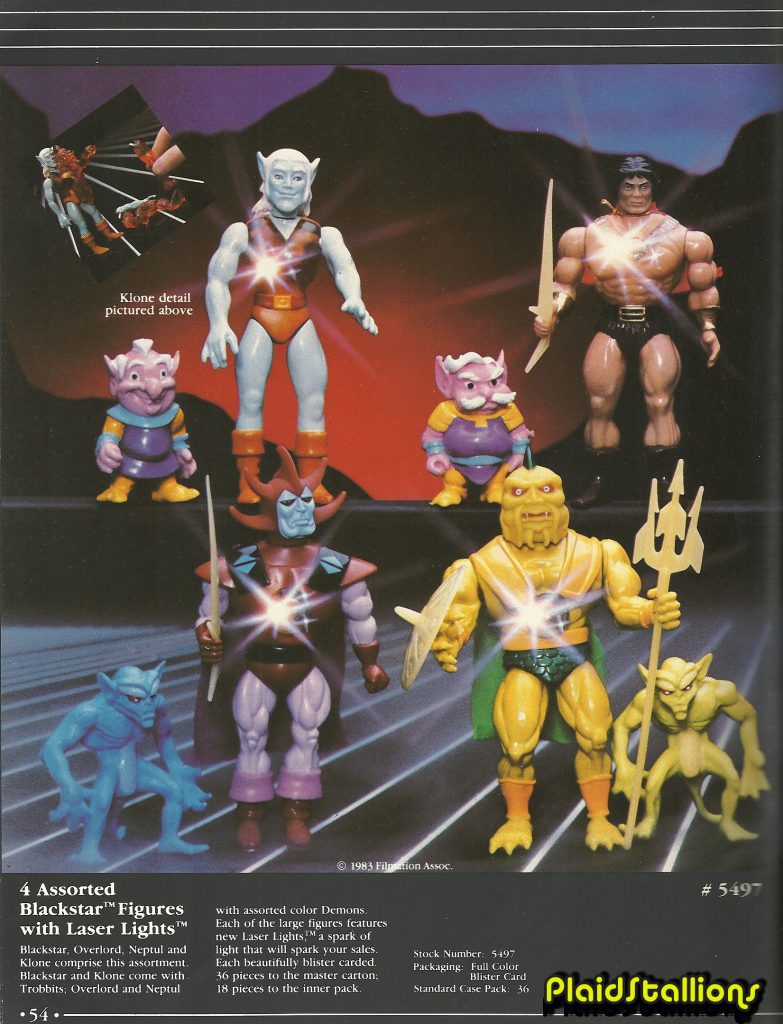 This is the second year for the Blackstar range and many of the figures were upgraded to have "Laser Lights" which meant sparks flew out of their chests.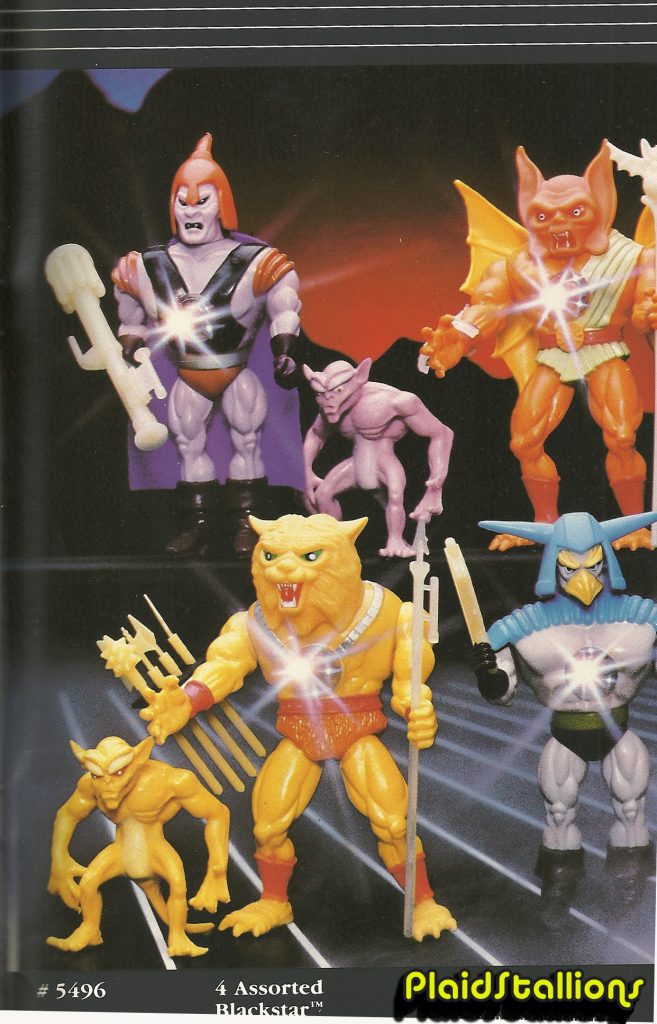 Sorry this page got cropped by accident. I'll try and fix it later.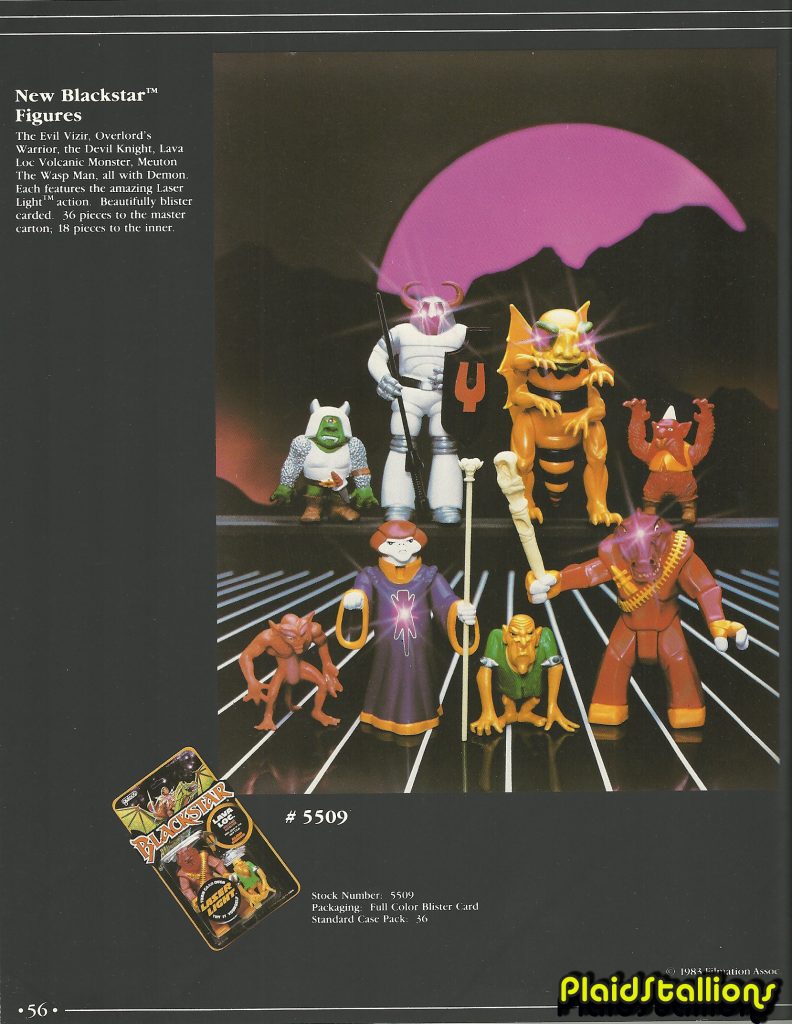 1984 saw some new bad guys added to the line, each with their own demon character. i find these guys in bins all the time.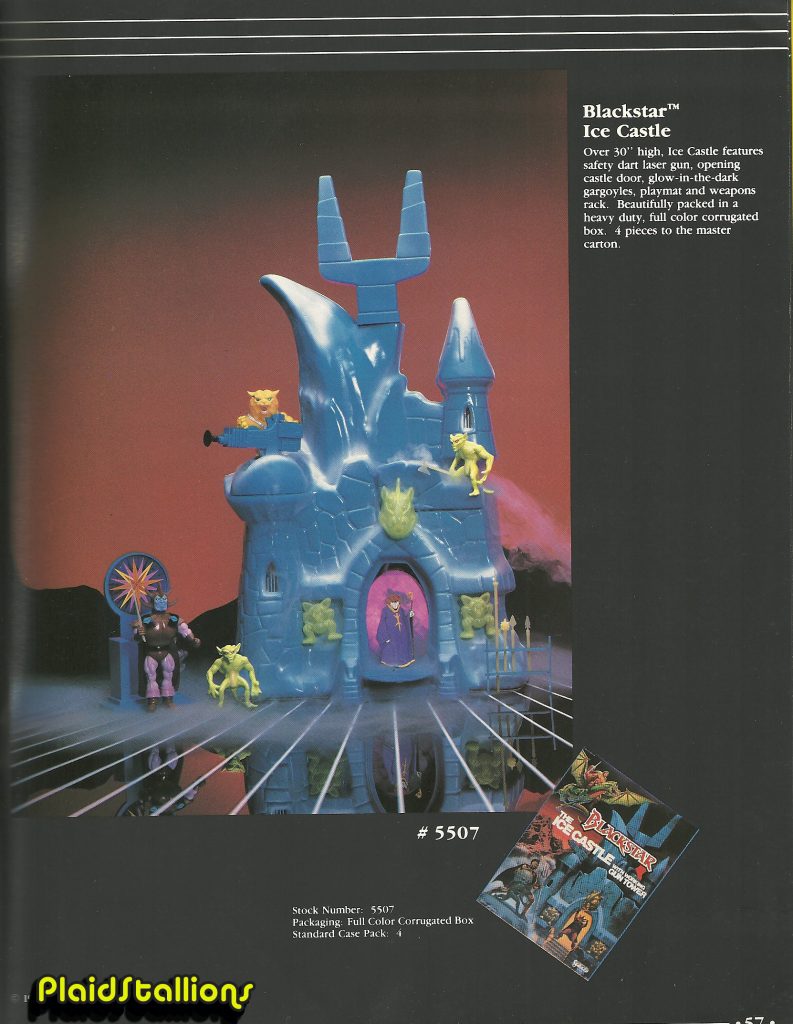 The Blackstar ice castle was the big playset for the line and it was a lower-cost alternative to Castle Greyskull, I remember watching people grabbing these with both hands that Christmas at my local Woolco. Smashing box art on that one.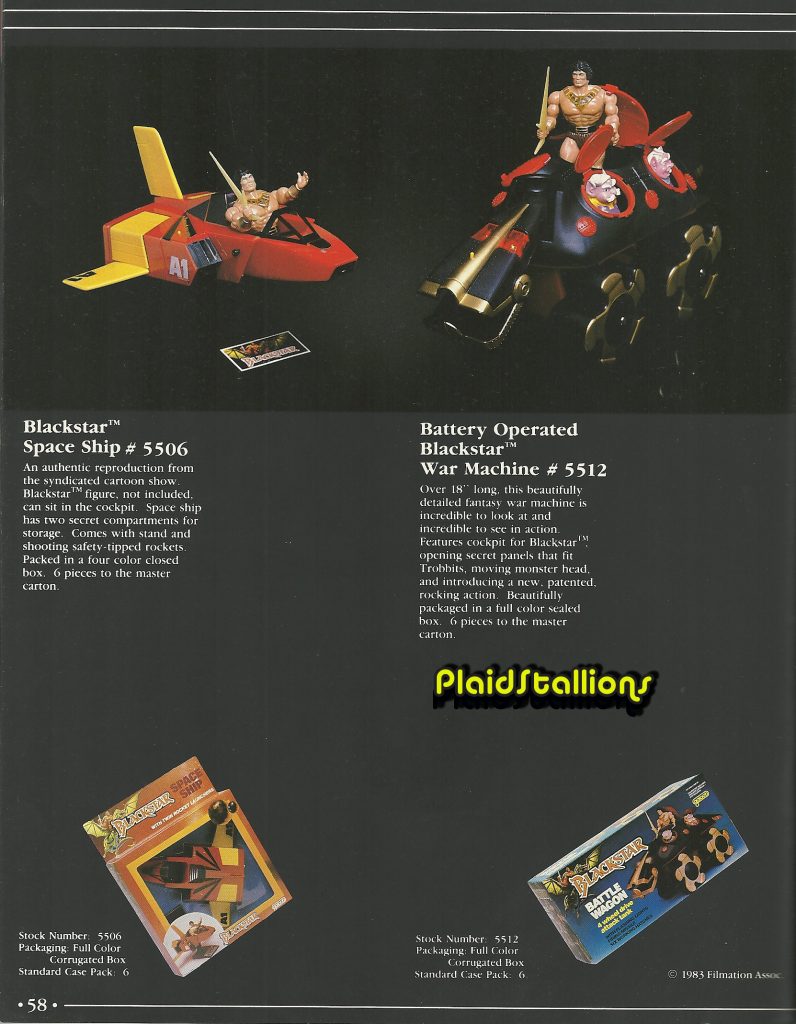 The Blackstar spaceship is based I believe that astronaut John Blackstar came to this planet in. It's been over 40 years since I watched this show, so I'm rusty.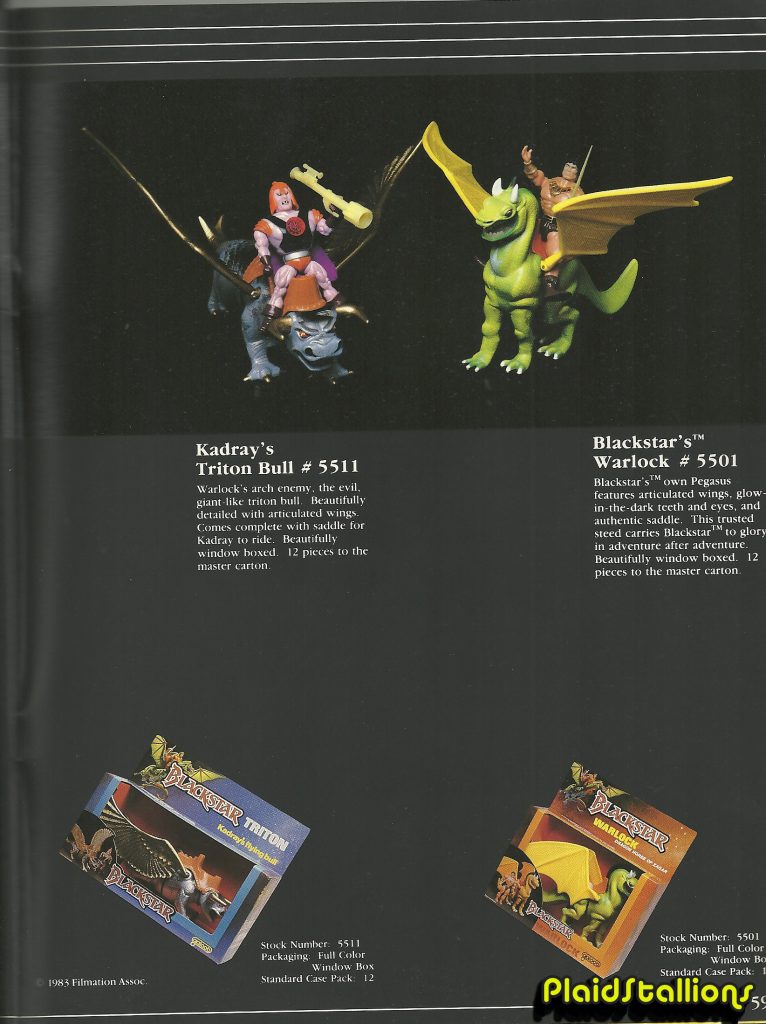 I've always really liked Warlock, Blackstar's dragon steed.
We have a new book out called "Knock-Offs: Totally Unauthorized Action Figures" it's a 132-page tribute to bootleg toys.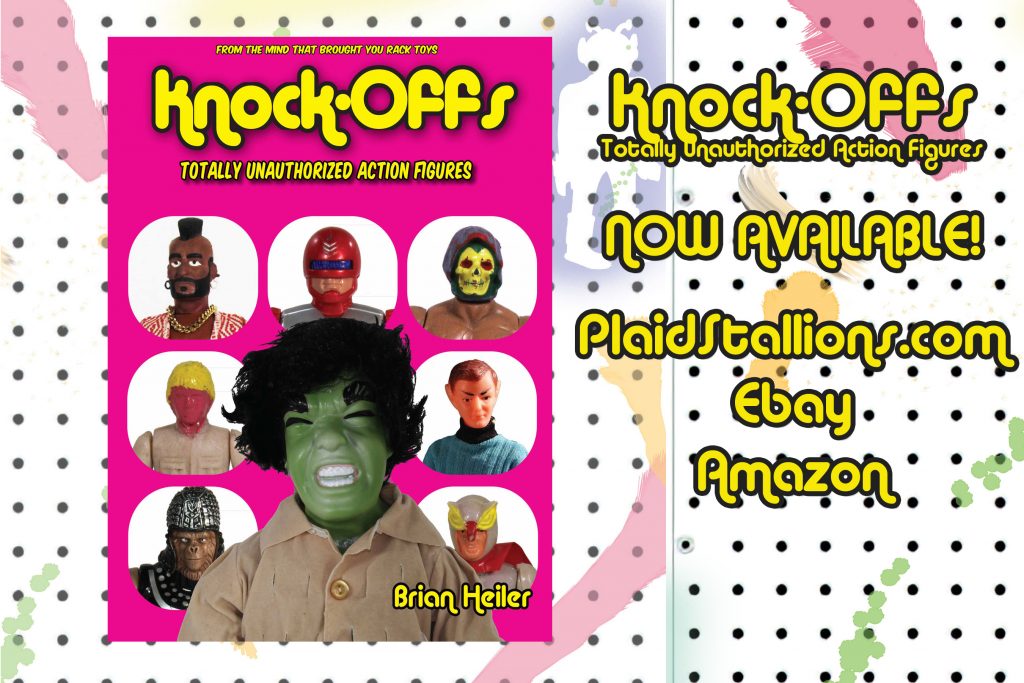 You can get this new book via the PlaidStallions Shop , On Amazon (Affiliate Link) or on eBay (eBay Link)
Our book Rack Toys, Cheap, Crazed Playthings is now available again! Order through our Affiliate Link
Order Rack Toys 2.0 Here through our Affiliate Link►https://amzn.to/3Bkm9z1
Toy-Ventures Magazine is our newest creation, an old-school print magazine about vintage toys! Professionally laid out and written, each issue is brimming with obscure and rare toys from companies such as Mego, Kenner, Remco, AHI, and much more. Monsters, Superheroes, Adventurers, Knock Offs, Apes, and so much more, it's in Toy-Ventures.
Toy-Ventures Issue 5 is available now:
Ebay: https://ebay.us/XSS1X7
Plaid Stallions Store: https://plaidstallions.com/reboot/shop/
Amazon Affilitate Link:https://amzn.to/3d9Q0AS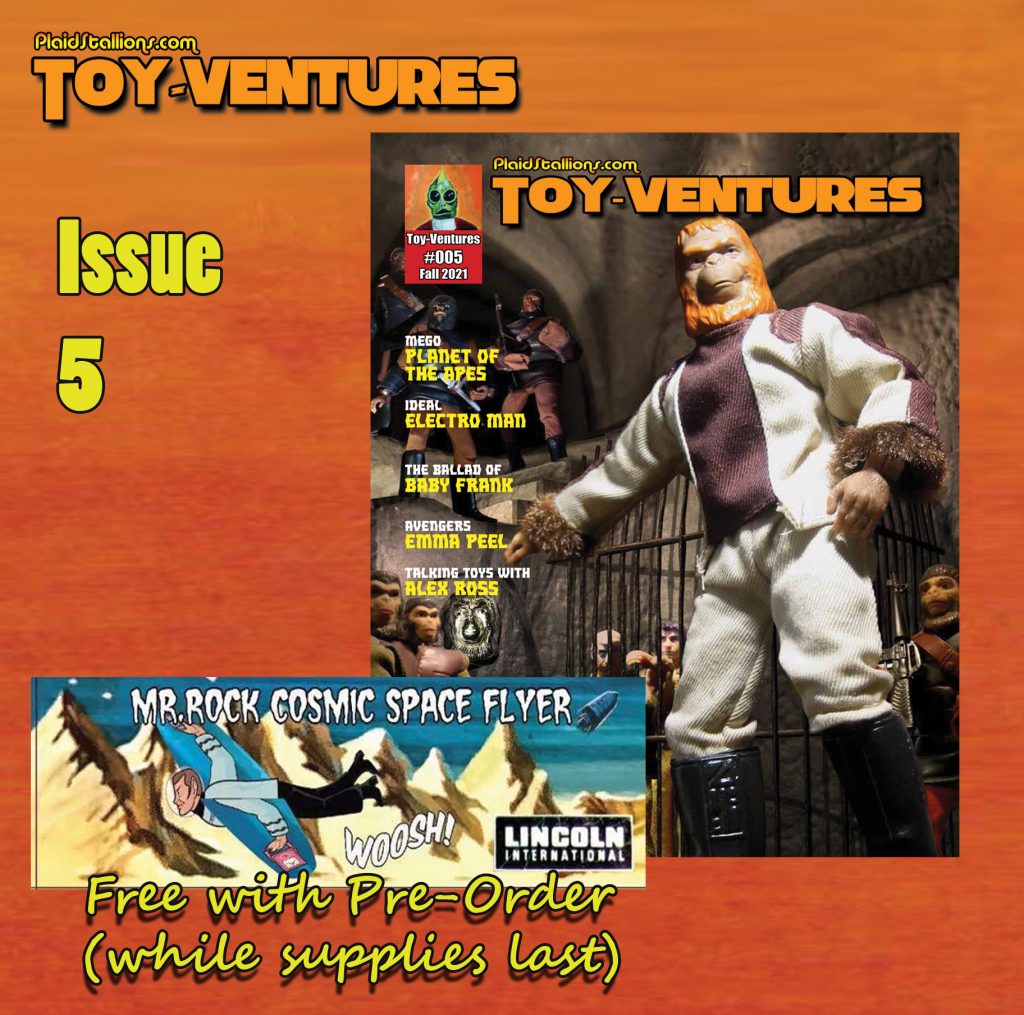 FACEBOOK GROUPS FROM PLAIDSTALLIONS

Pod Stallions is one of the most fun groups on Facebook. Toys, Comics, Movies, TV, it's all up for grabs and remember, you keep the glass!

Mego Knock Off Headquarters– The leading group discussing 70s Dime store knock-offs of Mego action figures, we talk vintage toys and not others. We know the difference between Astro Apes and Action Apeman! It's a really fun group where we talk about Lincoln International, AHI, Tomland, Bogi, Demo Man, Mortoy, and other generic greats.