1977 Mattel Donnie and Marie Osmond Catalog
1977 Mattel Donny and Marie Osmond Catalog
Donny and Marie were TV superstars in 1977 thanks to their Sid and Marty Krofft (yes, the Land of the Lost creators) produced variety show that ran from 1975 until 1979 on ABC-TV. It was a wholesome affair that I will admit was on quite a bit in my household. 
Girls loved Donny and looked up to Marie so it only made sense when Mattel Toys snapped up the merchandising rights to this squeaky clean pop duo. They were absolutely perfect for the toy aisle.
The results are a little bit Barbie, a little bit rock and roll, come check out the 1977 Mattel Donny and Marie catalog with me.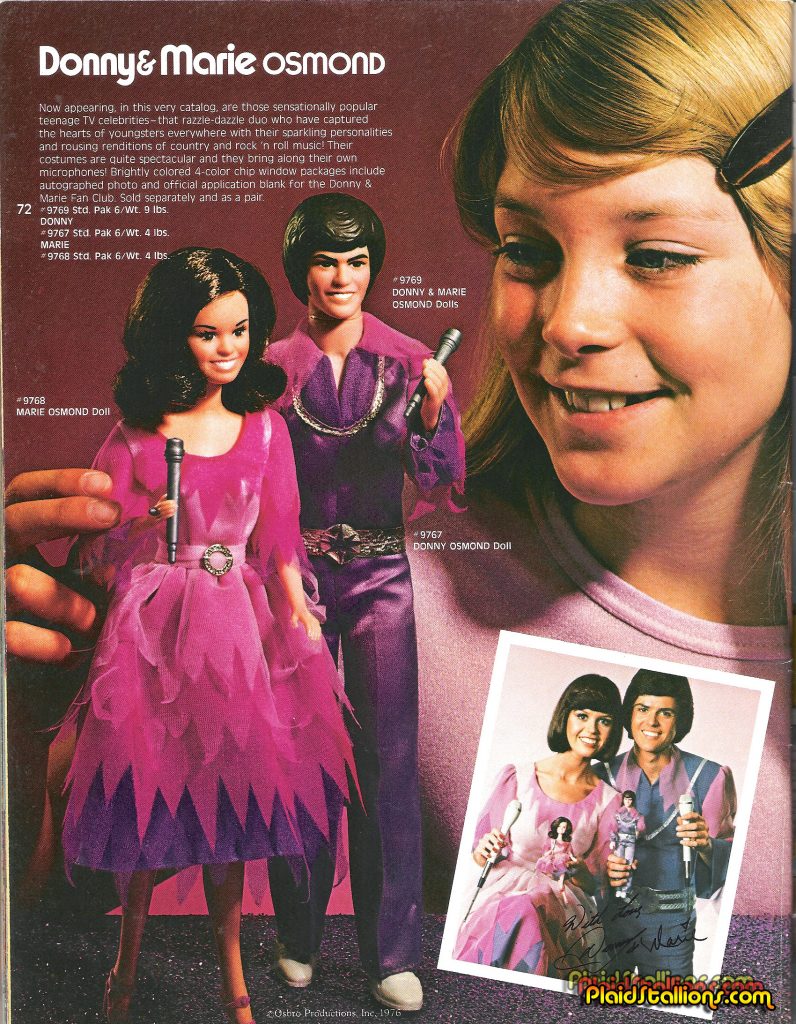 The Donny and Marie dolls had holes in their hands to fit their microphones and are wearing the greatest jumpsuits ever. In an attempt to impress my older sibling who was a fan, I actually purchased a Donny Osmond doll in 1977. I honestly passed on a Mego Human Torch! I wish I had a time machine….
Donnie and Marie were offered individually and as a two-pack, after a successful first year, brother Jimmy was added to the line in 1978.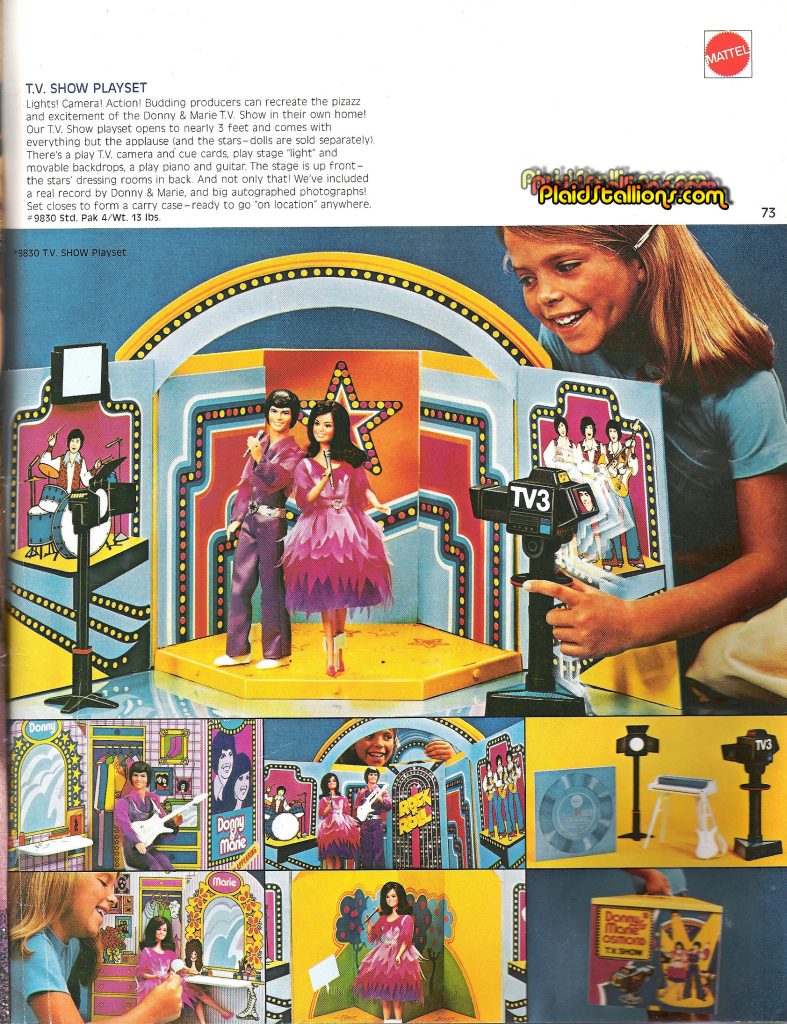 Mattel always made a really decent vinyl playset for any line they produced, and the Donny and Marie TV show playset is n exception. Mattel was a master of this sort of toy. Mattel added a floppy record into this playset, they also did that with Major Matt Mason and Welcome Back Kotter and it likely added a lot of play value to the item.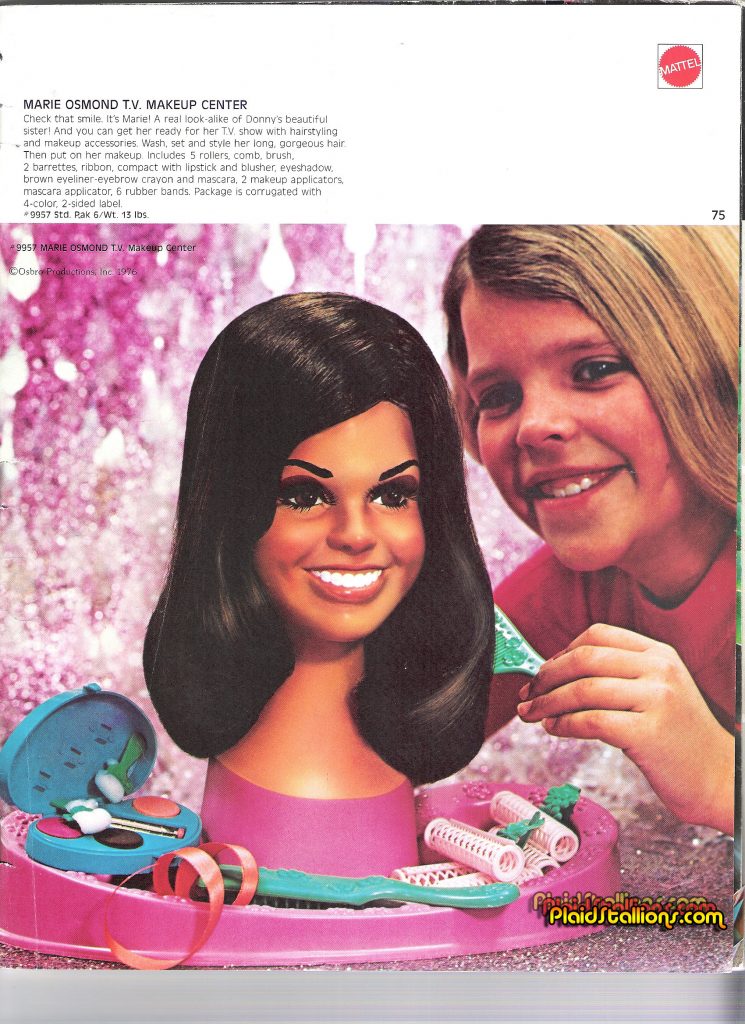 Make-up heads like the Mattel Marie Osmond TV make up center must have sold very well judging by the amount that was produced in the '70s, I still see the disembodied heads of Barbie, Cher, and Farrah at flea markets…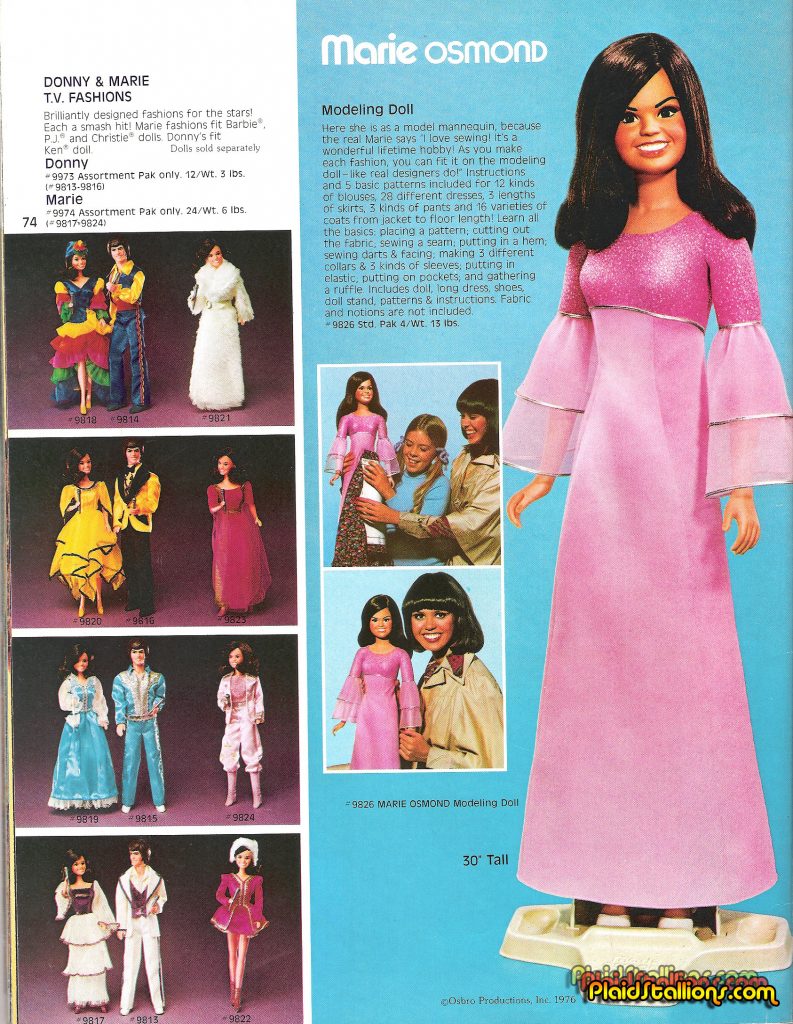 Mattel offered a Marie Osmond Modelling doll that was almost 30″ tall and it's actually a pretty great likeness. The Mattel Donny and Marie TV fashions also fit Barbie and Ken, which is rather shrewd.
 Toy-Ventures magazine Issue 4 is shipping this month to pre-order customers and it's loaded with cool toys and information. Issue 4 is set to launch next week and it's our best yet, we just keep climbing with this and I hope you'll support it.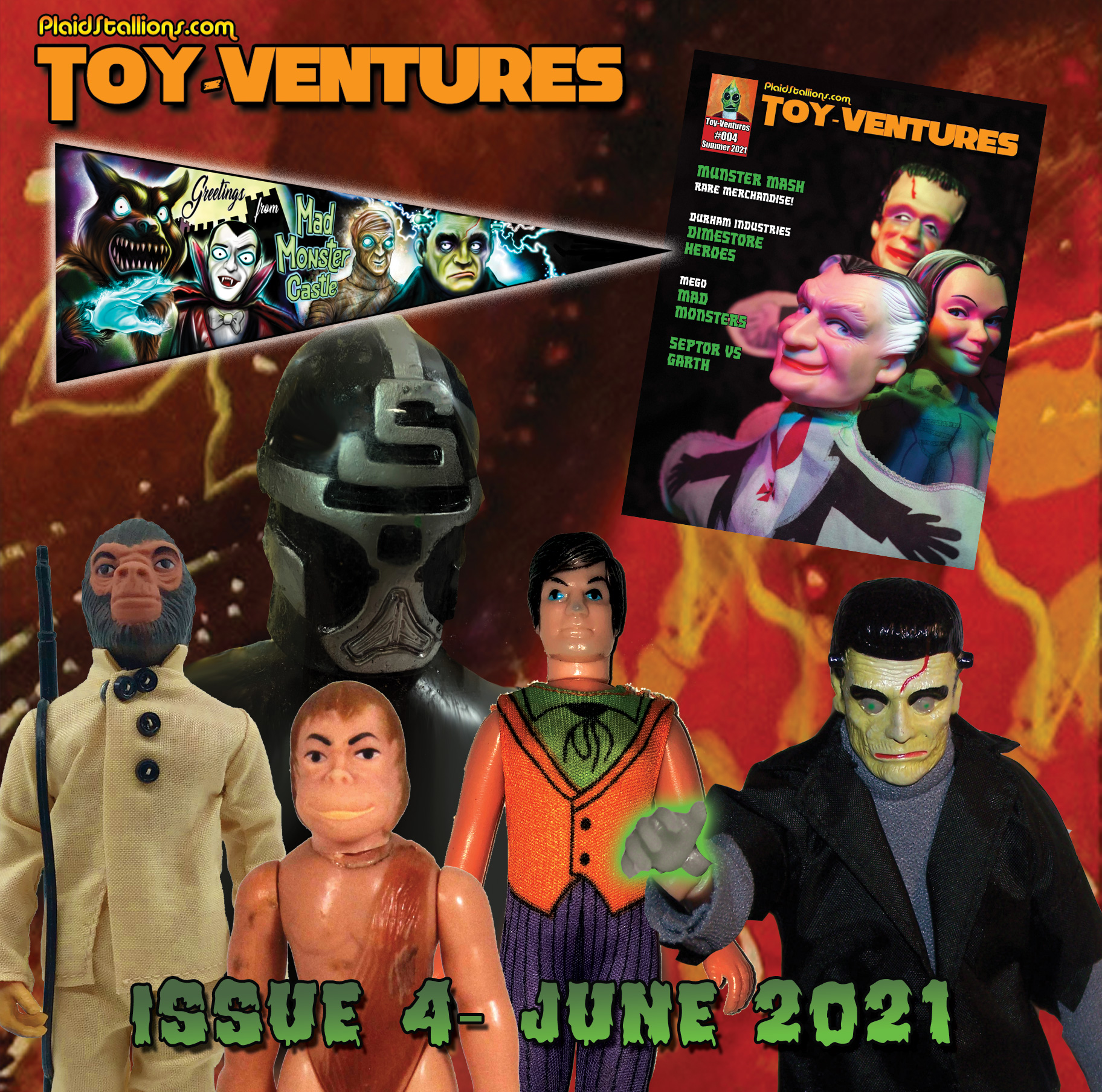 FACEBOOK GROUPS FROM PLAIDSTALLIONS

Pod Stallions is one of the most fun groups on Facebook. Join us for our all-day breakfast bar on Sundays and remember, you keep the glass!

Mego Knock Off Headquarters– The leading group discussing 70s dimestore goodness like Lincoln International, AHI, Tomland, Durham, you get the picture. Whether you like Mr. Rock or are more of an Astro Apes person, this is the group you need to be in. Just toy talk, no BS.