1977 Marx Ready Gang Catalog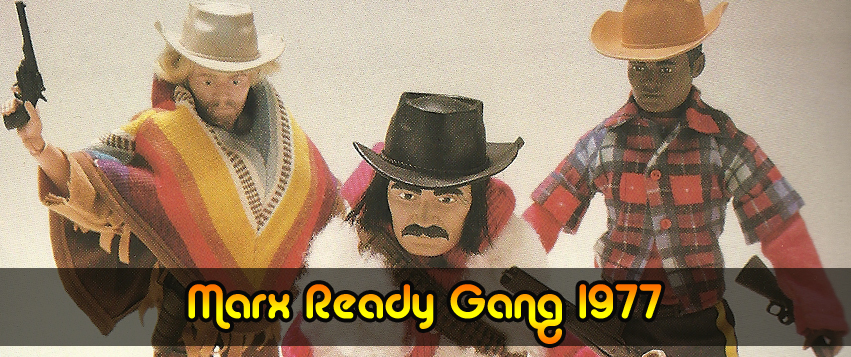 In 1977, Marx Toys launched the Ready Gang, a beautifully detailed line of 9″ action figures from the old west with little to no back story (Seriously, are these guys, outlaws, or good guys? I guess it's up to the kid?) and it lasted two years before fading away.
My best guess is the line's intention as additional characters to the popular Gabriel Toys Lone Ranger line. However, this is very late for Western action figures, making it somewhat curious.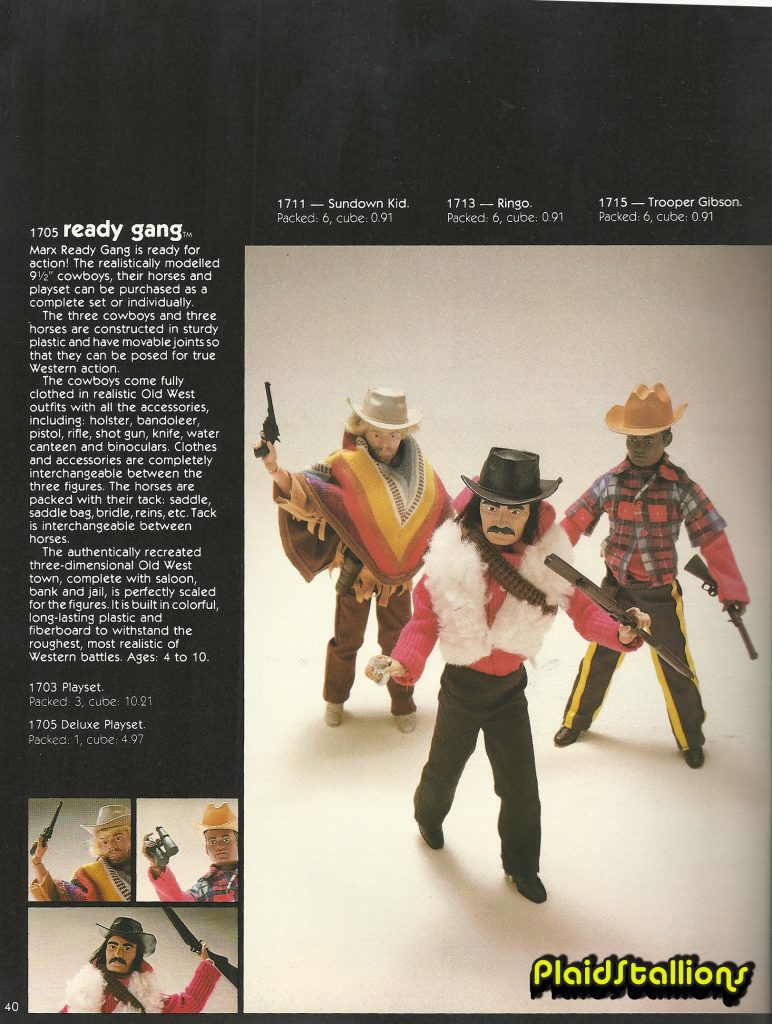 The series consisted of three characters, the Sundown kid, Ringo and Trooper Gibson.
Their designs seem influenced by "Spaghetti" Western films, particularly Sundown and Ringo. Trooper Gibson is a rarity as most Western toy lines did not feature people of colour.
Marx went all out on this line, creating horses and a western town for the Ready Gang. These toys sold well enough in 1977 to warrant a proposed expansion to the range in 1978, including new characters, horses and a wagon. It was, however, not meant to be, and the Marx Ready Gang would fade away after two short years.
If you like Western action figures, check out the amazing Fighting Furies gallery here on our site:
We have a new book out called "Knock-Offs: Totally Unauthorized Action Figures" it's a 132-page tribute to bootleg toys.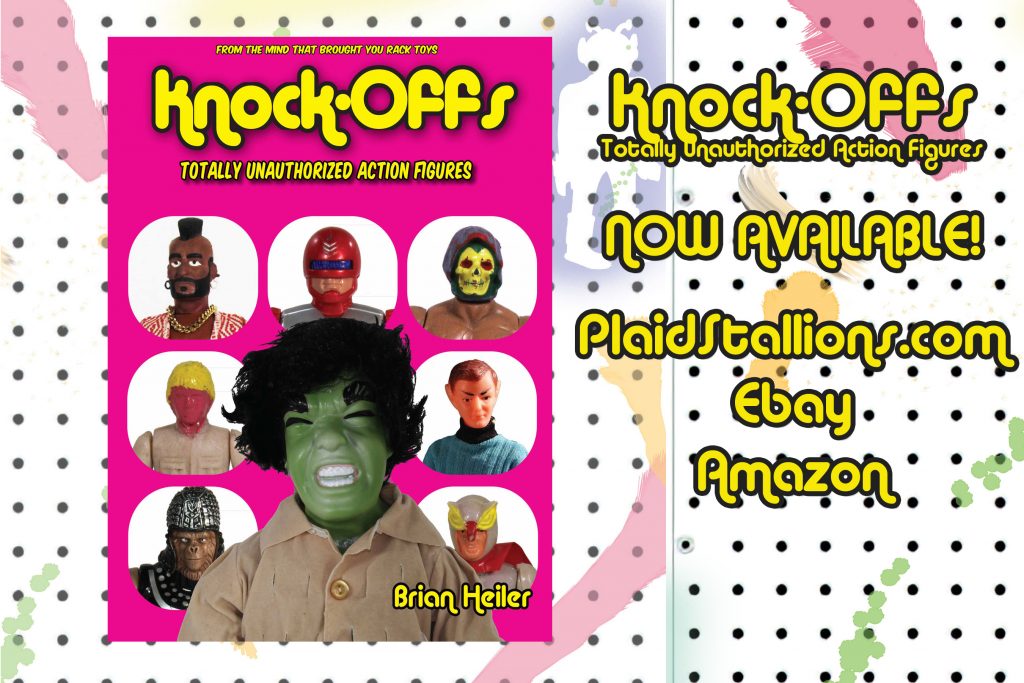 You can get this new book via the PlaidStallions Shop , On Amazon (Affiliate Link) or on eBay (eBay Link)
Our book Rack Toys, Cheap, Crazed Playthings is now available again! Order through our Affiliate Link
Order Rack Toys 2.0 Here through our Affiliate Link►https://amzn.to/3Bkm9z1
Toy-Ventures Magazine is our newest creation, an old-school print magazine about vintage toys! Professionally laid out and written, each issue is brimming with obscure and rare toys from companies such as Mego, Kenner, Remco, AHI, and much more. Monsters, Superheroes, Adventurers, Knock Offs, Apes, and so much more, it's in Toy-Ventures.
Toy-Ventures Issue 5 is available now:
Ebay: https://ebay.us/XSS1X7
Plaid Stallions Store: https://plaidstallions.com/reboot/shop/
Amazon Affilitate Link:https://amzn.to/3d9Q0AS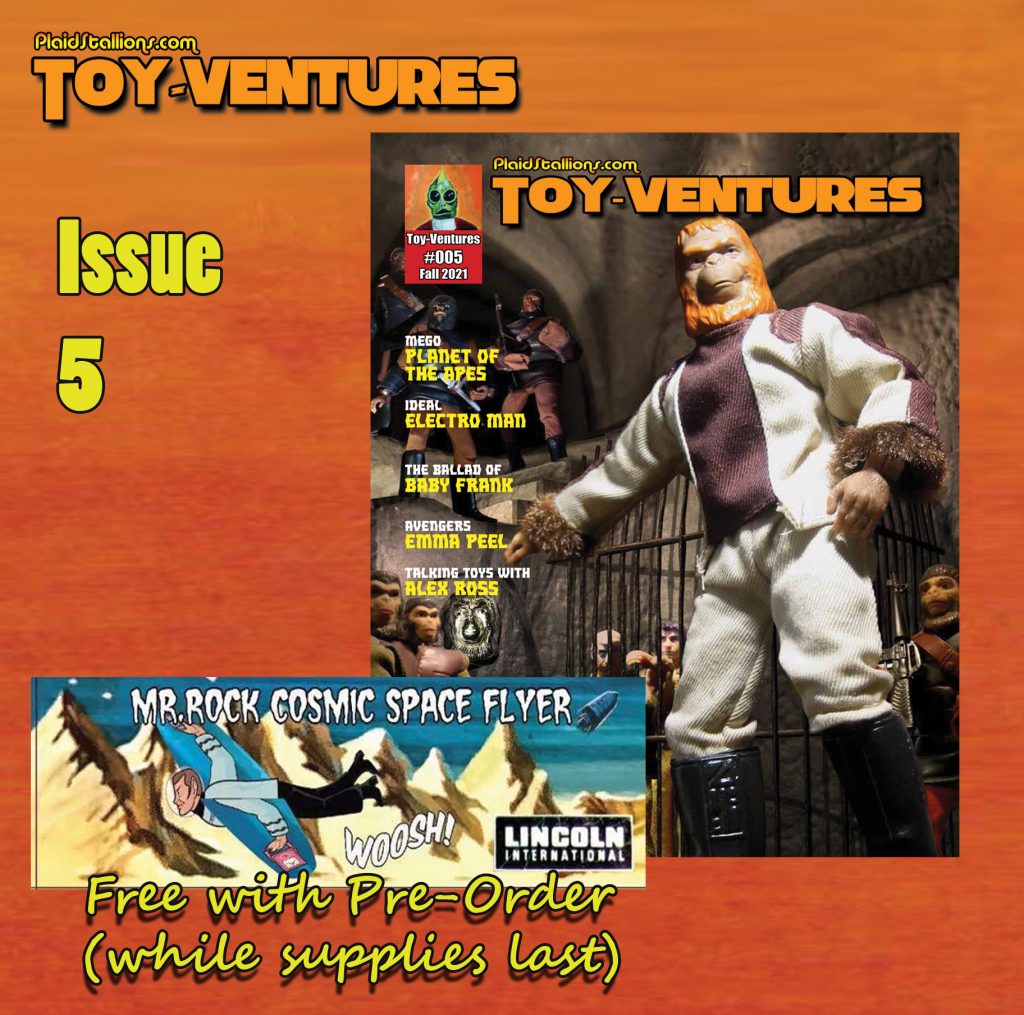 FACEBOOK GROUPS FROM PLAIDSTALLIONS

Pod Stallions is one of the most fun groups on Facebook. Toys, Comics, Movies, TV, it's all up for grabs and remember, you keep the glass!

Mego Knock Off Headquarters– The leading group discussing 70s Dime store knock-offs of Mego action figures, we talk vintage toys and not others. We know the difference between Astro Apes and Action Apeman! It's a really fun group where we talk about Lincoln International, AHI, Tomland, Bogi, Demo Man, Mortoy, and other generic greats.