1975 Matchbox Fighting Furies Catalog
1975 Matchbox Fighting Furies Catalog
 
The Fighting Furies were introduced in 1974 by Matchbox (Lesney) and were the creation of legendary toy design firm, Marvin Glass and Associates. The line at this time centred around a series of Pirate action figures with "duelling action" which was a lever on their backs allowing them to engage in sword play.
The Fighting Furies line enjoyed some success in 1974 and Matchbox attempted to expand the line in '75 with a new character, a boat and two proposed playsets.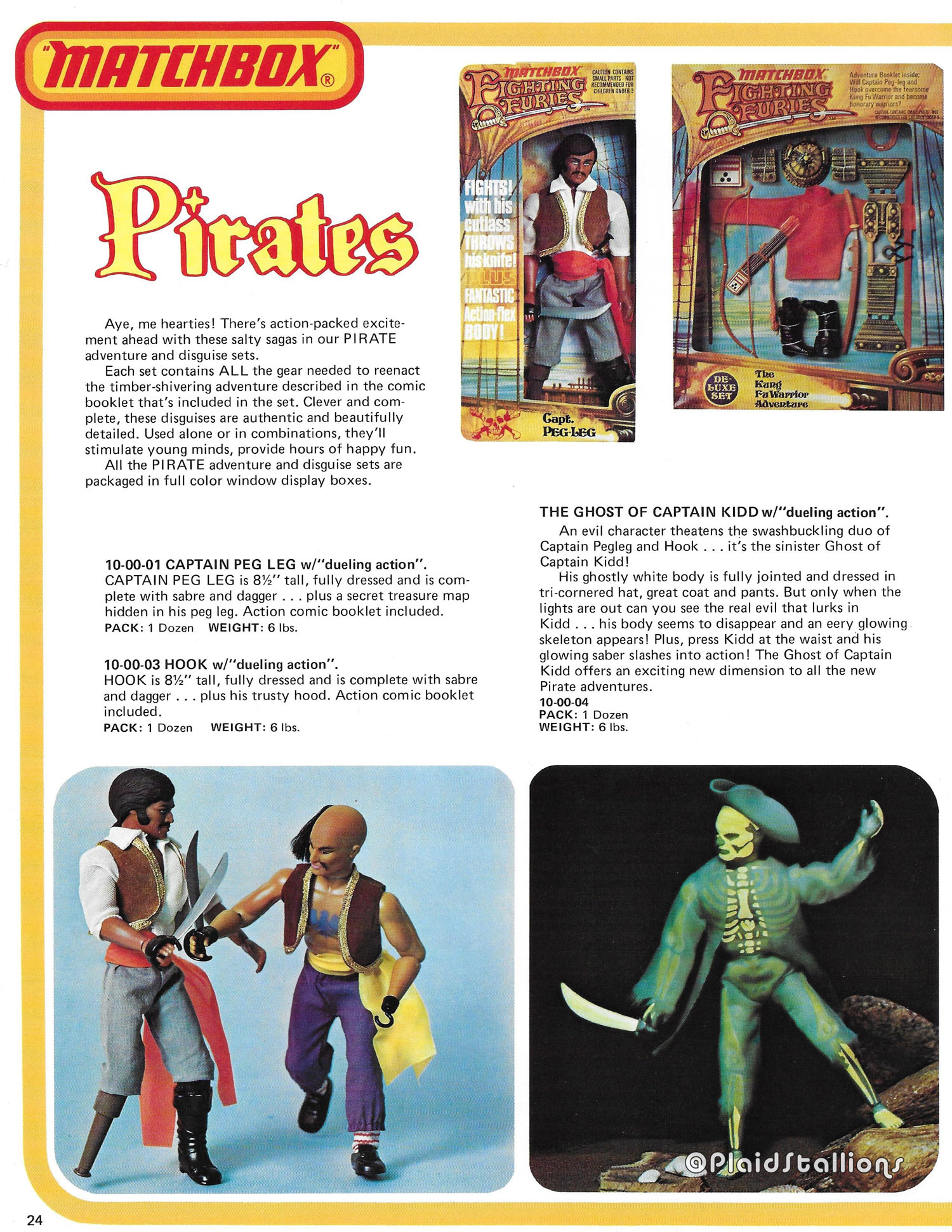 The new character for 1975 is the Ghost of Captain Kidd and he is glorious! A ghostly glow-in-the-dark figure that reveals a skeleton image, he is the line's benchmark figure. Sadly, he was also the last figure in the pirate range. Europe would see the Fighting Furies expand into western themes but the pirate range wouldn't see any further growth.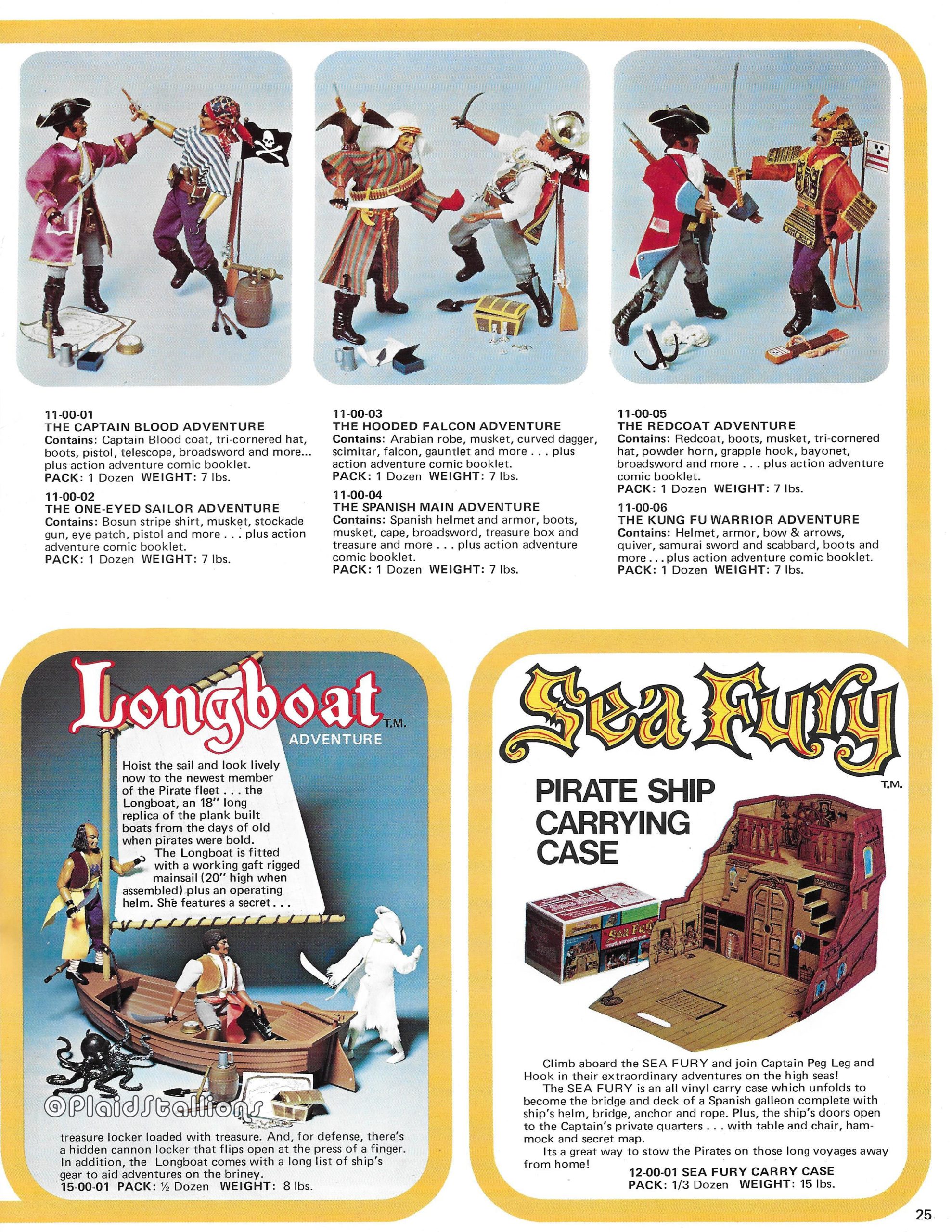 The Fighting Furies longboat adventure was proposed for 1975 and looks like a lot of fun. However, it likely did not see production, a complete shame. That little octopus!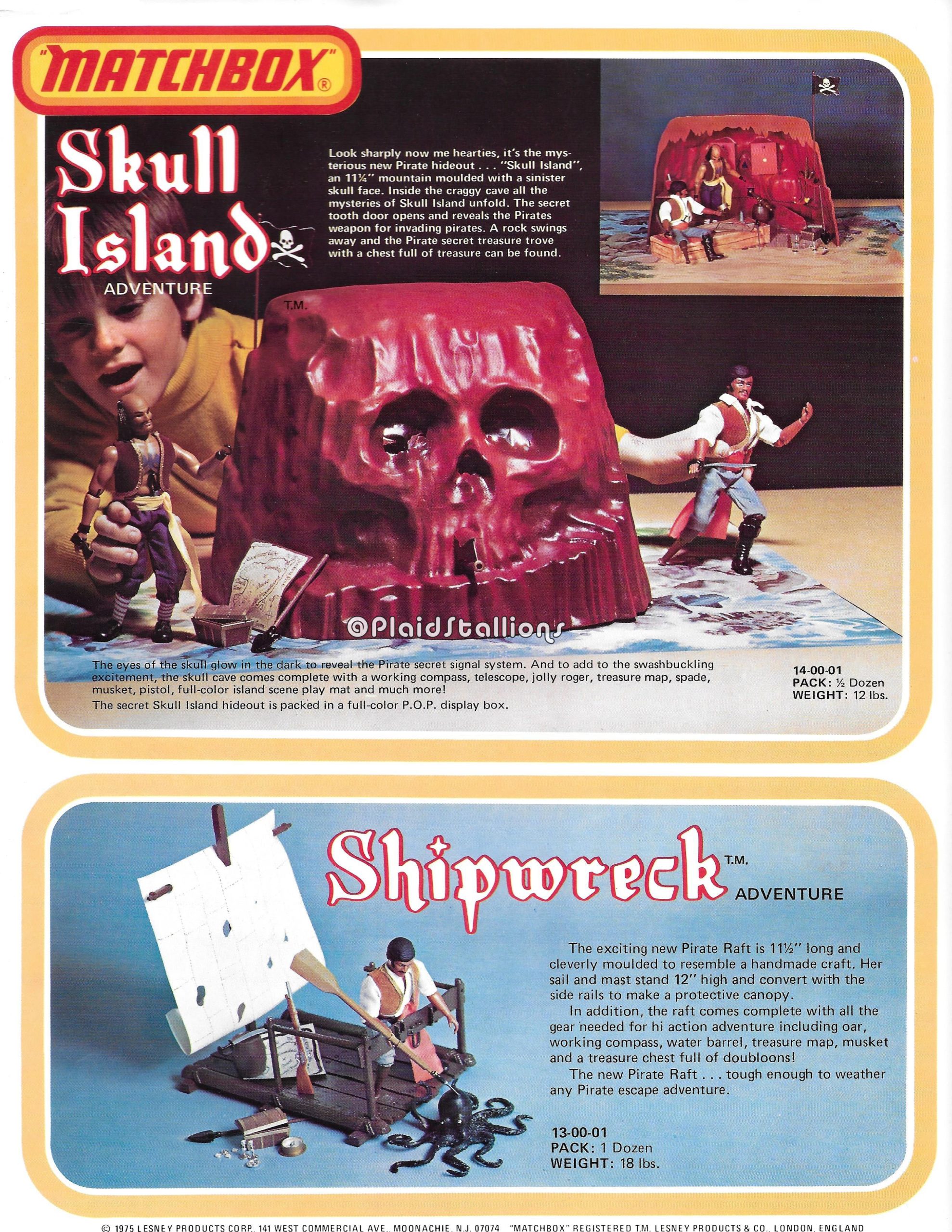 The Skull Island Playset is another tragedy of the catalogue as it never saw production. I don't think the Phantom would appreciate those pirates in the Skull cave though, they don't allow smoking there.  Shipwreck adventure was another vehicle that didn't see production and I mourn that little Octopus yet again….
Check out our Toy-Ventures episode covering the Matchbox Fighting Furies line.
Check out the PlaidStallions Fighting Furies Archive
Do you miss toy magazines?
That's why we created Toy-Ventures magazine, an old-school print publication dedicated to vintage toys from the 1960s to the 1990s. Each issue is packed with never before seen images and information written by some of the top collectors. We've got six issues and climbing; please check our page here or visit our store.

Our newest book "Knock-Offs: Totally, Unauthorized Action Figures," is now available. It's 130 pages of bootleg goodness.
You can get this new book via the PlaidStallions Shop , On Amazon (Affiliate Link) or on eBay (eBay Link)
Our book Rack Toys, Cheap, Crazed Playthings is now available again! Order through our Affiliate Link
Order Rack Toys 2.0 Here through our Affiliate Link►https://amzn.to/3Bkm9z1
FACEBOOK GROUPS FROM PLAIDSTALLIONS

Pod Stallions is based on our podcast and is one of the most fun groups on Facebook. Toys, Comics, Movies, TV, it's all up for grabs and remember, you keep the glass! If you like our show, then you have found your tribe.

Mego Knock Off Headquarters– The leading group discussing 70s Dime store knock-offs and bootleg action figures, we talk vintage toys and not others. We know the difference between Astro Apes and Action Apeman.  It's a fun group where we talk about Lincoln International, AHI, Mighty Gary, Tomland, Bogi, Demo Man, Mortoys, and other generic greats.
5 Awesome Things on eBay this week