Tura Satana Action Figure Pre-Orders now open!
The point is of no return, and you've reached it!
Hello folks, the day has come; pre-orders are now open for the officially licensed Tura Satana action figure!
White Elephant Toyz and Odeon present the first officially licensed action figure of Tura Satana.
This limited edition action figure is 8″ tall and features a detailed outfit, natural hair, motorcycle gloves, and boots. Tura is ready to kick your other action figures' asses.
Each Tura Satana Action figure comes in vintage style packaging with striking artwork by Joseph Michael Linsner, creator of "Dawn."
You have two options to get her below, as this was a co-production.
White Elephant Toyz is a fantastic toy company that sells action figures and accessories; some of their brands include Super Joe Unlimited, Combat Man, KC's Galloping Gals and Action Jackson. You may want to see if you can get Tura a friend or some gear.
PlaidStallions is a publisher and we produce Toy-Ventures Magazine; our books include "Knock Offs: Totally Unauthorised Action Figures," and we carry a line of collector pins, keychains and patches based on Pop Culture and Monsters.
Whatever you choose, it's all good; we're all friends here. We both ship USPS tracked around the world. Shipping will begin sometime next week. 
I also want to thank Siouxan Perry and Joseph Michael Linsner for being amazing and supportive during this incredible journey.
Look for more Odeon/WET teams up very shortly.
Also, Please visit the official Tura Satana website.
Please visit Joseph Michael Linsner's Facebook page:
Order Toy-Ventures Issue 10 at our shop here: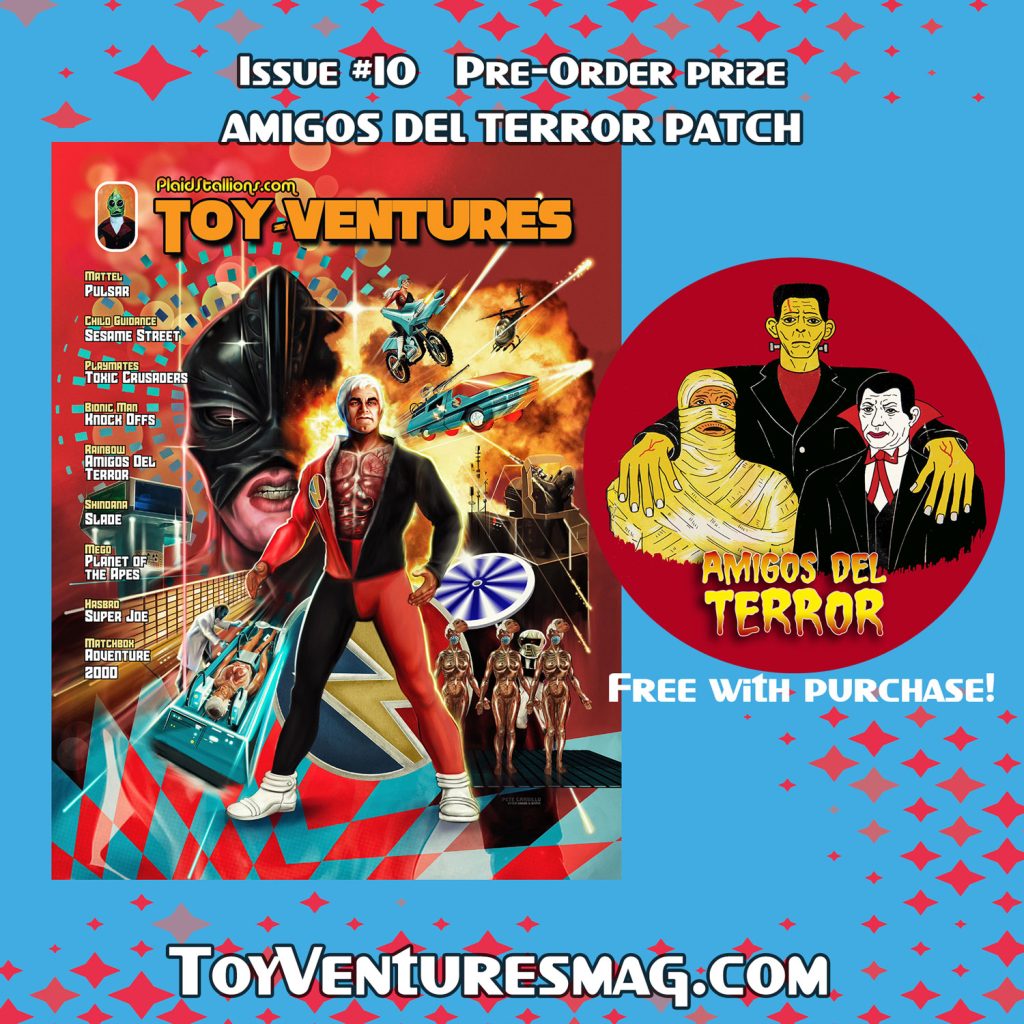 Toy-Ventures Issue 10
nbsp;
Do you miss reading print toy collector magazines?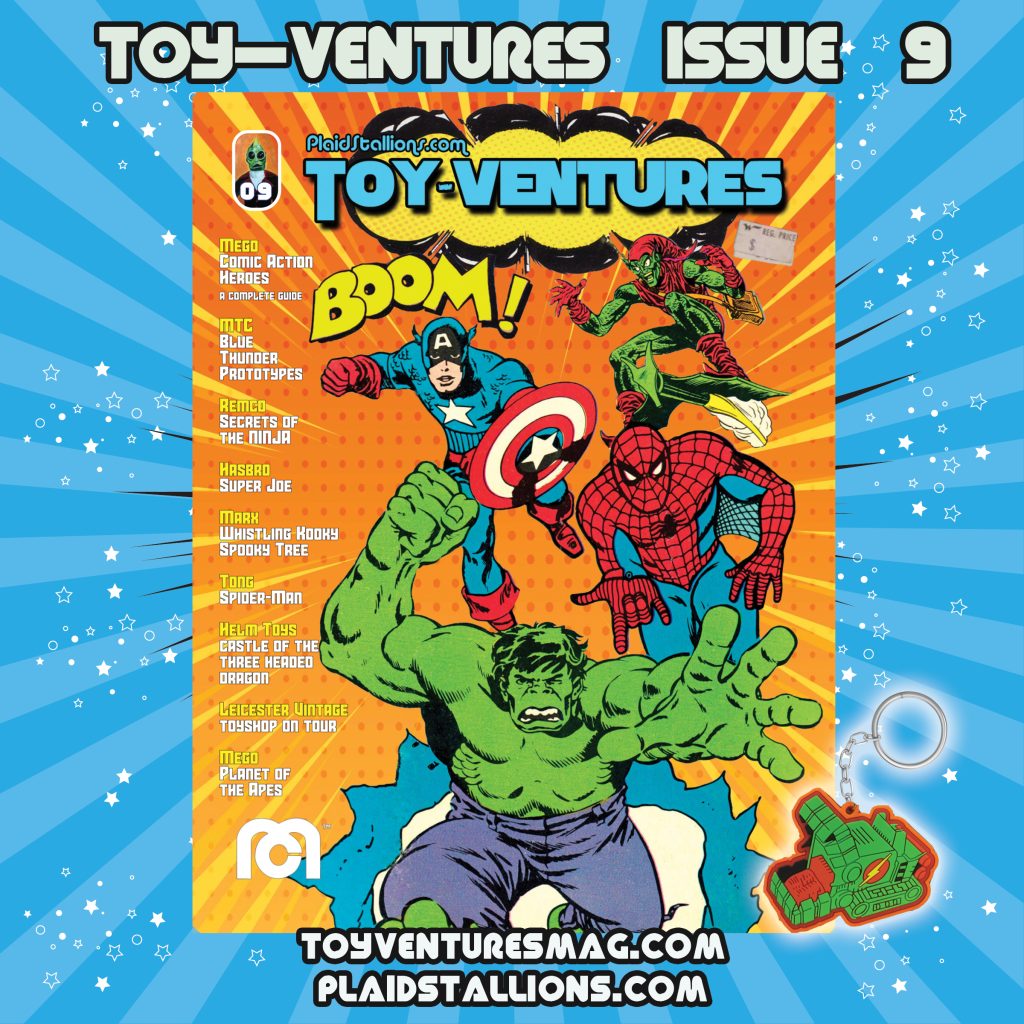 That's why we created Toy-Ventures magazine, an old-school print publication dedicated to vintage toys from the 1960s to the 1990s. Each issue is packed with never before seen images and information written by some of the top collectors. We've got nine issues and climbing; please check our page here or visit our store.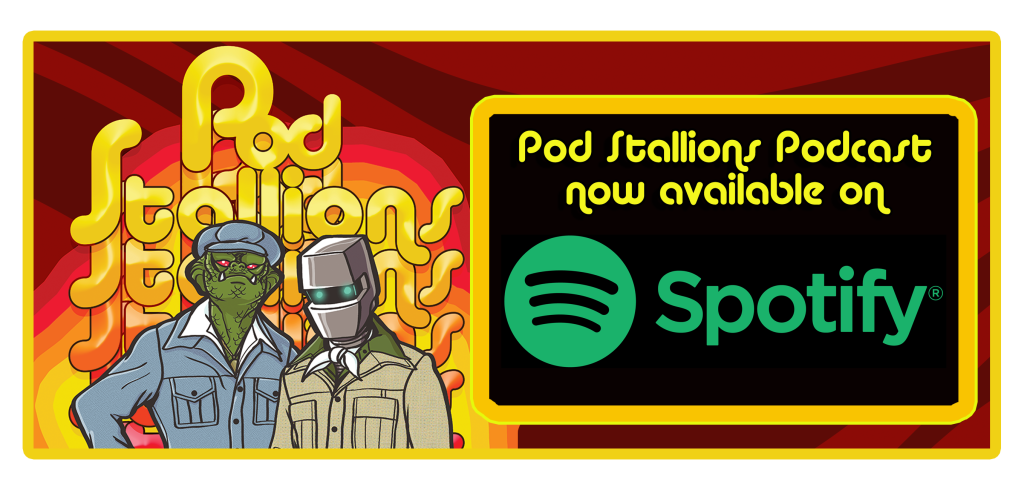 Our long running Pod Cast, Pod Stallions is now available on Spotify.
The PlaidStallions Polyester Pals have arrived and come in green and orange. Be the first kid in the sandbox with our Podcast mascots!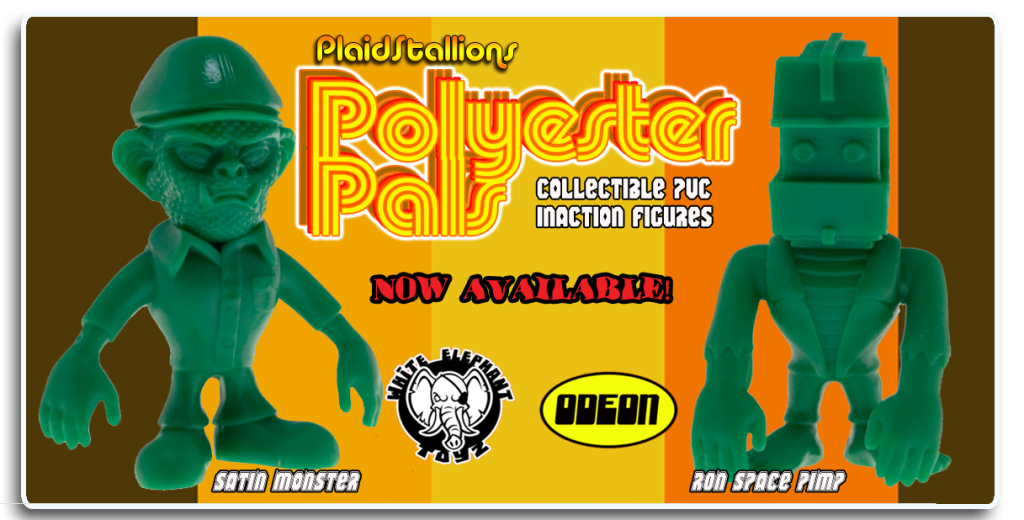 Our latest book is "Knock-Offs: Totally Unauthorized Action Figures" a love letter to cheeky copyright-infringing toys. You can get this new book via the PlaidStallions Shop, On Amazon (Affiliate Link) or eBay (eBay Link)
FACEBOOK GROUPS FROM PLAID STALLIONS

Pod Stallions is based on our podcast and is one of the most fun groups on Facebook. Toys, Comics, Movies, TV, it's all up for grabs, and remember, folks, you keep the glass! If you like our show, then you have found your tribe.

Mego Knock Off Headquarters– The leading group discussing 70s Dime store knock-offs and bootleg action figures, we talk vintage toys and not others. We know the difference between Astro Apes and Action Apeman.  It's a fun group where we talk about Lincoln Monsters, AHI, Mighty Gary, Tomland, Bogi, Demo Man, Mortoys, and other generic greats.
#Mego #turasatana #toymagazine