Toy-Ventures Issue 7 Pre-Order and Subscriptions are here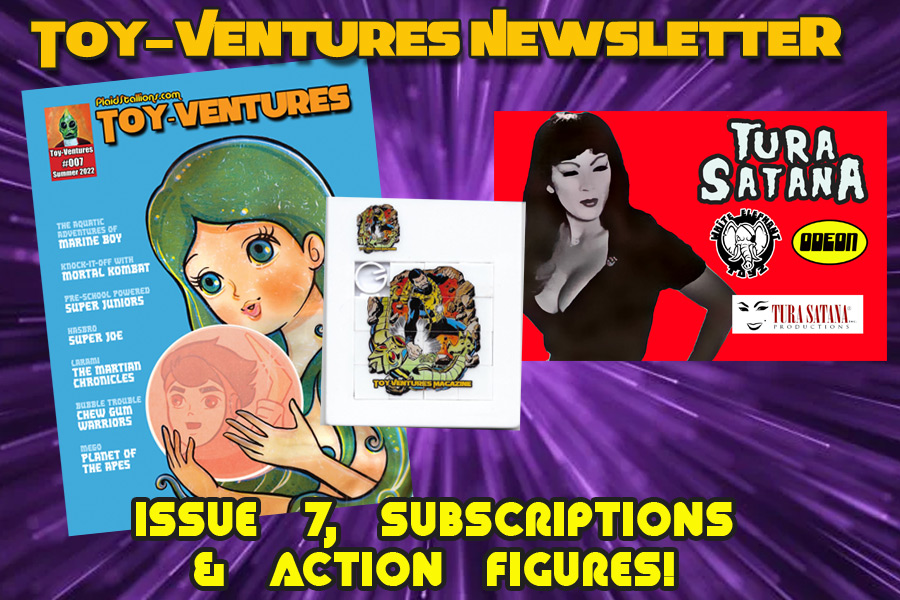 Hey Everyone, I'm so happy to announce that issue 7 of Toy-Ventures magazine is now available to pre-order.
This particular issue is jam-packed with toy love, so let's break down what you can expect:
The Aquatic Adventures of Marine Boy- Corey LeChat takes you on a merchandise journey for this early Japanese import.
K-O Mortal Kombat Knock-Offs– Newcomer Eric Gibeau talks about the fantastic Mego Knock Off Mortal Kombat figures from the mid-1990s from Paco.
The Super Juniors– Chris Franklin returns to Toy-Ventures to talk about some baby superheroes.
Hasbro Super Joe– Beginning our multi-issue look at the Gi Joe "middle child" expert Steve Stovall takes on a journey through the Hasbro Super Joe toy line.
The Martian Chronicles– How did a TV mini-series starring Rock Hudson get a toy line? Only in the 1970s…
Chew Gum Warriors– New contributor Michael Grifka talks about the candy-filled space characters of the early 1980s in this excellent article.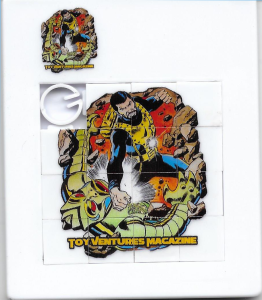 Get a Super Joe puzzle with Toy-Ventures Issue 7, just like the ones that drove you nuts as a kid totally free with every pre-order. While supplies last, this item depicts Joe duking it out with Gor, King of the Terrons. I will not help you if you can't figure it out. I am no Einstein.
Subscriptions are now available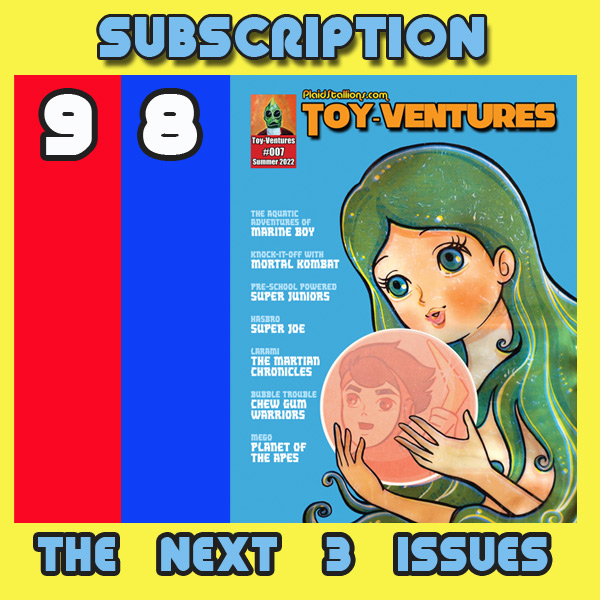 By popular demand, we are now offering subscriptions to Toy-Ventures magazine beginning with Issue 7. You'll be at the front of the line and guaranteed each pre-order premium.
Check out our Toy-Ventures Live Stream
We talk about issue 7, Tura Satana and some other little surprise things heading your way in 2022.
Oh yeah, we're doing an action figure!
Check out our announcement for the Tura Satana Action Figure, coming soon from White Elephant Toyz and us! If you're a fan, please spread the word on social media. We'd really appreciate it!
Speaking of Cool Action Figures

I did a little highlight reel for my friend Aleksander from BKC Monsters International. You can check out more of his fantastic work at his Facebook Page or his Instagram!
Like Toy-Ventures Magazine on Facebook!