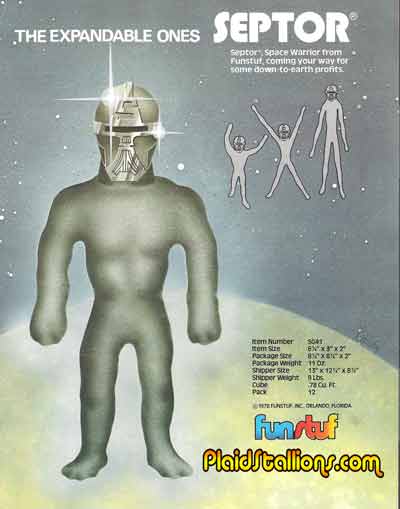 This is one from the "toys we never got" file. Sometime in the late Seventies, toy make Funstuf proposed this combination of Stretch Armstrong and a Cylon. Sadly, it doesn't look Septor ever materialized, which is probably good for Funstuf because Kenner sued the pants off Mego back in the day for their Elastic Superheroes.
Still, you could could have teamed Septor up with ROM: SpaceKnight for some awesome intergalactic buddy cop action as they fought the Terron from Super Joe….
UPDATE: Andy has informed me that this guy indeed get produced but he's only 6″ tall, so I guess I'll have to keep my eyes open on ebay.