Pod Stallions: The Summer of 84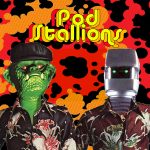 Well, Summer's just around the corner and going out to the movies seems to be making a comeback, so what better time to reminisce about those way-back muggy months when the inside of a cool theatre was a weekly ritual?
This time it's the Summer of '84: Venkman's, Thugees, Starfighters, Mogwai, Nerds and the C.H.U.D (!!!) are just some of the miscreants we spent our hard-earned summer job cash on and we're all the better for it.
Once again, Pod Stallions does what we always do: turn death into a fighting chance for life. Um, and also wax lyrically about useless trivia for 90 minutes. It's Sex Crime 1984 on the new ep of PS (Extra points for whoever gets that reference ). Enjoy and don't feed us after midnight! – JL