Pod Stallions Episode 92: 70s Variety Shows
All loyal listeners of Pod Stallions know we live by the 'variety is the spice of life' philosophy, so we thought it was time we celebrated that. In this episode, we welcome producer/clip expert Steve Kozak to our third chair, and we discuss the "variety special" trends of the 70s & 80s, and deep dive into The Star Wars Holiday Special, in advance of Steve's upcoming doc 'A Disturbance in the Force' (Jason is a producer on it, too!). 
Along the way Wolfman Jack, Quincy, John Vernon, Paul Lynde, and Shields & Yarnell (naturally) get mentions. 'Alice' will not be seen tonight, so we can bring you this Pod Stallions SPECIAL presentation!
Check out the New Pod Stallions Twitter account:
https://twitter.com/PodStallions
You can listen in high quality to all of our episodes here: http://podstallion.blogspot.com/
Join our Pod Stallions Facebook group here: https://www.facebook.com/groups/podstallions
Issue 4 of Toy-Ventures magazine ships this June and if you order before it arrives you'll be able to get a free "Mad Monsters" pennant show in the image below. Issue 4 is brimming with some amazing things such as Durham Industry dime store heroes, An incredible collection of items from "The Munsters", the outer spacey stretchable adventures of Septor and Garth, collectors guide to the Mego Mad Monsters, the Australian Action Apemen, and a few surprises.
If you like vintage toys from the 60s to the 80s, please check out our publication,  Toy-Ventures magazine.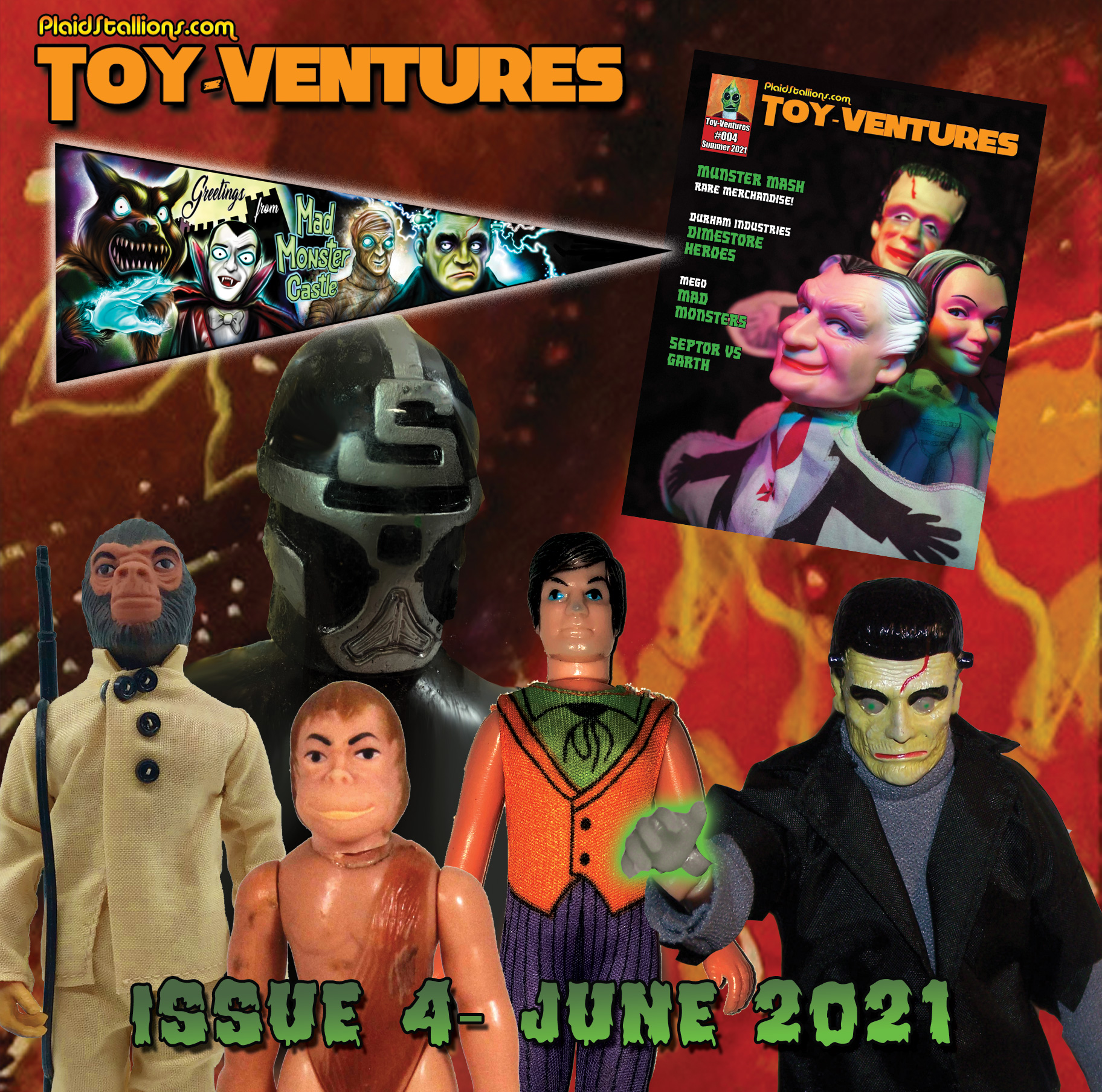 FACEBOOK GROUPS FROM PLAIDSTALLIONS

Pod Stallions is one of the most fun groups on Facebook. Join us for all day breakfast bar on Sundays and remember, you keep the glass!

Mego Knock Off Headquarters– The leading group discussing 70s dimestore goodness like Lincoln International, AHI, Tomland, Durham, you get the picture. Whether you like Mr. Rock or are more of an Astro Apes person, this is the group you need to be in.