Pod Stallions Episode 55: Tarzan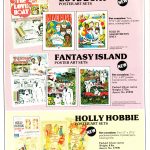 Episode 55 is all about the Lord of the Jungle, Tarzan of the Apes
J&B (the hosts, not the crappy scotch) discuss their initial exposure to the Lord of the Jungle in his many television, film, print and comic adaptions over their life times culminating with last summer's adaptation.

Some of the subjects we touch upon are Mego action figures, DC and Marvel, Filmation, Mike Henry, Doctor Who, Chimp Genitals, Dakin, Casper Van Diem, Ron Ely, Batman, Sheena, John Carter of Mars, Flash Gordon, At the Earth's Core, toys, Big Jim and oodles more.
Plenty more content on the PodStallions Facebook page!








PODSTALLIONS ON ITUNES
PODSTALLIONS RSS FEED