Pod Stallions 12: Wish Book Kids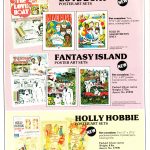 It's December and we wouldn't even have this site if it weren't for the 70s Wish Book catalogs that magically landed on our door steps every fall.
Episode 11 is dedicated to our crazy 70s Christmas memories, the letters to Santa, the arms length wantlist and how Star Wars just turned the whole thing into "Space-Mas".

The discourse is mainly about traditions, toys and of course, collecting. It always boils down to that.