In the mid-seventies, UK Toy Maker (and the inventor of Spiro Graph) Denys Fisher took a Japanese Toy called Henshin Cyborg which was an offshoot of Captain Action (and the father of the Micronauts), and made it a 9″ series of figures.
The back story was told in a series of beautifully illustrated comics on the back of the box, It's the 23rd century and mankind has faced doomsday at the hands of the alien warlord muton, the last survivors form together to build Cyborg a powerful being with a skin made of diamonds. Minutes after his birth, Cyborg swings into action against Muton.
Cyborg had a series of cool arm attachments and a flying saucer in order to combat Muton, eash sold separately of course..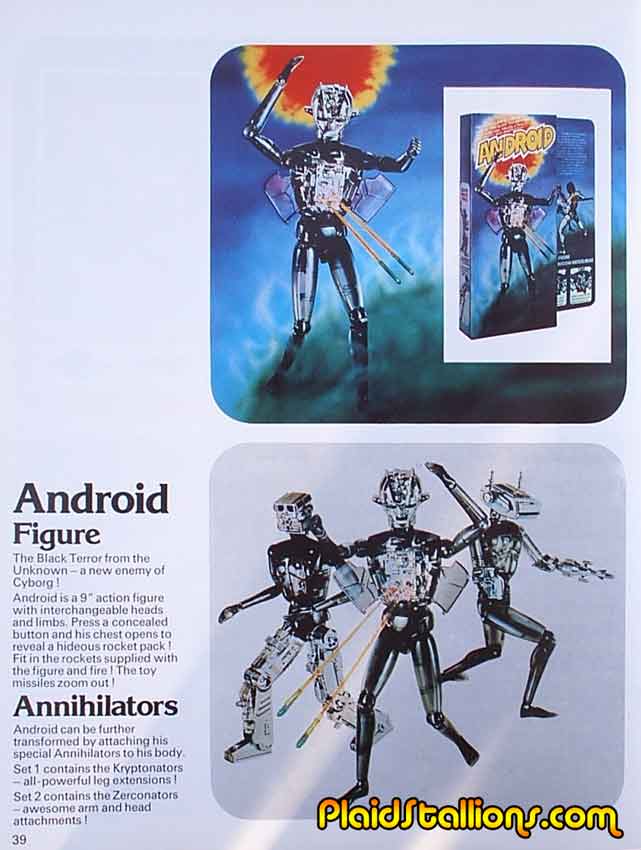 As if Muton wasn't enough, Cyborg had a new enemy in Android, who shot missiles out of his chest, like every cool toy should. Andorid also could be equipped with leg and head extensions in ture Razor/.razorblades fashion of toy marketing….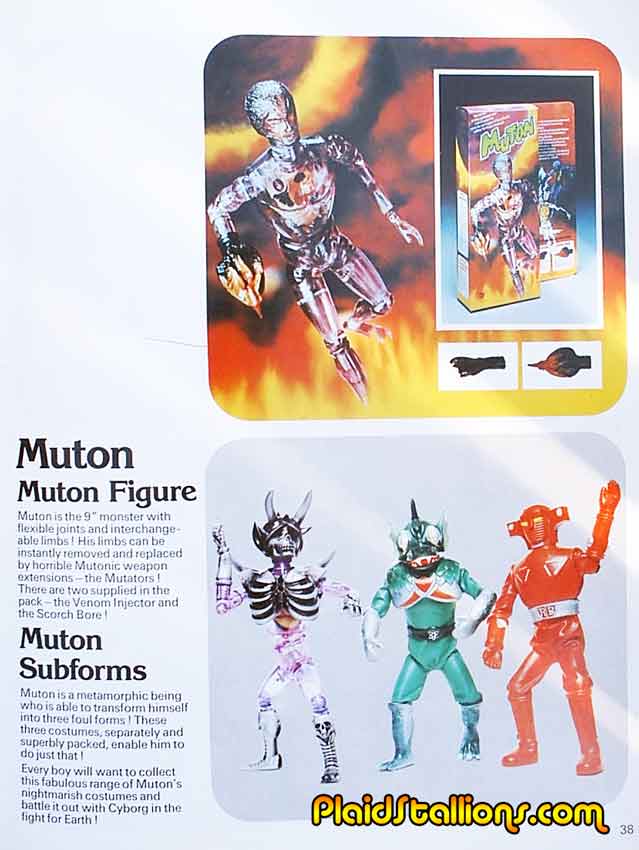 Muton, besides his "Venom Injector", the big baddie had "Sub Form" costumes which were actually suits from the Japanese "Henshin Cyborg" line of toys. One of them is a TV character named "Red Baron" who was a good guy on Japanese TV Screens..
Denys Fisher Cyborg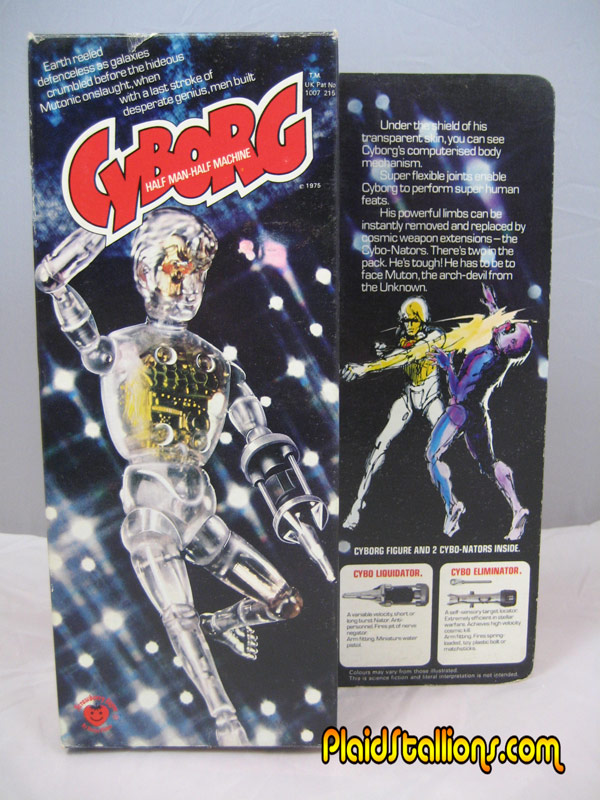 "With a last stroke of desperate genius men built" Cyborg! What a brilliantly dark origin story this toy had, really captures the whole "apocolyptic craze" of the 70s..
More of Cyborg's origin, I absolutely love the artwork on this packaging.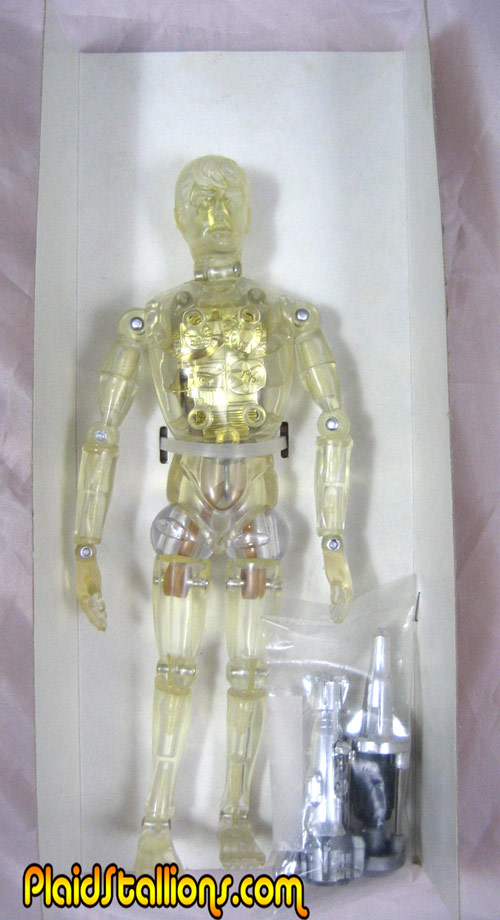 See-through action figures rule.
Denys Fisher Boxed Muton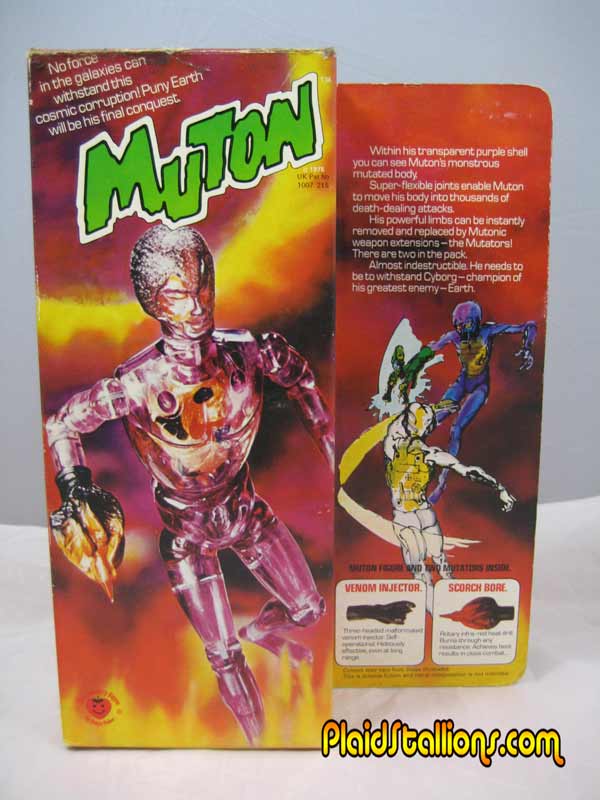 Nothing can withstand his "Cosmic Corruption" Muton was a formidable foe for Cyborg and happily he's also see-through. Boxed Muton courtesy of Bill Frost.
The invasion of Earth from Muton's perspective, I guess Earth is the last planet he needs..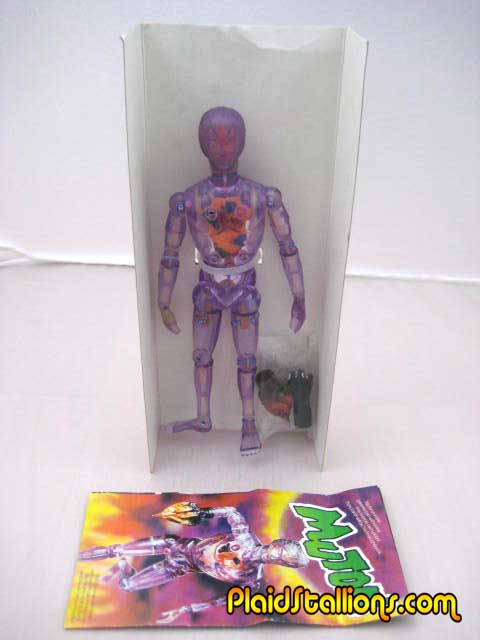 Muton Figure.
Denys Fisher Boxed Android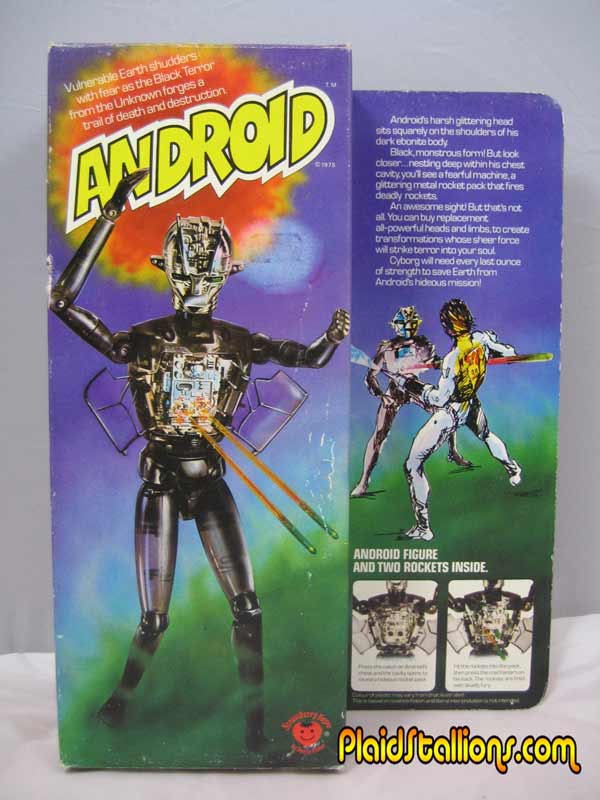 Android is a tough customer but I know that Cyborg can defeat him (from the collection of Bill Frost).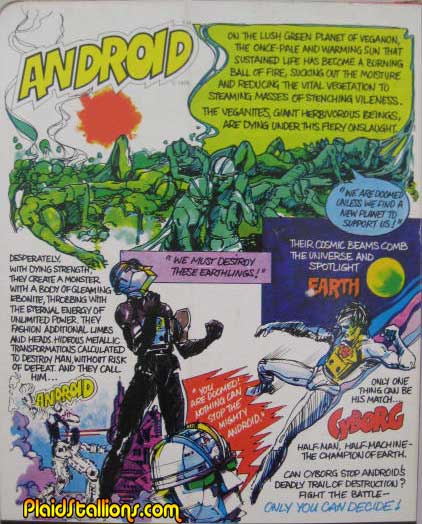 According to his comic, Android was created by the dying race "The Veganites" who are good at building weapons of mass destruction but bad at naming things. Like mankind didn't have enough problems already, Android's mission is to destroy mankind.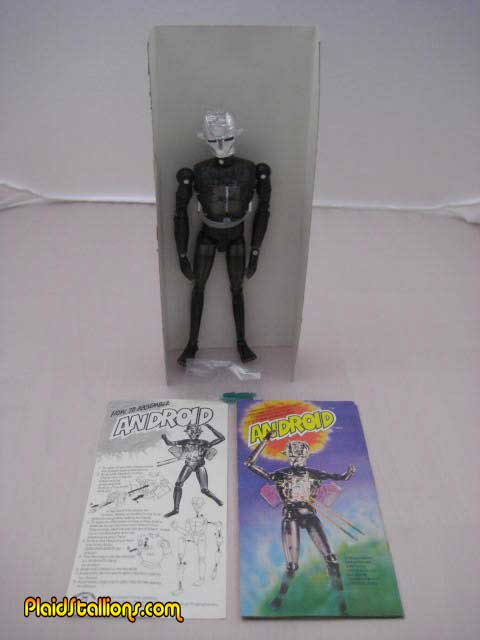 Denys Fisher Muton Sub Forms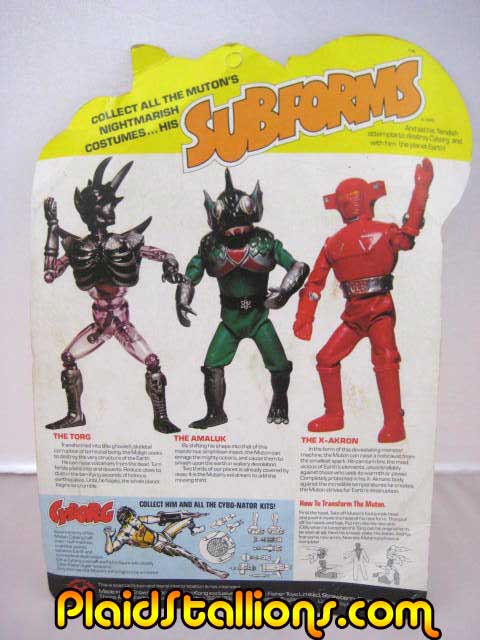 If Muton wasn't bad enough on his own, he also had "Sub Form" costumes that allowed him to turn into various monsters. This whole concept is a distant relative to Ideal's Captain Action.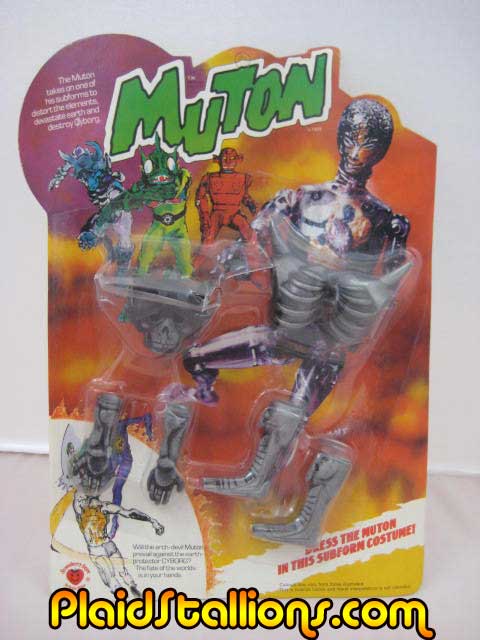 The Torg outfit courtesy of Bill Frost.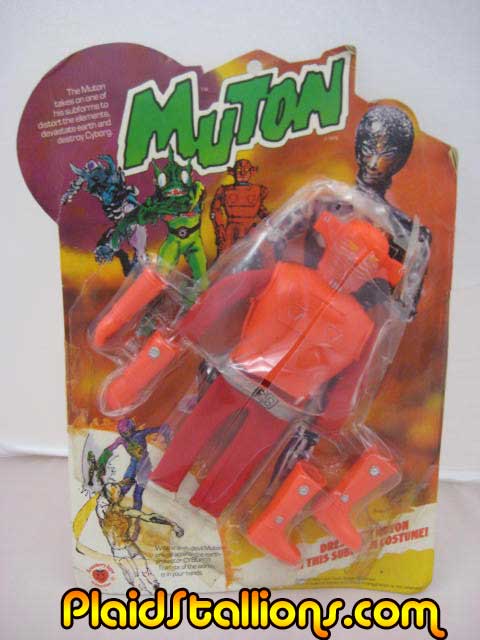 The X-Akron outfit courtesy of Bill Frost. On Japanese TV, he's a good guy Robot called "Red Baron" but that didn't matter as most UK kids would never see that series.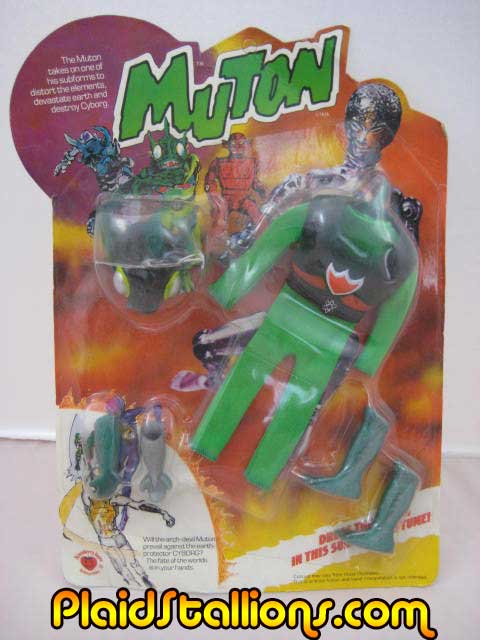 The Amaluk outfit courtesy of Bill Frost.
Denys Fisher Cyborg Accessories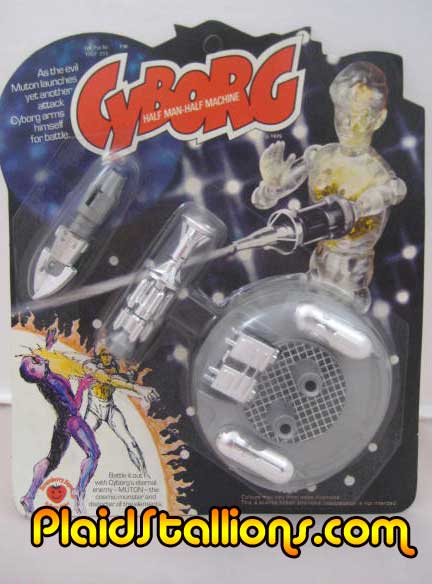 Cyborg had more than one trick up his sleeve to deal with Muton, in the form of these accessory packs that you could purchase. Everything on this page is courtesy Bill Frost.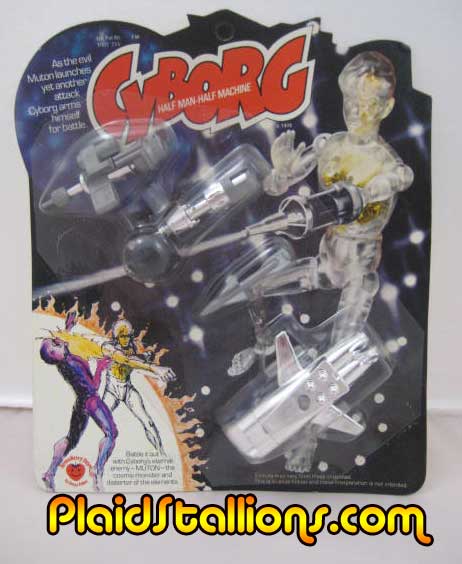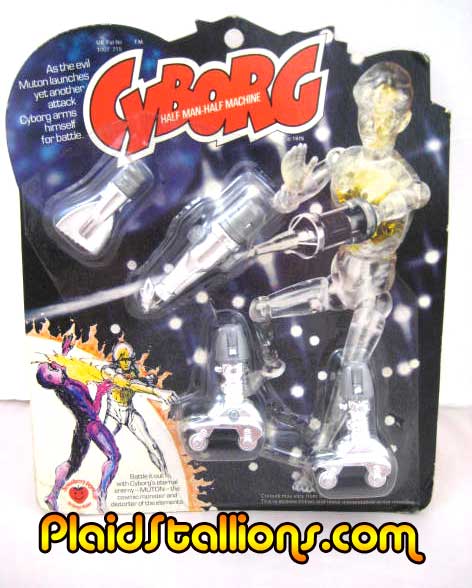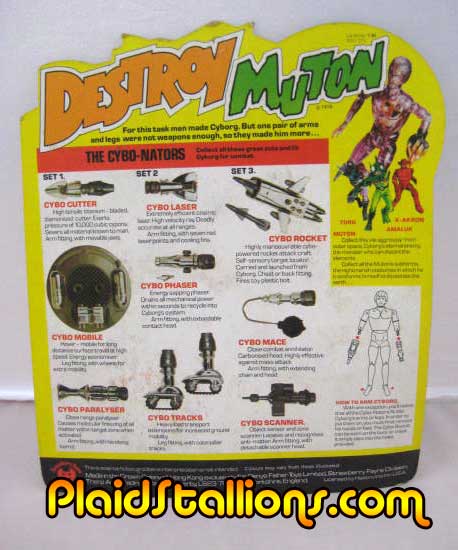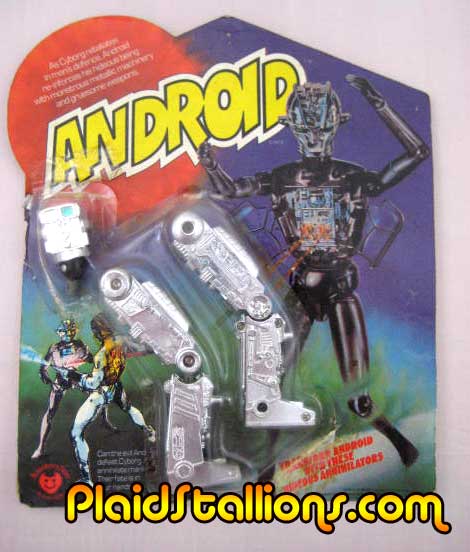 Android also had the Annihilator packs that boosted his powers.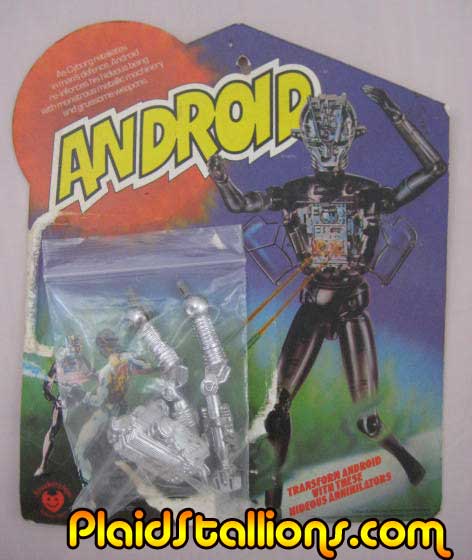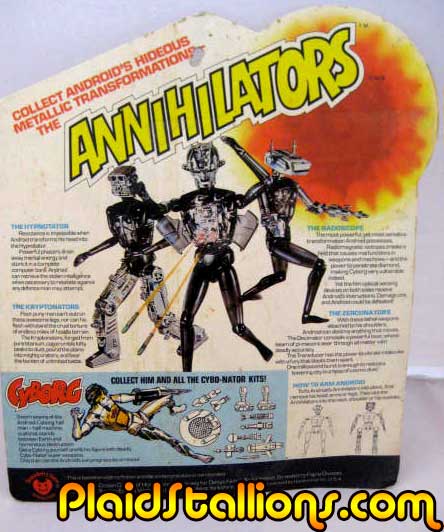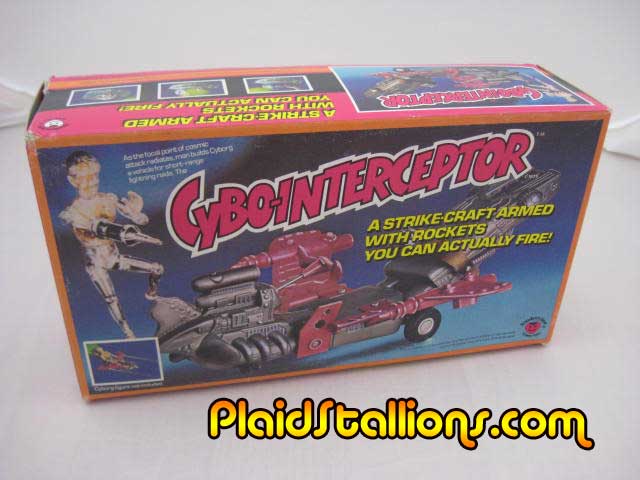 The Cybo-Interceptor was likely the cheaper vehicle, seeing as it's just a chair..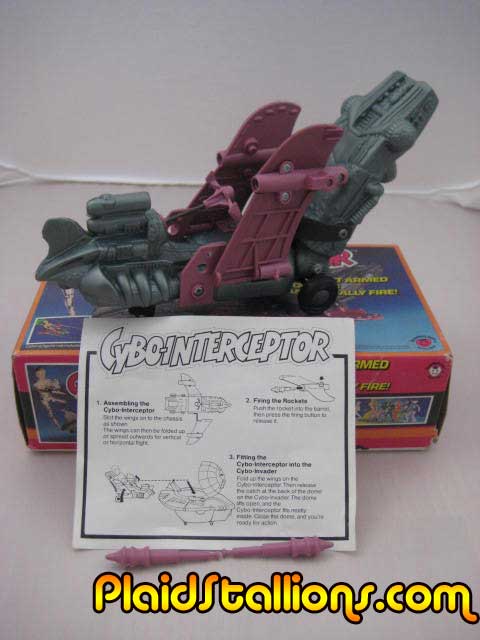 Still, it's pretty nifty!.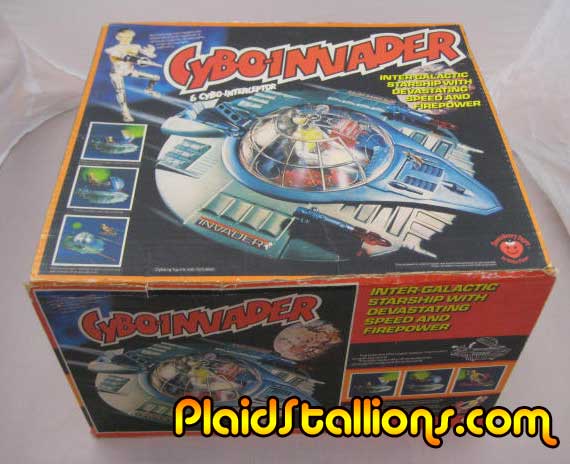 Every hero needs a set of wheels or in this case, a spaceship and Cyborg had two to choose from, above is his flying Saucer, the Cybo Invader. (all images courtesy of Bill Frost)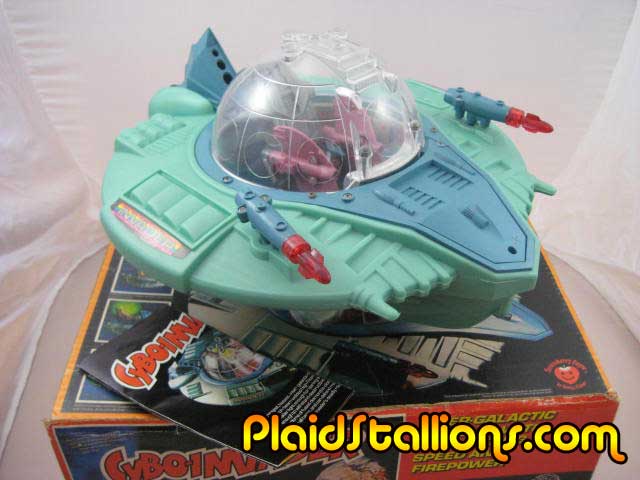 Another shot of this awesome item..
PlaidStallions Toy-Ventures Magazine #2 is now available and it's been called "not only an entertaining read, but it's also an impeccable work of reference" by PopCult.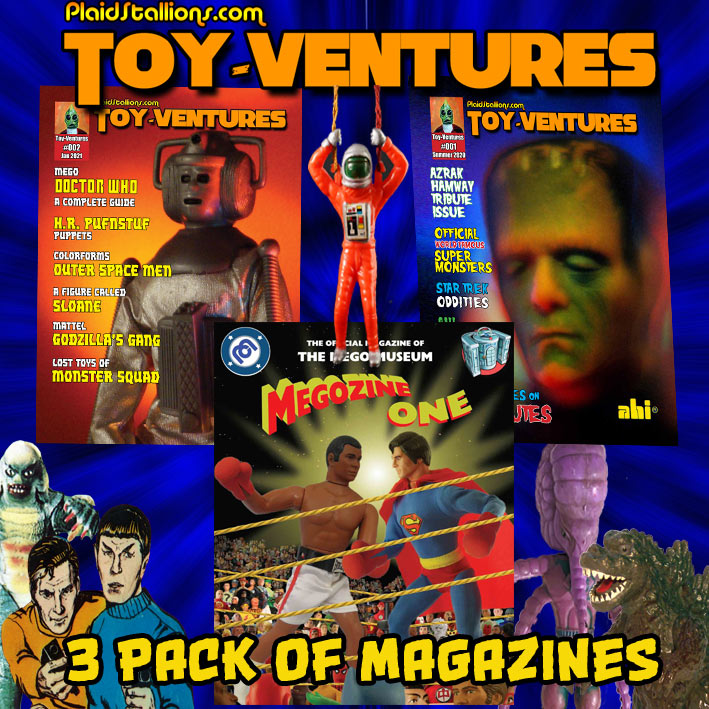 FACEBOOK GROUPS FROM PLAIDSTALLIONS


Pod Stallions is one of the most fun groups on Facebook.

Mego Knock Off Headquarters– The leading group discussing 70s dimestore goodness, we talk vintage toys, not others!
[/vc_column_text]