Mego Knock Off Tong Ninja Figures
Mego Knock Off Tong Ninja Figures
If there are two things I love it's Mego Knock Off action figures and Ninjas. So when my friend Rob sent me the eBay link for these awesome 80s Ninja figures I grabbed them with both hands.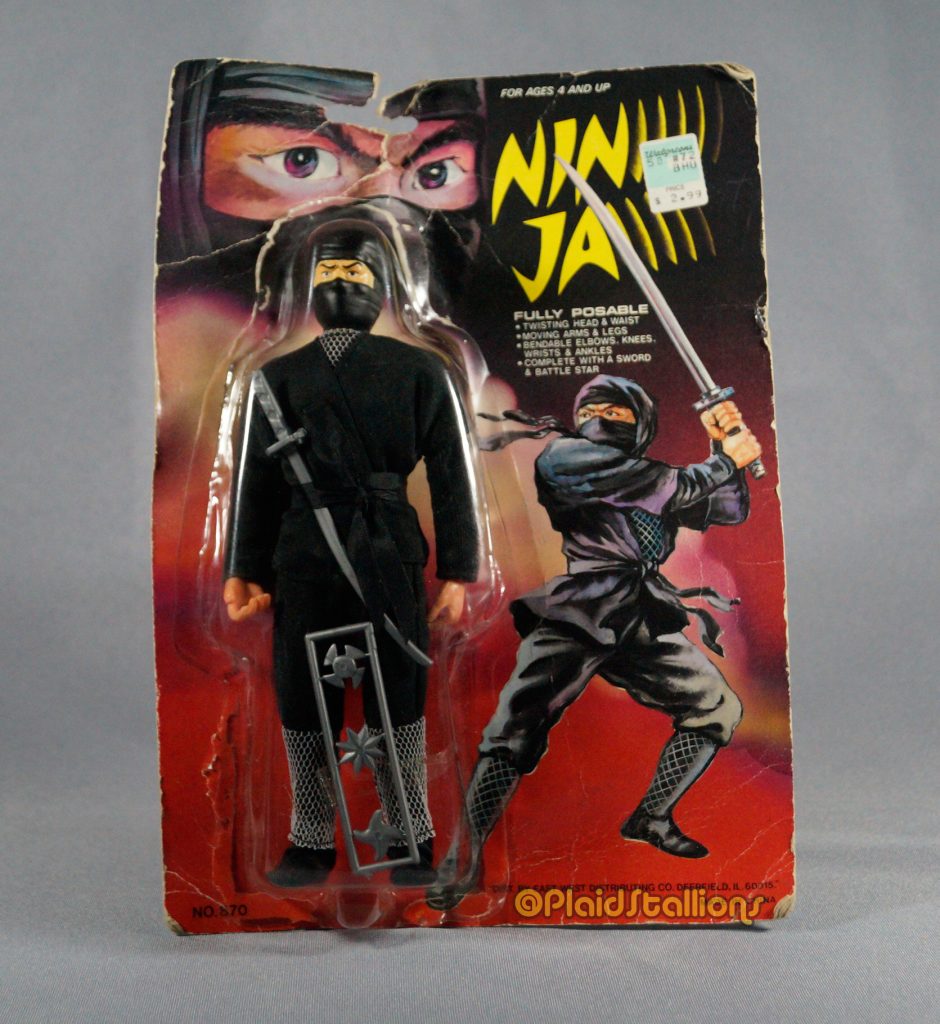 They are usually called "Tong Ninjas" due to the body being marked Tong Inc. This was a popular body for Mego Knock-Offs in the 1970s and 80s and really got around. Tong bodies can be found around the world under such banners as Danny Dare, Rescue Squad and Action Apeman.
This brand is called Ninja or I guess "Nin Ja" as the card has you believe. They are the product of the East-West Distribution co and that 2.99 price point suggests mid to late 1980s.
Now I've seen the Tong Ninja figures before but it's usually in a two-pack under the name "Hip Yick Trading Company" which looks like this:
However, there are some subtle differences, first I believe the Hip Yick Ninjas are 9″ (correct me if I'm wrong there) while the "Nin Ja" figures are 8″ tall. The paint apps on the heads are different and there is a third ninja.
There is a grey Tong Ninja, didn't see that coming, although that's probably the point after all. I can confirm I missed out on the white figure in this series, so it seems "Nin Ja" had at least three figures, hopefully, there is also a red one out there.
I'm fascinated with stuff like this, if you are too, consider joining our Facebook group "Mego Knock Off Headquarters".
Our newest book "Knock-Offs: Totally, Unauthorized Action Figures," is now available. It's 130 pages of bootleg goodness.
You can get this new book via the PlaidStallions Shop , On Amazon (Affiliate Link) or on eBay (eBay Link)
Our book Rack Toys, Cheap, Crazed Playthings is now available again! Order through our Affiliate Link
Order Rack Toys 2.0 Here through our Affiliate Link►https://amzn.to/3Bkm9z1
FACEBOOK GROUPS FROM PLAIDSTALLIONS

Pod Stallions is based on our podcast and is one of the most fun groups on Facebook. Toys, Comics, Movies, TV, it's all up for grabs and remember, you keep the glass! If you like our show, then you have found your tribe.

Mego Knock Off Headquarters– The leading group discussing 70s Dime store knock-offs and bootleg action figures, we talk vintage toys and not others. We know the difference between Astro Apes and Action Apeman.  It's a fun group where we talk about Lincoln International, AHI, Mighty Gary, Tomland, Bogi, Demo Man, Mortoys, and other generic greats.
Mego Knock Off Tong Ninja Figures