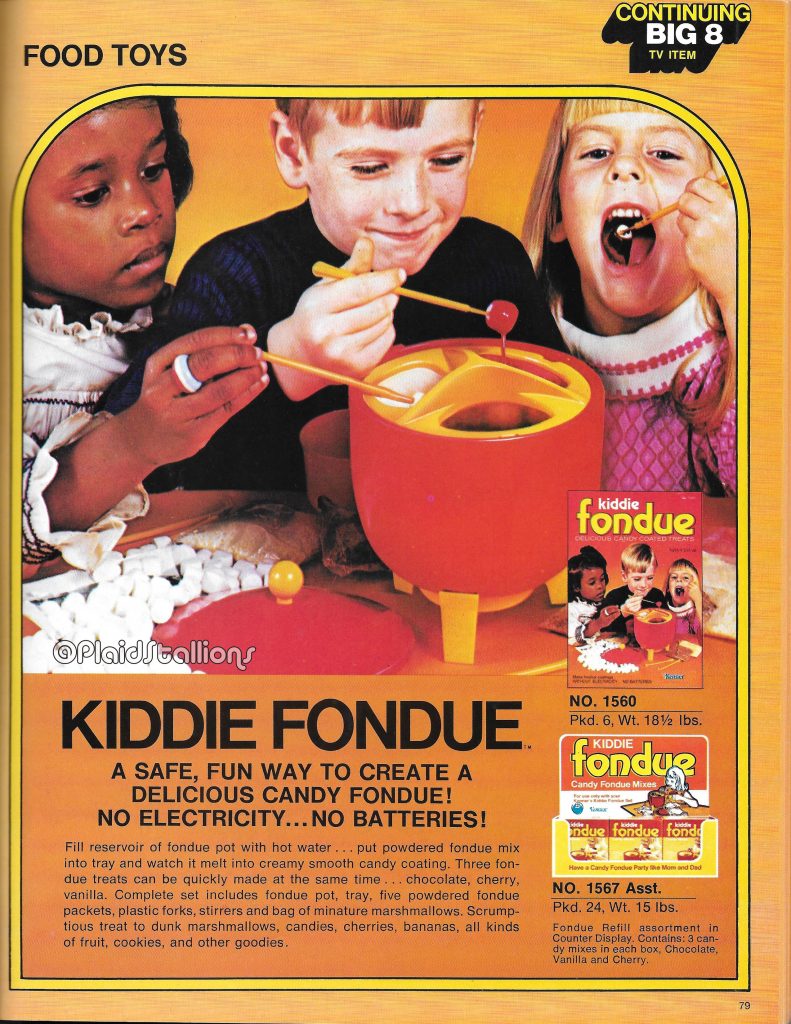 Has there ever been a toy that screams "It's 1975!" louder than Kenner's oddly titled Kiddie Fondue? Now you can have Carol from Girl Scouts over along with her husband Tom, and after dinner, you can show them a slideshow of your trip to the Wisconsin Dells. A fun time will be had by all; thanks, Kenner!
I was curious to know if this toy got made and a quick scan of eBay found a Kiddie Fondue for a very low price. Kenner Kiddie Fondue was not a hit and did not return for the 1976 season. That's too bad because I was hoping for the "Conversation Pit" playset and "Kiddie Hi-Fi" complete with Tom Jones records. 
Do you miss toy magazines?
That's why we created Toy-Ventures magazine, an old-school print publication dedicated to vintage toys from the 1960s to the 1990s. Each issue is packed with never before seen images and information written by some of the top collectors. We've got six issues and climbing; please check our page here or visit our store.
Our newest book "Knock-Offs: Totally, Unauthorized Action Figures," is now available. It's 130 pages of bootleg goodness.
You can get this new book via the PlaidStallions Shop , On Amazon (Affiliate Link) or on eBay (eBay Link)
Our book Rack Toys, Cheap, Crazed Playthings is now available again! Order through our Affiliate Link
Order Rack Toys 2.0 Here through our Affiliate Link►https://amzn.to/3Bkm9z1
FACEBOOK GROUPS FROM PLAIDSTALLIONS

Pod Stallions is based on our podcast and is one of the most fun groups on Facebook. Toys, Comics, Movies, TV, it's all up for grabs and remember, you keep the glass! If you like our show, then you have found your tribe.

Mego Knock Off Headquarters– The leading group discussing 70s Dime store knock-offs and bootleg action figures, we talk vintage toys and not others. We know the difference between Astro Apes and Action Apeman.  It's a fun group where we talk about Lincoln International, AHI, Tomland, Bogi, Demo Man, Mortoys, and other generic greats.