Help Rescue Palitoy's Lost TV Adverts
The Palitoy collecting community has a very unique opportunity to come together and help rescue more than 100 lost Palitoy television advertisements.
Currently there is an Action Man enthusiast who is in possession of 3 rolls of original 35mm film prints that contain 103 Palitoy TV adverts from the 1970s and these advertisements feature many popular vintage Palitoy brands such as Action Man, Pippa and Friends, Playdoh, Star Wars, Pocketeers, Tiny Tears, Ricochet Racers, Mego Star Trek, Mego Planet of the Apes, Mego Commander Power, Baby Alive and Little Big Man to name but a few.
While this library of commercials does include many advertisements that are already available on the internet (albeit in much lower quality) there are also numerous TV adverts that have not been made available digitally since they were first aired on British television in the 1970s.
When the owner of these film prints took possession of them a number a years ago they had them professionally cleaned up and digitally scanned at a 2k quality by a professional studio and they paid for this service out of their own pocket. This person is now offering these adverts to the wider community but they understandably need to recoup some of their original investment.
Our aim is to secure these original film prints and the 2K quality digital transfers but first we need to reach our £5,000 funding goal (AUD$9,500 – USD$6,500).
If our funding goal is reached by 12pm GMT on the 24th June 2023, the current owner of these adverts will hand over the original film prints to former Palitoy Chief Toy Designer Bob Brechin who will then donate them to the Coalville Heritage Society and the 2K quality digital scans will be uploaded to a non-monetised YouTube channel for the whole Palitoy collecting community to enjoy.
You have a terrific opportunity here to help rescue a valuable piece of Palitoy history and all sponsors that donate £100 or more will have their name credited on a title card that will appear at the end of each Palitoy TV advertisement when it is uploaded to YouTube.
So let's band together, raise the funds required to secure these original television advertisements and help preserve the history of Palitoy.
Follow PlaidStallions on Social Media:
Twitter ► https://bit.ly/2UzxQ5q
Facebook ► https://bit.ly/3mfY73R
Instagram ►https://bit.ly/3yZ3kAV
Website ► https://bit.ly/3yZ3kAV
#v #thevisitors #80stoys #80stv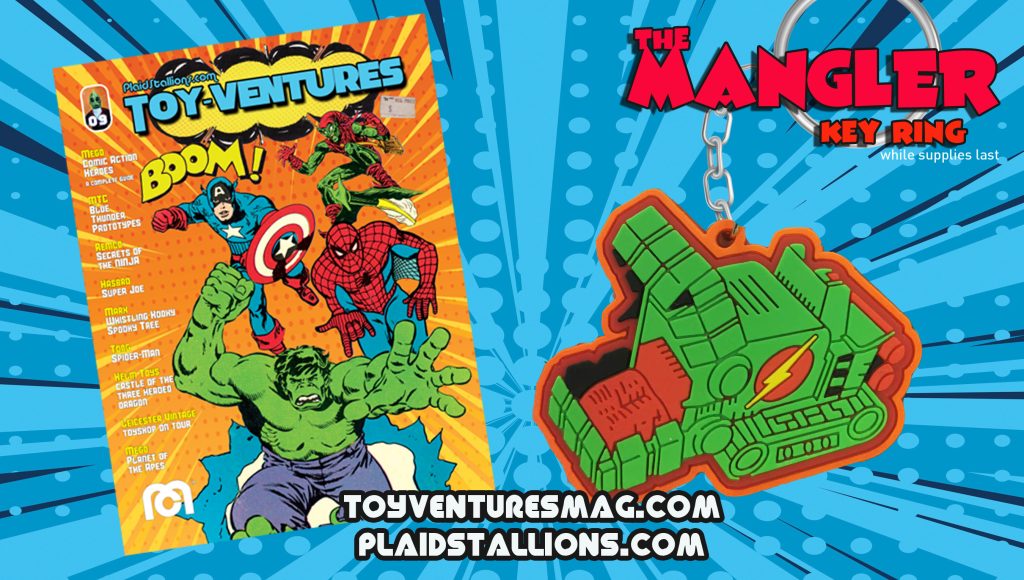 Do you miss toy collector magazines?
That's why we created Toy-Ventures magazine, an old-school print publication dedicated to vintage toys from the 1960s to the 1990s. Each issue is packed with never before seen images and information written by some of the top collectors. We've got nine issues and climbing; please check our page here or visit our store.
The PlaidStallions Polyester Pals have arrived and come in green and orange. Be the first kid in the sandbox with our Podcast mascots!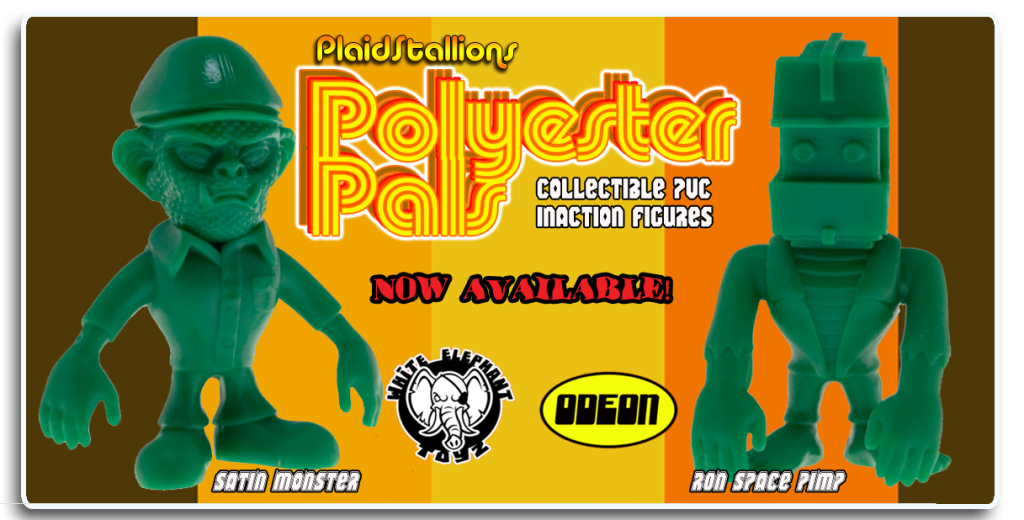 Our latest book is "Knock-Offs: Totally Unauthorized Action Figures" a love letter to cheeky copyright-infringing toys. You can get this new book via the PlaidStallions Shop, On Amazon (Affiliate Link) or eBay (eBay Link)
FACEBOOK GROUPS FROM PLAID STALLIONS

Pod Stallions is based on our podcast and is one of the most fun groups on Facebook. Toys, Comics, Movies, TV, it's all up for grabs, and remember, folks, you keep the glass! If you like our show, then you have found your tribe.

Mego Knock Off Headquarters– The leading group discussing 70s Dime store knock-offs and bootleg action figures, we talk vintage toys and not others. We know the difference between Astro Apes and Action Apeman.  It's a fun group where we talk about Lincoln Monsters, AHI, Mighty Gary, Tomland, Bogi, Demo Man, Mortoys, and other generic greats.
Palitoy