Canadian Legend of the Lone Ranger two pack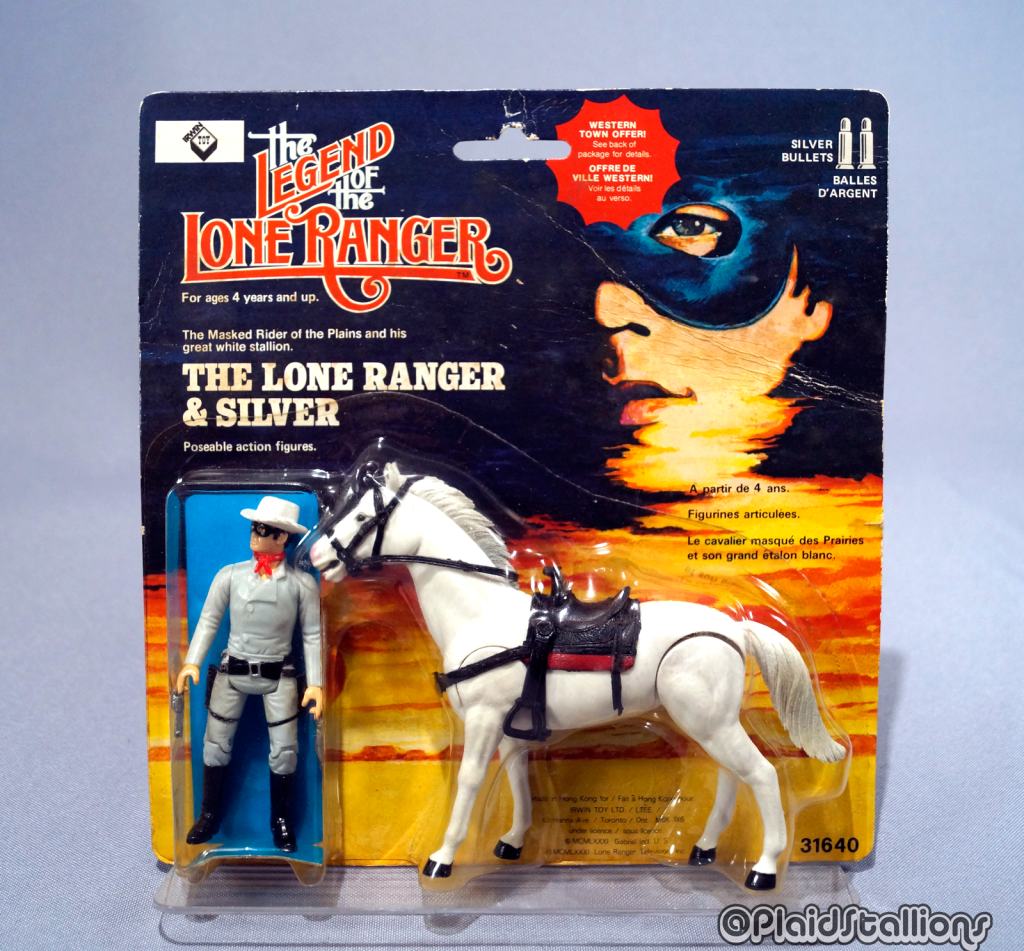 To my surprise, I now am the proud owner of this, a Canadian "The Legend of the Lone Ranger" set of the Ranger and Silver by Gabriel Toys but distributed by Irwin Toys. Irwin was known as Kenner Canada and was a big deal around these parts.
I don't collect the Lone Ranger lines, but I can't remember when I've seen such an item in Canadian Packaging.  While the found "The Legend of the Lone Ranger" somewhat forgettable, I also have massive affection for this well-made toy line. 
However, what truly sold me on this piece was the back.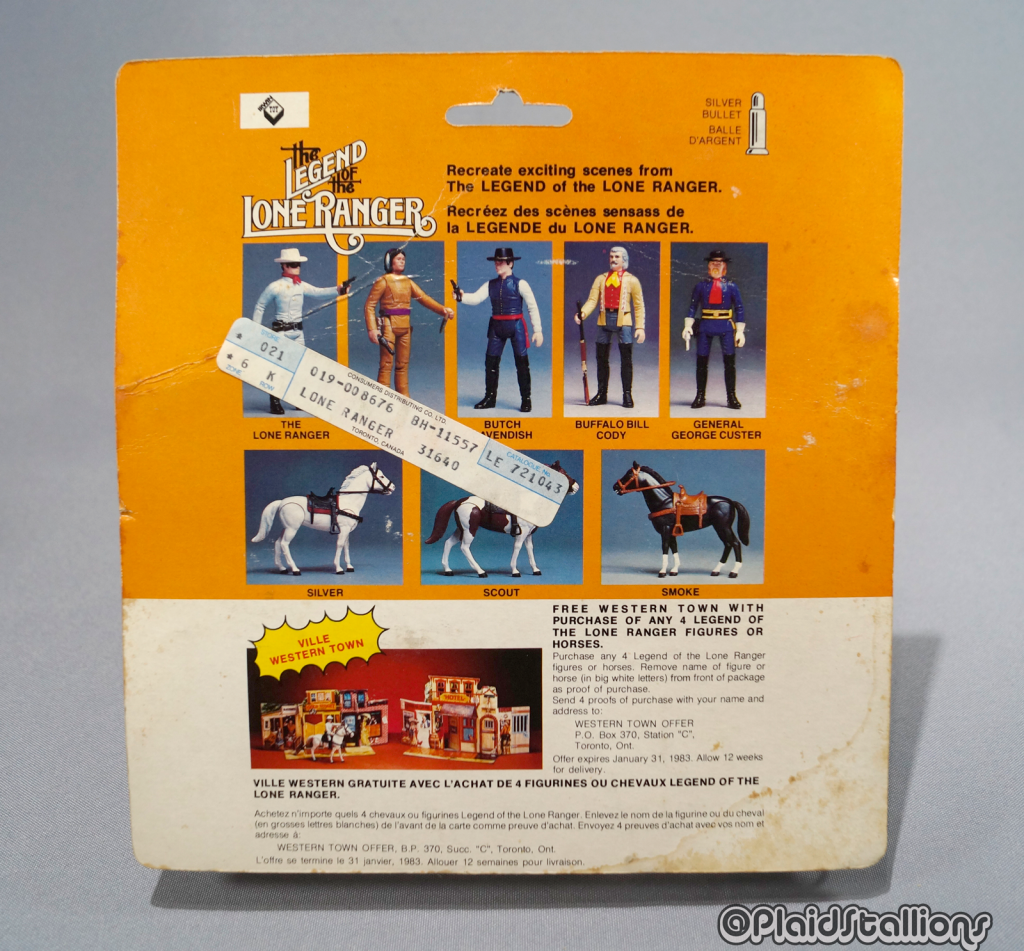 I will admit that I was unaware that the free Western Town Promotion was valid in Canada, but that it was that rather off sticker that clinched it for me.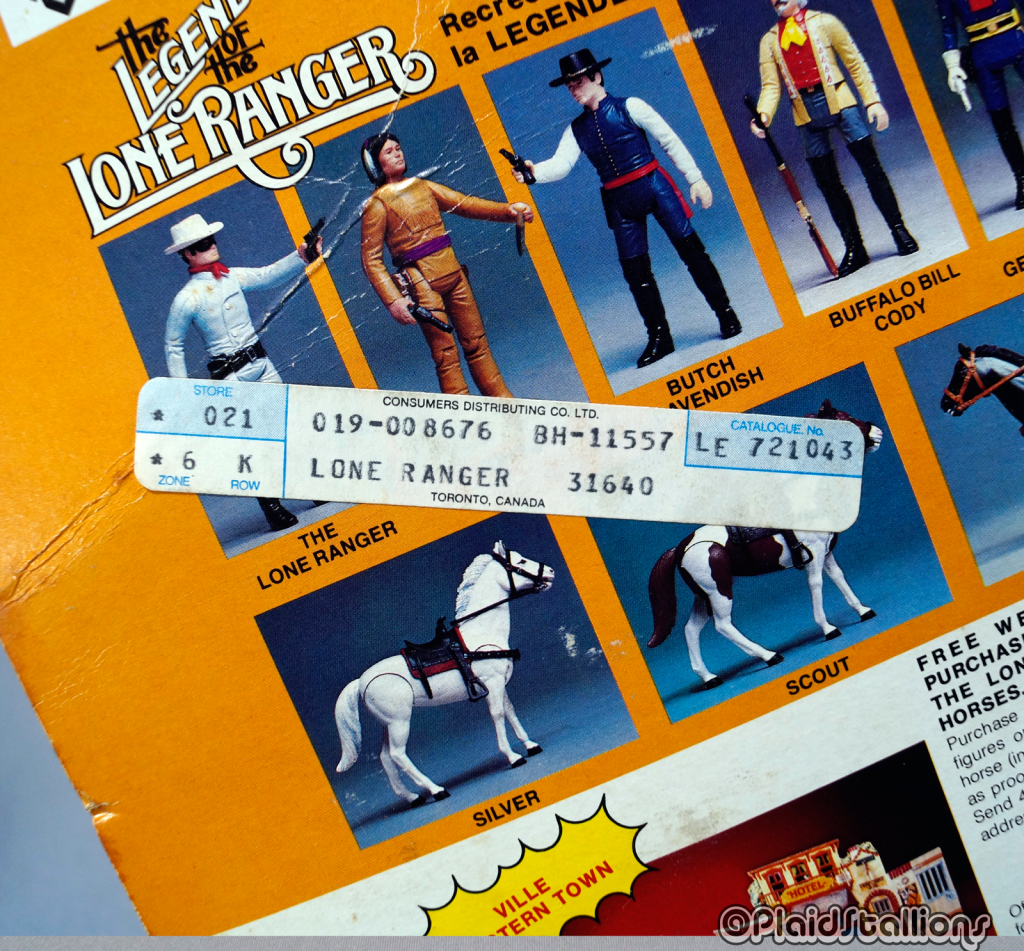 The sticker indicates that this came from Consumer's Distributing, a chain of "Catalog Showroom" shops that dotted the Canadian landscape until the late 1990s. I have a lot of fond memories of that store, especially giving the clerks fake names they had to yell out as a kid. I'm pretty sure they knew my name wasn't Zaius.
Sadly I do not own the 1981 Consumers Distributing catalogue (#lifegoals) but I do have one from it's another Canadian catalog firm (and equally fondly remembered) Shoprite.
It's crazy how a simple price sticker can push nostalgia buttons like this…
The PlaidStallions Polyester Pals have arrived and come in green and orange. Be the first kid in the sandbox with our Podcast mascots!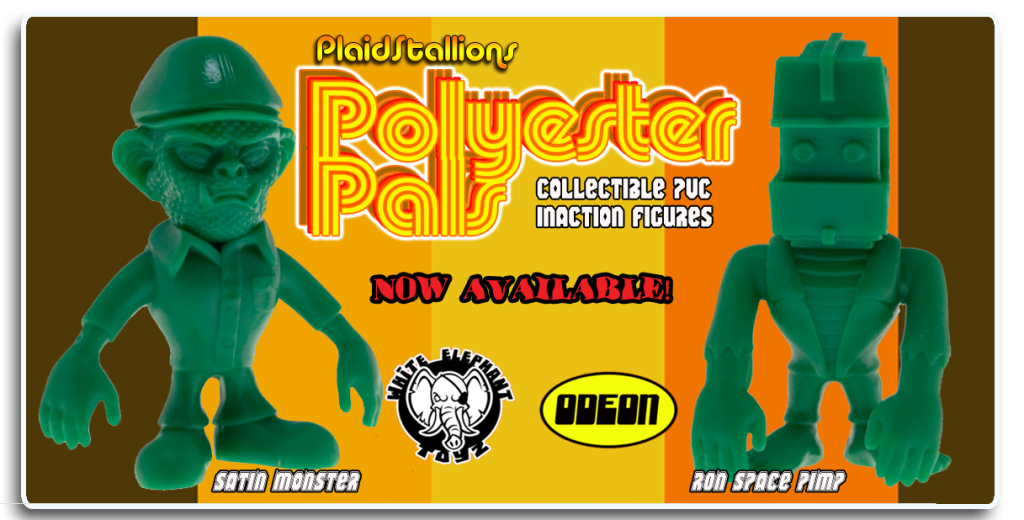 Do you miss toy collector magazines?
That's why we created Toy-Ventures magazine, an old-school print publication dedicated to vintage toys from the 1960s to the 1990s. Each issue is packed with never before seen images and information written by some of the top collectors. We've got 7 issues and climbing; please check our page here or visit our store.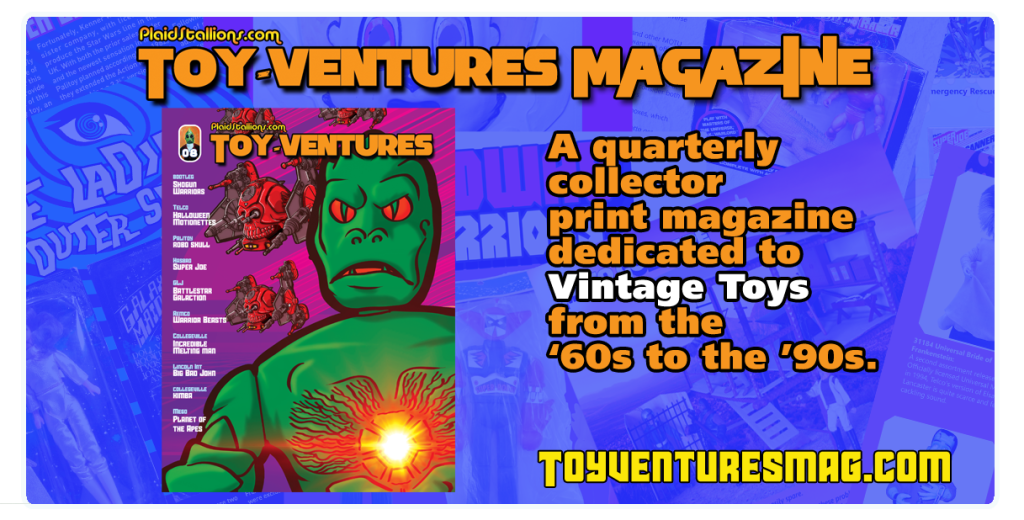 Our latest book is "Knock-Offs: Totally Unauthorized Action Figures" a love letter to cheeky copyright-infringing toys. You can get this new book via the PlaidStallions Shop, On Amazon (Affiliate Link) or eBay (eBay Link)
FACEBOOK GROUPS FROM PLAIDSTALLIONS

Pod Stallions is based on our podcast and is one of the most fun groups on Facebook. Toys, Comics, Movies, TV, it's all up for grabs and remember folks, you keep the glass! If you like our show, then you have found your tribe.

Mego Knock Off Headquarters– The leading group discussing 70s Dime store knock-offs and bootleg action figures, we talk vintage toys and not others. We know the difference between Astro Apes and Action Apeman.  It's a fun group where we talk about Lincoln International, AHI, Mighty Gary, Tomland, Bogi, Demo Man, Mortoys, and other generic greats.
Gabriel Toys The Legend of the Lone Ranger
#toyventures #loneranger #actionfigures