Ben Cooper Ads Star Wars, Shogun Warriors and Man From Atlantis?
I recently discovered this ad for Ben Cooper Halloween Costumes for 1978. I vividly remember getting that Darth Vader suit that year but being super jealous when my friend Jerry showed up at my door as Mazinga. What I find most interesting is the mention of  Ben Cooper"Man From Atlantis" Halloween costume.
I'm a bit of a Man from Atlantis fanboy, even though I admit the series isn't very good. I wonder what the costume would have looked like. I mean, Mark just mainly wore yellow "short shorts." Hopefully, someday the Ben Cooper art surfaces. Surfaces? Get it! I'm here all week.
Here is a link to the 1980 Ben Cooper Catalog on the site, I need to redo this gallery someday.
We also have the 1976 Ben Cooper Catalog in case you're curious about the "Pre-Star Wars" post "Planet of the Apes" world.
And here is the 1973 Ben Cooper Halloween Costume
#bencooper #starwars #shogunwarriors #halloweencostumes
The PlaidStallions Polyester Pals have arrived and come in green and orange. Be the first kid in the sandbox with our Podcast mascots!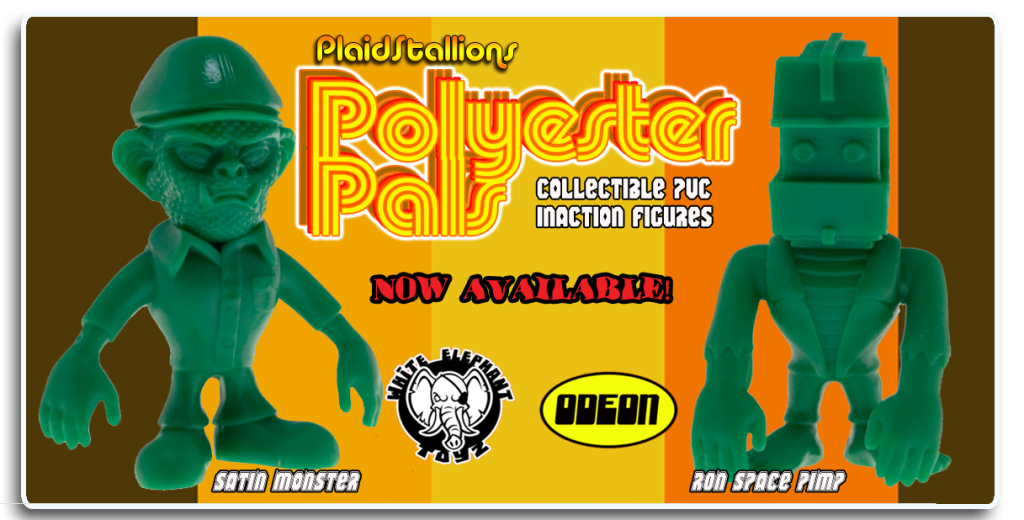 Our latest book is "Knock-Offs: Totally Unauthorized Action Figures" a love letter to cheeky copyright-infringing toys. You can get this new book via the PlaidStallions Shop, On Amazon (Affiliate Link) or eBay (eBay Link)
FACEBOOK GROUPS FROM PLAID STALLIONS

Pod Stallions is based on our podcast and is one of the most fun groups on Facebook. Toys, Comics, Movies, TV, it's all up for grabs, and remember, folks, you keep the glass! If you like our show, then you have found your tribe.

Mego Knock Off Headquarters– The leading group discussing 70s Dime store knock-offs and bootleg action figures, we talk vintage toys and not others. We know the difference between Astro Apes and Action Apeman.  It's a fun group where we talk about Lincoln Monsters, AHI, Mighty Gary, Tomland, Bogi, Demo Man, Mortoys, and other generic greats.
Ben Cooper Halloween Costume