Basement of Horror comes to Toy-Ventures Issue 8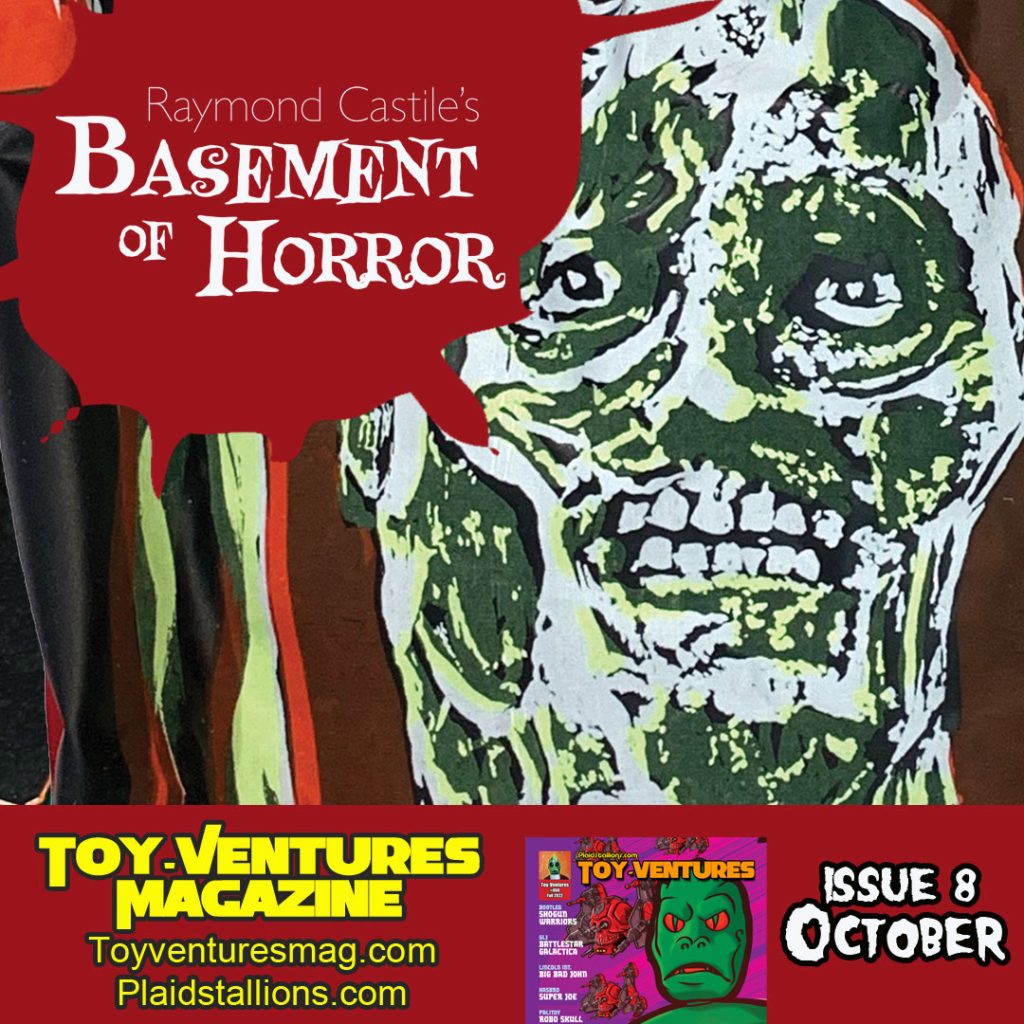 Happy to announce our newest regular column, "Basement of Horror" is coming to Toy-Ventures magazine Issue 8.
Created by Raymond Castile, an authority on horror toys and collectibles and host of the popular YouTube series of the same name, Basement of Horror, you will see reflections on truly unique pieces amassed in his 35+ years of collecting.
Our first installment is a real treat, or "trick or treat," as Ray "gushes" about The Incredible Melting Man in his engaging writing style. It's an absorbing read!
Check out Basement of Horror this October in Toy-Ventures magazine!
Check out the Basement of Horror YouTube Channel here:
Issue 8 of Toy-Ventures magazine will ship this October. You can preorder it at toyventuresmag.com
Did you miss print toy collector magazines? So did we; that's why we created Toy-Ventures.
A quarterly print collector magazine that celebrates toys from the 1960s to the 1990s. Since 2020, Toy-Ventures has been taking deep dives into the history of toys and action figures.
7 back issues of Toy-Ventures and ongoing subscriptions are now available at our shop (https://bit.ly/3866n1k), on Amazon, eBay, and better comic shops.
Do you miss toy collector magazines?
That's why we created Toy-Ventures magazine, an old-school print publication dedicated to vintage toys from the 1960s to the 1990s. Each issue is packed with never before seen images and information written by some of the top collectors. We've got 7 issues and climbing; please check our page here or visit our store.
Our newest book "Knock-Offs: Totally, Unauthorized Action Figures," is now available. It's 130 pages of bootleg goodness.
You can get this new book via the PlaidStallions Shop , On Amazon (Affiliate Link) or on eBay (eBay Link)
Our book Rack Toys, Cheap, Crazed Playthings is now available again! Order through our Affiliate Link
Order Rack Toys 2.0 Here through our Affiliate Link►https://amzn.to/3Bkm9z1
FACEBOOK GROUPS FROM PLAIDSTALLIONS

Pod Stallions is based on our podcast and is one of the most fun groups on Facebook. Toys, Comics, Movies, TV, it's all up for grabs and remember, you keep the glass! If you like our show, then you have found your tribe.

Mego Knock Off Headquarters– The leading group discussing 70s Dime store knock-offs and bootleg action figures, we talk vintage toys and not others. We know the difference between Astro Apes and Action Apeman.  It's a fun group where we talk about Lincoln International, AHI, Mighty Gary, Tomland, Bogi, Demo Man, Mortoys, and other generic greats.
Basement of Horror