AHI Mysteries #1 : Remote Control Enterprise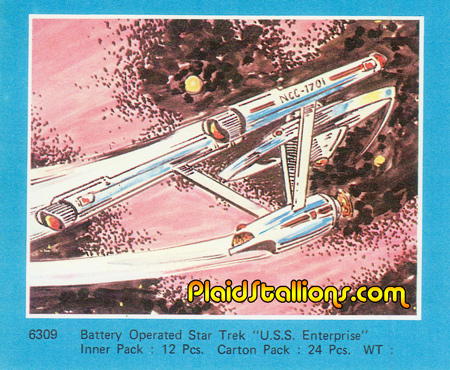 In doing research for "Rack Toys" (which is almost there, I swear) I've had the pleasure of pouring through many old

AHI

catalogs and I've noticed several items I believe to have never been made but with AHI you never know.
Case in point this remote control battery operated Star Trek "U.S.S. Enterprise" that is featured in the 1975 catalog along with the

Superfriends buggy

.

A high dollar item for

AHI

, it's likely that it was merely dropped as they were

also selling a TV advertised Enterprise toy under their Remco brand

but seeing as the Superfriends buggy made it out there in extremely limited numbers, it is possible this saw production and is now near impossible to find.

The lack of photography suggests this never got off the drawing board, the true fun of rack toys is never knowing for certain.

Check out our upcoming book!