5 Awesome Things on eBay this week- Dec 3 2021
Remco Batman Trik Trak- Remco made some pretty obscure toys, and Trik-Trak is one. Trik-Trak is a road race/obstacle set (battery operated) featuring a Batmobile, and it's got some gorgeous Batman artwork all through it. Also, that's the 1966 Batmobile which was the "go-to" in merchandising until Lawyers ruined it for a couple of decades. 
Remco Monsterizer Another gem from Remco, this time it's the Universal Monsters brand. The Monsterizer really doesn't do anything, it just lights up and glows in the dark but it totally looks like a Kenneth Strickfaden built device and that's good enough for me. 
Incredible Hulk Cap Gun- There is no end of stupid 70s Marvel comics merch and behold exhibit A. We all know the Hulk is a crack shot and master assassin. I do give Gordy Toys props for adding that gun into the card artwork, looks so natural. 
Knock Off Wonder Woman on a Motorcycle– Look out Jon and Ponch, there's a new sheriff in town! I can't tell you how much I love this thing, it's just so silly. The only way I could love it more is if she was wearing the motorcycle suit that confirmed my heterosexuality in 1979.
Sears exclusive Kojak Playset– I did a video on Kojak toys this week and well, I'd really like to own this nonsense. It has everything, Kojak, a weird-looking perp (called "the Adversary") and a squad room. Oh, the adventures I could have…

We've got a new book coming! Knock-Offs Totally Unauthorized Action Figures is our follow-up to Rack Toys, click here for more info.
Our book Rack Toys, Cheap, Crazed Playthings is now available again! Order through our Affiliate Link
Order Rack Toys 2.0 Here through out Affiliate Link►https://amzn.to/3Bkm9z1
Toy-Ventures Magazine is our newest creation, an old-school print magazine about vintage toys! Professionally laid out and written, each issue is brimming with obscure and rare toys from companies such as Mego, Kenner, Remco, AHI, and much more. Monsters, Superheroes, Adventurers, Knock Offs, Apes, and so much more, it's in Toy-Ventures.
Toy-Ventures Issue 5 is available now:
Ebay: https://ebay.us/XSS1X7
Plaid Stallions Store: https://plaidstallions.com/reboot/shop/
Amazon Affilitate Link:https://amzn.to/3d9Q0AS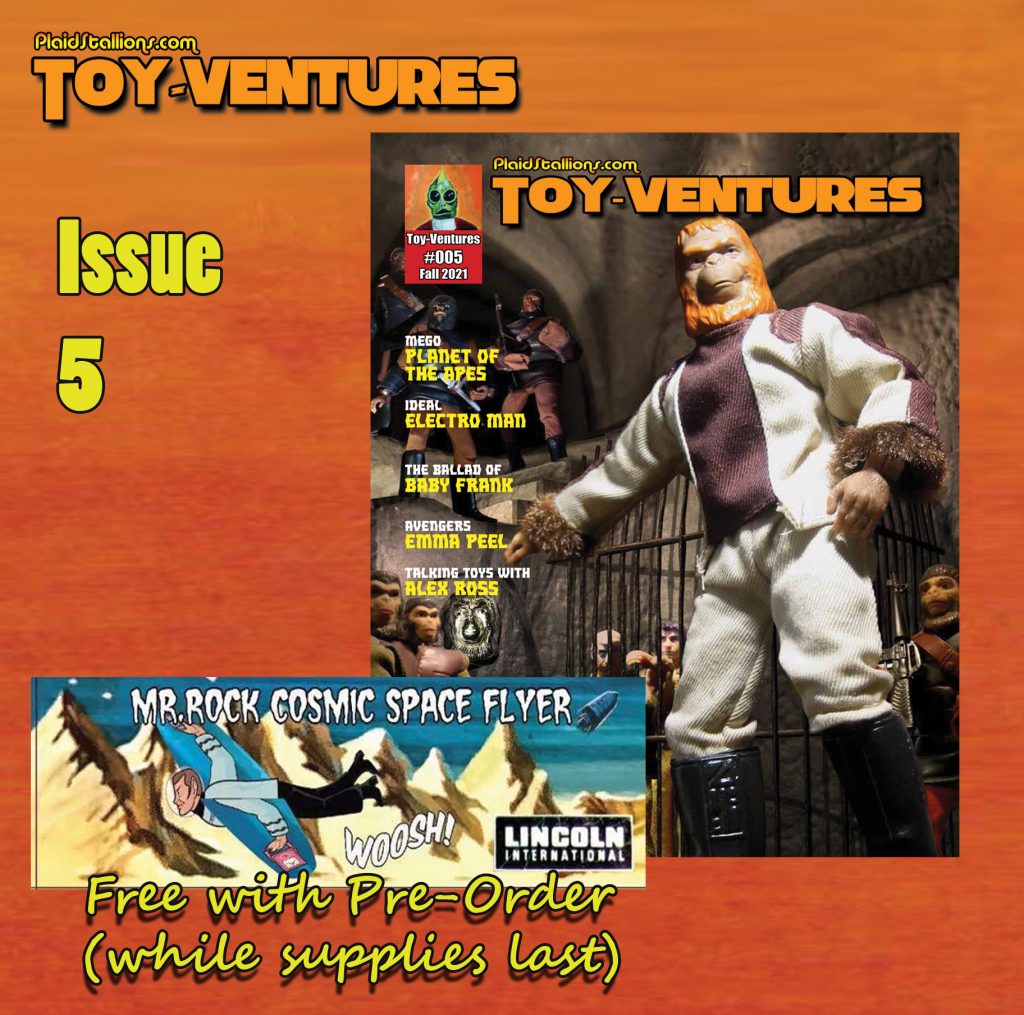 FACEBOOK GROUPS FROM PLAIDSTALLIONS

Pod Stallions is one of the most fun groups on Facebook. Toys, Comics, Movies, TV, it's all up for grabs and remember, you keep the glass!

Mego Knock Off Headquarters– The leading group discussing 70s Dime store knock-offs of Mego action figures, we talk vintage toys and not others. We know the difference between Astro Apes and Action Apeman! It's a really fun group where we talk about Lincoln International, AHI, Tomland, Bogi, Demo Man, Mortoy, and other generic greats.
Get Toy-Ventures Issue 3 here with a comprehensive look at the Lincoln Monster line:
https://plaidstallions.com/reboot/shop/
Join Mego Knock Off Head Quarters Here;
https://www.facebook.com/groups/Megoknockoff
Order our book Rack Toys 2.0 Here through our Amazon Affiliate Link►https://amzn.to/3Bkm9z1
PS Store: https://plaidstallions.com/reboot/shop/
Follow PlaidStallions on Social Media:
Twitter ► https://bit.ly/2UzxQ5q
Facebook ► https://bit.ly/3mfY73R
Instagram ►https://bit.ly/3yZ3kAV
Website ► https://bit.ly/3yZ3kAV