5 Awesome Things on eBay this Week
5 Awesome Things on eBay this week
Fleetwood Toys Marvel Comics Stamp Set (eBay Link)–I am pretty sure my friend got this at his 7th birthday party, I remember being super envious. Also, look at those 70s B-Listers! Who would have thunk they'd all have billion-dollar franchises now.
Mego Dallas Card Game (eBay Link)–My parents were religious about Dallas, it was kind of insane. They had a massive "Who Shot Jr?" party, this was a total thing. I remember seeing this game as a kid and well, it had no effect on me at all. Dallas showed me that grown-ups constantly day drink and fool around and I wasn't all that into it save for Victoria Principle. Mego was actually going to make action figures too, I'm glad they didn't.
Planet of the Apes Archery Set (eBay Link)–I am not sure a single arrow appears in the Apes films but OH MY GOD, I WANT THIS!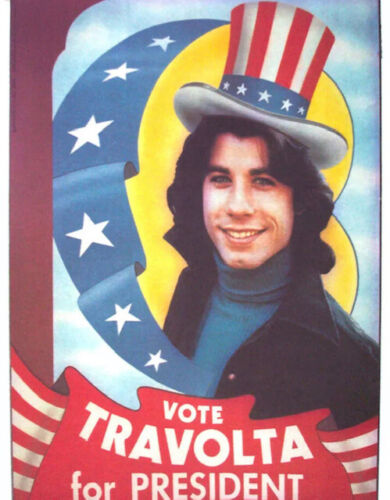 John Travolta for president iron on (eBay link)–What was once a ridiculous notion, seems slightly more plausible these days, although I'd prefer Ray Jay Johnson myself.
Knock-Off Love Boat Isaac GI Joe (eBay link)— After Mego folded some of their molds ended up on knock-off type toys, none more memorably than Isaac from the ill-fated line of Love Boat action figures. Isaac showed up in numerous discount lines, sometimes as a white dude!
Issue 6 of Toy-Ventures ships next week, order now from our shop and get a free Star Team Poster by legendary artist Dave Waugh!
Our newest book "Knock-Offs: Totally, Unauthorized Action Figures" is now available. It's 130 pages of bootleg goodness.
You can get this new book via the PlaidStallions Shop , On Amazon (Affiliate Link) or on eBay (eBay Link)
Our book Rack Toys, Cheap, Crazed Playthings is now available again! Order through our Affiliate Link
Order Rack Toys 2.0 Here through our Affiliate Link►https://amzn.to/3Bkm9z1
FACEBOOK GROUPS FROM PLAIDSTALLIONS

Pod Stallions is one of the most fun groups on Facebook. Toys, Comics, Movies, TV, it's all up for grabs and remember, you keep the glass!

Mego Knock Off Headquarters– The leading group discussing 70s Dime store knock-offs of Mego action figures, we talk vintage toys and not others. We know the difference between Astro Apes and Action Apeman! It's a really fun group where we talk about Lincoln International, AHI, Tomland, Bogi, Demo Man, Mortoy, and other generic greats.